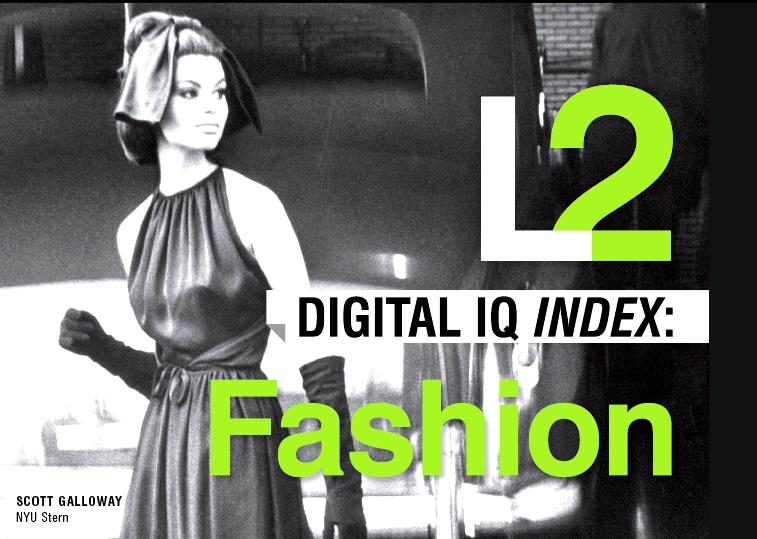 L2, a think tank that conducts research on digital business innovation, has released its annual study on the most web-savvy designers.
L2 Digital IQ Index reports provide brands with a benchmark to measure digital competence against peers. Developed by L2 founder and NYU Stern Professor Scott Galloway, the Digital IQ is a tool that scores brands on over 100 quantitative and qualitative data points, diagnosing their digital strengths and weaknesses.
A lot has changed in L2's third annual Luxury Digital IQ Index. Press-darling Burberry tops the list, buttressing its social legacy with a site relaunch and mobile optimization. Index newcomer Kate Spade demonstrates heritage isn't everything, coming out of nowhere to nab the number two spot.
And Coach and Gucci held on to their "Genius" crowns. However, some industry icons continue to slip further behind. Despite strong social presences, Chanel and Christian Dior both registered Average IQs, largely a result of their lack of e-commerce capability outside of beauty. Finally, the biggest losers in this year's study are two of icons of fashion: Prada and Hermès, which have fallen from Gifted in 2009 to Challenged this year.
[adsenseyu1]
L2 believes these brands are victims of their own success, believing iconic status can be a substitute for innovation and investment online. This hubris will haunt them, and their shareholders.
Digital Ranking for the top 50 brands:
1. Burberry: Digital births an icon: Proof that digital investments translate to shareholder value.
2. Kate Spade: Top social media score; Index newcomer did not get memo that heritage is necessary to be iconic digitally.
3. Coach: New York native continues to woo the blogosphere and registers top scores for site experience.
3. Gucci: Gucci Connects dots and delivers with shoppable video and recent Tumblr launch
5. Dolce & Gabbana: Global site relaunch threads needle of edgy and effective.
5. Tory Burch: Facebook store leads fashion F-commerce (r)evolution.
7. Ralph Lauren: New York Times iPad app takeover transforms brand into rich media publisher.
8. Hugo Boss: Top mobile scores and interactive YouTube channel venture differentiate the brand online.
9. Louis Vuitton: Embracing the spirit of travel with Amble app; Leads on Foursquare.
10. Michael Kors: Evolving brand into an online lifestyle.
15 John Varvatos : Rocks the web with Roots giveaway on Facebook;
16 Paul Smith : Rewards fans and followers with exclusive access to backstage news and live updates;
17 Alexander McQueen: Deft with Polyvore, Tumblr, and Vimeo
17 Jimmy Choo: Crowdsourcing "Your Choo Stories" through microsite, Facebook, and Twitter to celebrate 15th anniversary;
19 Chanel: Mobile focus compensates for icon's e-commerce and Twitter absence;
20 Yves Saint Laurent: Twitter leader signals innovation with a Fashion's Night Out partnership with "All the Pretty Birds" blog;
21 Ermenegildo Zegna: We applaud iPad virtual store experimentation and 3D runway;
22 Christian Dior: Unprecedented Facebook growth doesn't compensate for lack of e-commerce;
23 Stuart Weitzman: Consistent but safe;
24 Christian Louboutin: Loubi's personality shines with Instagram;
25 Armani Giorgio: Recent site launch just missed data collection cut-off, but quick review suggests it is a significant updgrade to previous collezioni of confusion;
26 Bottega Veneta: Fragrance launch boosts Facebook interactivity, but Twitter silence disappoints;
27 Oscar de la Renta: The undisputed Tumblr leader needs a mobile strategy to match its social media supremacy;
28 Cole: Needs stronger content strategy to infuse online presence with Modern Prep
29 Fendi: Twitter, where are you?
29 Theory: Strong site but needs to ignite mobile strategy and social media growth;
29 Roberto Cavalli: Mobile absence and poorly managed search unravel this atelier's stellar social media integration;
32 Valentino: Visible in all dimensions but lacking Red fire to spark real traction;
33 Mulberry: Twitter newbie and Mix Tape producer is taking initial steps online;
34 Hermès: Strong Facebook engagement and distinctive online branding stand out from otherwise uninspired digital offering;
34 Salvatore Ferragamo: Online trunk show and new iPad app signal progress, but brand needs to brush up on e-commerce tactics;
36 Alfred Dunhill: Voice starting to be heard but still not loud enough;
36 Longchamp: Keep on Riding, headed in the right direction;
38 Bally: Mobile adoption and stronger search needed;
39 Balenciaga: Adopted a rogue Facebook community, revamped site, and Tweeted … once;
40 Versace: Facebook livestreaming and active Twitter handle aren't enough to offset nonexistent e-commerce;
41 Max Mara: Can't overcome absence on YouTube and Twitter;
42 Chloe: One of nine brands without e-commerce;
43 Catherine Malandrino: Many elements in place, but brand needs stronger search and social programs to jump-start buzz.
44 Prada: Biggest digital disappointment in luxury;
45 Tod's: Mobile aptitude does not make a digital presence;
46 Badgley Mischka: We want to see Rommel & Whiskey on mobile too;
47 Zac Posen: A site experience that leaves much to be desired;
48 Givenchy: Ready-To-Wear, but not Ready-For-Digital;
49 Manolo Blahnik: "Make Your Own Manolo" is only bright spot.
[adsenseyu1]