2luxury2 at Baselworld 2013
A survival instrument for all distress situations & a chronometer-certified multifunction chronograph.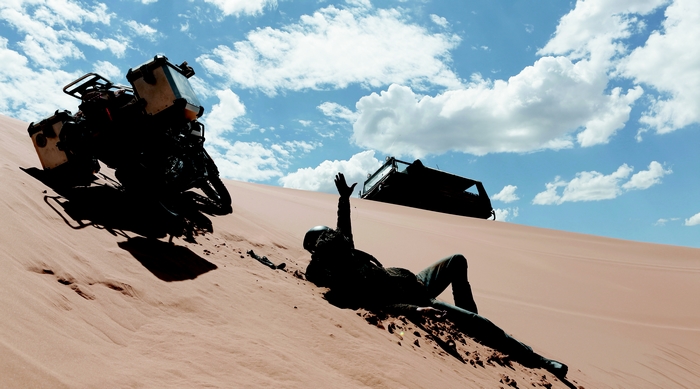 In 1995, Breitling struck a decisive blow in launching the first wristwatch with a built-in emergency microtransmitter. Operating on the 121.5 MHz international airdistress frequency, the Emergency was designed to enable accurate homing in onpilots or passengers following a plane crash. It was designed for constant wear on the wrist and thus as a complement to the standard onboard aircraft equipment.
The Emergency has been tested and worn in daily use by the finest aviationprofessionals and the world's greatest aeronautical teams. It has proven its worth in many search and rescue exercises and has become synonymous with safety and reliability for pilots around the globe. Around 40,000 such watches have been sold, and these exceptional instruments for locating and rescuing people in danger have indeed already saved a number of lives.
Breitling has once again distinguished itself in the vanguard of electronics bycreating the Emergency II, the world's first wristwatch equipped with a true dual frequency distress beacon. A high-tech miniature marvel, this peerless instrumentbelonging to the PLB (personal locator beacon) category is distinguished by its transmitter compliant with Cospas-Sarsat specifications and serving both to issue alerts and to guide homing and rescue operations.
The Emergency II is equipped with a microtransmitter alternately operating on two separate frequencies over a 24-hour period. It transmits a first digital signal on the 406 MHz frequency intended for satellites and lasting 0.44 seconds every 50 seconds; as well as a second analog signal on the 121.5 MHz homing and rescue frequency,lasting 0.75 seconds every 2.25 seconds.
The energy issue was a crucial element in developing the Emergency II. The Cospas-Sarsat prescriptions notably demand that beacons should be capable of transmittingfor 24 hours, including at -20°C. In addition to these requirements in terms ofduration and temperature, the dual frequency transmitter features its own specificcharacteristics due to its alternate operation at very different power levels (30 mWnfor 121.5 MHz, and 5 W for 406 MHz, meaning 170 times higher) – acharacteristic that entails atypical current draw. Not to mention the need to accommodate all this within a wristwatch.
After considerable research, it became apparent that the ideal solution was to opt for a rechargeable battery able to deliver more power than a standard battery.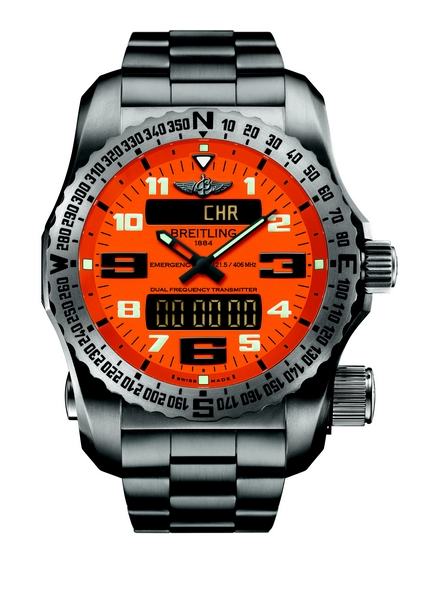 There was however no product of this type that matched the profile of the Emergency II. In collaboration with one of the cutting-edge institutes in this field, Breitling therefore developed a brand-new rechargeable battery specially created for this beacon-watch.
The Emergency II is not only a personal survival instrument. It is also an electronic chronograph featuring all the functions useful to professionals and adventurers: 12/24-hour analog and digital display, 1/100th second chronograph, alarm, timer, second timezone, multilingual calendar and battery end-of-life indication. It is equipped with a thermocompensated SuperQuartz™ movement ten times more accurate than standard quartz and chronometer-certified by the COSC (Swiss Official Chronometer Testing Institute) – the highest industry benchmark in terms of precision and reliability. The "watch" and "transmitter" parts have been designed as two distinct elements, totally independent in terms of both operation and energy source and thus ensuring enhanced security.