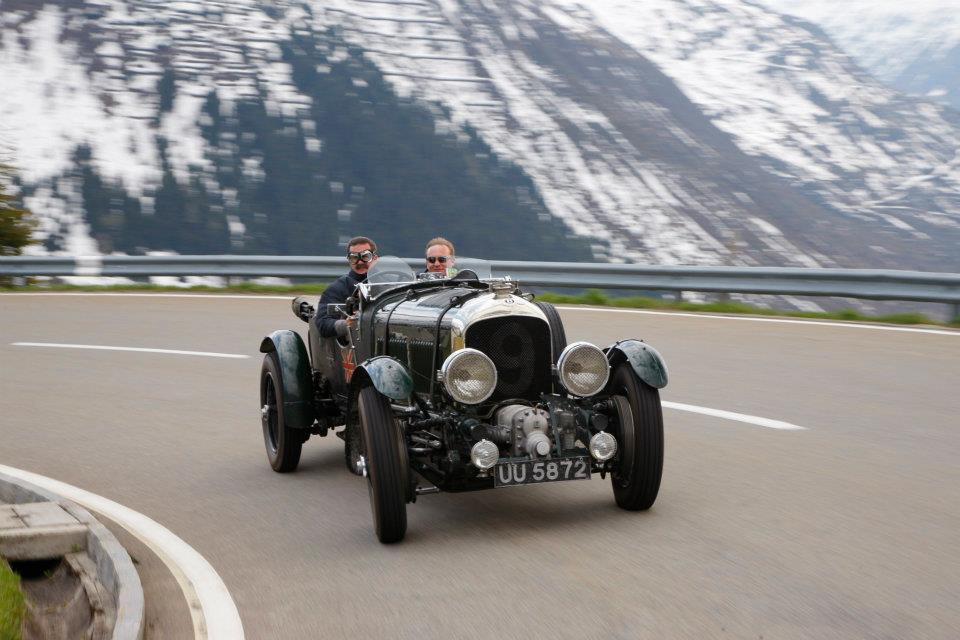 Mille Miglia has always been known for its unmatched elegance, individuality and prestige. Amongst its unparalleled attributes lies the fact that it is the rarest "traveling museum" in automotive history. Every year, in Brescia, the most priceless treasures come together: the very automobiles that have written the pages of international motor sporting history. The 31st commemorative edition of what Enzo Ferrari defined the "most beautiful race in the world." takes place from the 16th to the 19th of May.
The fever of the most admired "moving museum" in the world is contagious, involving sports enthusiasts from five continents. Even in the midst of rough economic times, entrants to the Mille Miglia 2013 have far exceeded expectations. So surely registrant numbers have been affected by the crisis but the total result has still managed to go up in comparison to last year, confessed the organizers.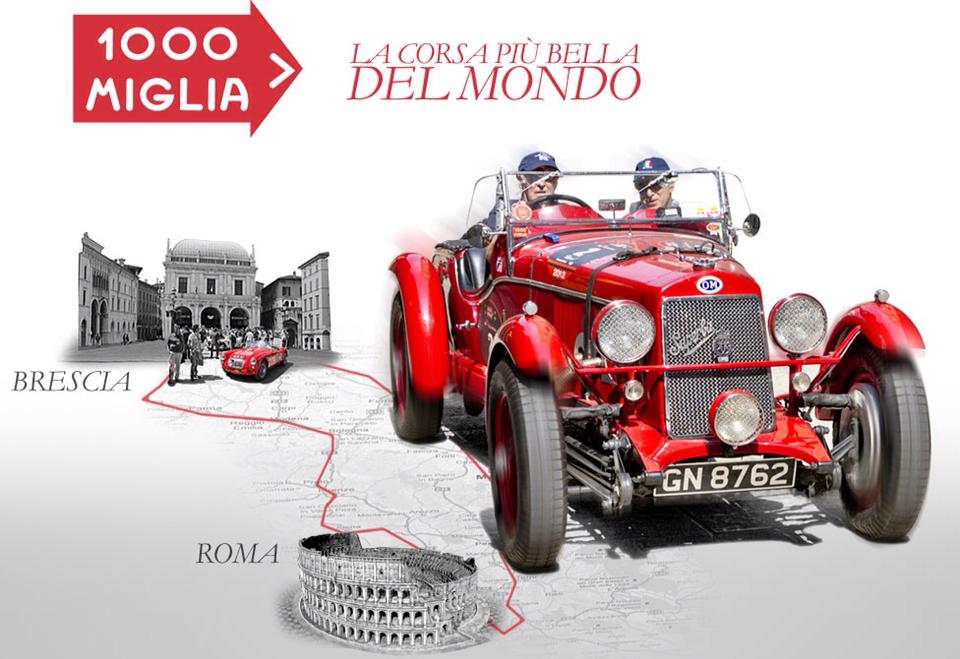 The 2013 edition will present a new event, as explained by Roberto Gaburri, President of 1000 Miglia: "With the intent of extending the historical relevance of this car fleet that no other vintage car event can boast, we have decided to accept an additional 25 cars. Therefore, rather than the 375 usually at the starting line, there will now be a total of 400 vehicles, which is a real record". The additional car models satisfy all the Mille Miglia requirements but for various reasons did not participate in those famous historical races. These automobiles will be competing in all respects like the others, but have been placed on a "Special List." The only difference in their participation will be the fact that they will not be allocated a coefficient of merit. Therefore, victory will remain accessible to those vehicles that raced from 1927 to 1957.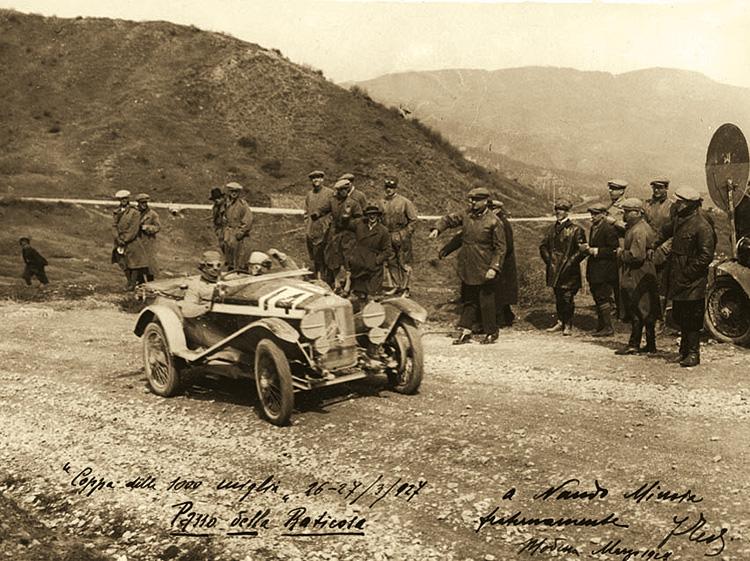 MERCEDES-BENZ boasts as many as 13 cars a symbol of the history of the brand's three-pointed star, selected from the most prestigious jewels exhibited in the Stuttgart Museum: these include the SSK and the 300 SLR, which established an all-time record in 1955 driven by Sir Stirling Moss.
BMW contributes with eight special specimens from its Museum, including the 328 Touring Coupe with which Baron Fritz Huschke von Hanstein won the MM of 1940 and the 328 Spider with which Adolf Brudes came in third. From the ALFA ROMEO Museum we have five treasures, while two more vehicles will arrive from the Scuderia del Portello.
From the historical home of Coventry, JAGUAR will be presenting Brescia with five cars, among them, two C-Types, one of which competed in the 1952 Mille Miglia. Five official Porsches will also be coming directly from the Stuttgart Museum.
The vehicles from private individuals along with those of museums, amount to about forty historical car jewels that will be returning to Italy after having participated in at least one of the Mille Miglia historical editions. Among these, we certainly cannot forget the Alfa Romeo 6C 2300 Pescara, owned by Benito Mussolini, entered in the Mille Miglia in 1936 with his co-pilot and driver Ercole Boratto at the wheel.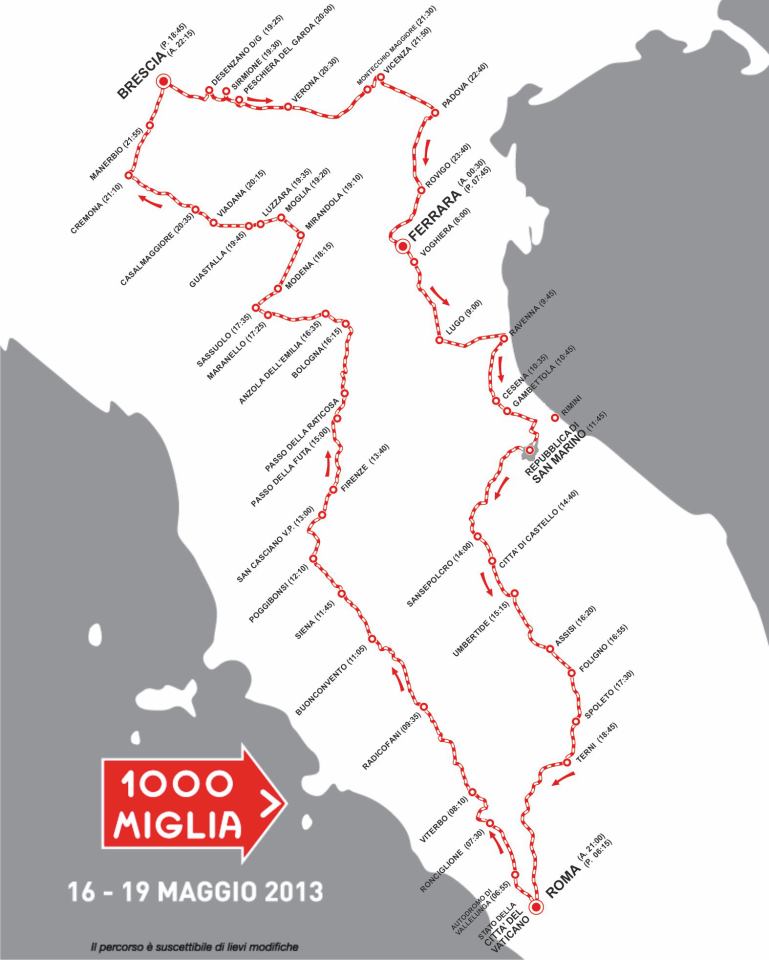 Among the entrants, Porsche is the most represented car manufacturer, participating with 51 cars. Next in line is Alfa Romeo with 49 participating automobiles, Fiat and Jaguar/SS with 43, Mercedes-Benz with 40, Lancia with 36, Aston Martin with 32, Ferrari and BMWwith 24, and the list is completed by additional manufacturers for a total of 79 brands.
There are 30 countries represented, and Italy continues to be the most represented country, with 185 entrants. German participation is rising and has reached 153.
Mille Miglia continues to remain the role model in its category, as Marco Makaus, 1000 Miglia S.r.l. Joint Managing Director explains: "Wit and charm have remained unchanged. Mille Miglia's mark of quality is a perpetual treasure that just gets better and better over the years". For this and millions of other motives, noteworthy champions and technical experts really do their best to participate. Some of them still hold important roles, whereas others have retired or no longer race.
However, when it comes to the Mille Miglia, they all pick up their racing hats and dust off their racing suits because the call to the race is just irresistible. Some examples of this include the successful Mercedes-Benz driver, David Coulthard, winner of thirteen Formula 1 Grand Prix races, competing from 1993 to 2009 with McLaren, Williams and Red Bull.
A second example is Karl Wendlinger, former Formula One driver, boasting forty-two GPs under his belt alongside Leyton and Sauber. Bernd Maylaender who, since 2000, is the official Formula One Safety car pilot in Formula One, rigorously driving his Mercedes-Benz, joins these successes.
From Munich, BMW responds by giving a 328 to a major sports personality: Lord Sebastian Newbold Coe, Baron Coe of Ranmore, more commonly known as Sebastian Coe, winner of four Olympic medals and an eight-time world record holder in middle-distance races, and last year's President of the Organizing Committee of the Olympic Games in London 2012.
Christian Geistdorfer will also be behind the wheel of a BMW 328, who, along with Walter Rohrl won two world championships, and four Monte Carlo Rallies.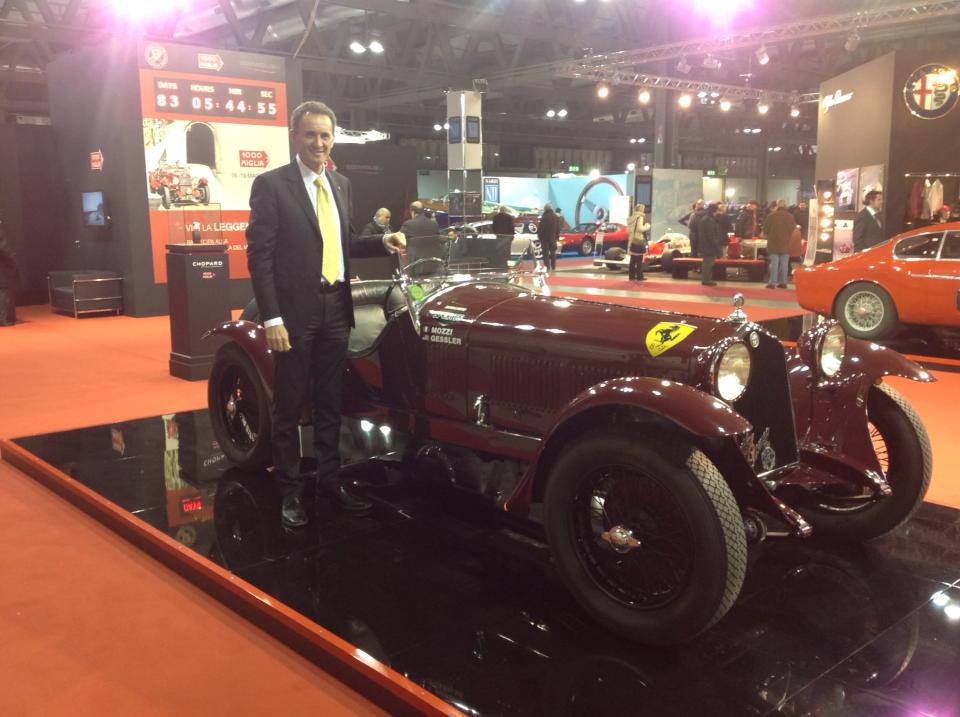 Other major figures, such as the Olympic champion Andrea Cassara and the well-known entrepreneur Matteo Marzotto (who is the nephew of two time winner Giannino Marzotto), will be taking part in the 2013 Mille Miglia, along with other famous celebrities, whose names still remain hidden under the "X" letter on the starting order list.
This year's race will have a few changes to keep it in line with the spirit and indelible marks of the 24 historical editions competed from 1927 to 1957. In the passages from Brescia to Ferrara, from Ferrara to Roma and then from Roma to Brescia, racers will have the chance to see before them a plethora of art and history that only the most splendid of Italian city squares can offer.
Those stunning scenes will include Verona by night overlooking the Arena, Ferrara and its castle, Ravenna with its Duomo, San Marino, and Roma where every corner is so rich in history.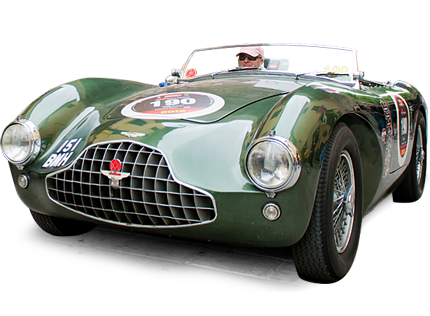 It will proceed to Viterbo, and to Siena and its Piazza del Campo, then Florence with its passage through the historical center, and then get to Bologna, Modena and Cremona with its Torrazzo.
Equally impressive will be the steps outside the cities. The natural beauty of the Italian countryside can be relished passing through some of the most beautiful regions such as Lombardy, Emilia Romagna, Umbria, Marche, Lazio and Tuscany. Racers will also have an unforgettable chance to cross the smallest republic in the world, San Marino, and witness its fortress. The Mille Miglia 2013 really knows how to offer a very unique and exclusive mix. A breathtaking ride is taken that not only admires the very true and ancient heart of Italy and its great history but also crosses all the suggestive corners of natural beauty that Italy offers winding through natural parks and untouched lands.