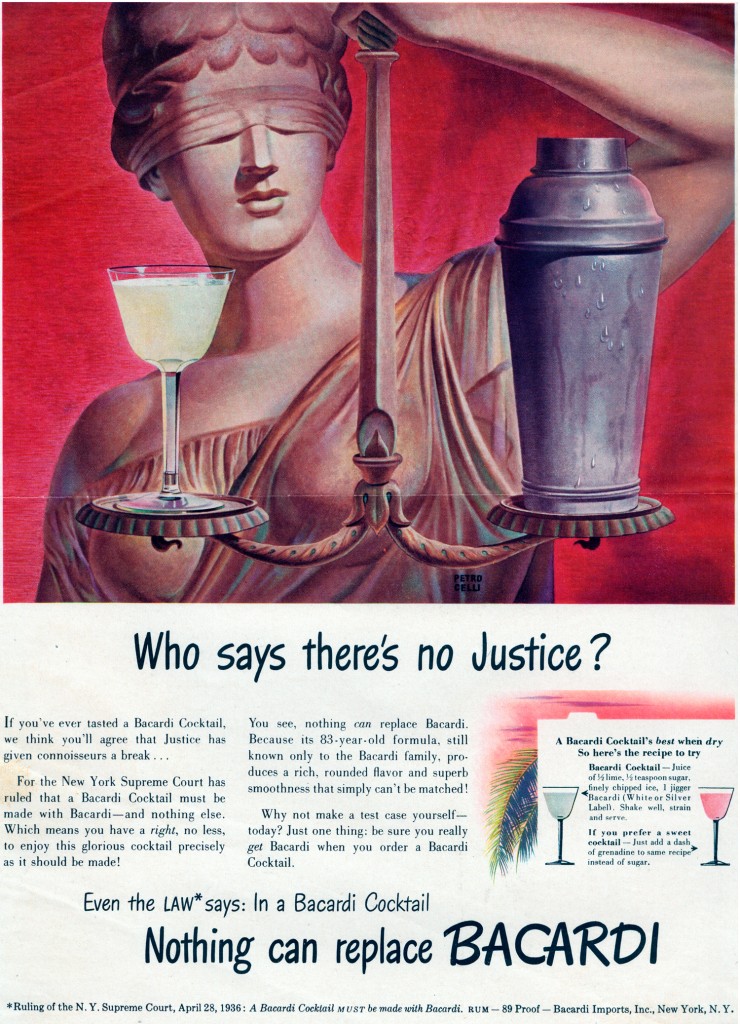 Bacardi toasts 75th Anniversary of NY Supreme Court Ruling. Standing up for the consumer's right to get what was ordered and to protect the quality of cocktails, Bacardi took legal action against some New York bars and restaurants that replaced lesser quality rums for Bacardi for when they asked for Bacardi cocktails. In 1937 the New York court ruled that a Bacardi Cocktail must be made with Bacardi.
The case created major news and the court milestones were reported by the New York newspapers. The decision was so significant to consumers—to make sure they receive the high quality and great tasting Bacardi cocktail they order—that Bacardi featured the ruling in a popular series of print advertising and marketing campaigns from the late 1930s through the1950s under the theme that "Nothing Takes the Place of Bacardi."
Some showed actual quotes from the certified court records and the scales of justice. One series came under the heading "It's Your Right" and juxtaposed two scenarios: on one side, a caricature of a man either singing in the shower, or bawling out the umpire, or not listening to his barber – each his right – and on the other side the man enjoying his Bacardi cocktail with the words: "It's your right to get a Bacardi cocktail as it should be made! It must be made with Bacardi or it isn't a Bacardi cocktail. The Supreme Court of New York has ruled so!"
Founded in Santiago de Cuba on February 4, 1862, and family-owned for the past seven generations, Bacardi now employs nearly 6,000 people, manufactures its brands at 27 facilities in 16 markets on four continents, and sells in more than 150 countries.
Bacardi revolutionized the spirits industry when it was first created 150 years ago. The light taste and unique balance of Bacardi rum inspired cocktail pioneers to create a new style of refreshing cocktail recipes including the Authentic Bacardi Mojito, Original Bacardi Daiquirí and the Original Bacardi Cuba Libre—the world's most popular cocktail.
"There's a magical quality to a classic cocktail—it's the perfect mix of the perfect ingredients," added David Cordoba, Global Brand Ambassador for Bacardi Rum. "Today, everyone in the cocktail world dreams of achieving this alchemy which is why there's so much respect from bartenders for the original ingredients—like Bacardi—used by cocktail pioneers to create a classic."