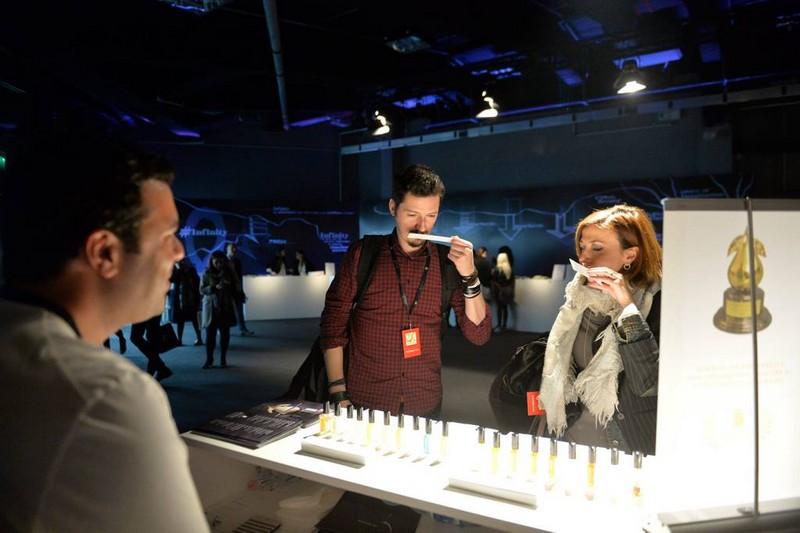 International Artistic Perfumery was back on the scene in Milan, from 31 March to 3 April, with the eighth edition of Esxence – The Scent of Excellence. Once again in 2016, the appointment with olfactory and cosmetic culture offered four days of discovery of excellence in these two sectors to its audience of business visitors and fans, whose numbers surpassed 6,500 in the 2015 edition.
"Infinity" was the mood in focus in the stands, maintaining and emphasising the atmosphere that has become a characteristic feature of the Artistic Perfumery Event: an exhibition experience to be perceived almost like an art gallery, highlighting the mastery and the excellence of the creations on show, where light and colour focus visitors' attention on each brand's works.
Esxkin – The Excellence of Beauty
But there's now more to Esxence than fragrances alone: following up on the pilot edition held in 2015, the skincare component on the event's brand list has matured into an independent event with the name of Esxkin. The exhibition area hosted twenty cosmetics brands selected by the Technical Committee of Experts to represent excellence in the sector. They are chosen on the basis of such criteria as the concept, ingredients, effectiveness, texture and the research and development of innovative formulations, catering for a cosmetics culture that strives to serve an increasingly competent, conscious and demanding clientele.
The four days at the Expo Area Milan were flanked by a packed programme of appointments for both professional and amateur visitors. These took place one after another throughout the fair, benefitting from its partnership with some of the leading names in fragrances and cosmetics.
The training company Mouillettes & Co. held a free course in sales for perfume shops and an "olfactory education" workshop for the public, while the Osmothèque, the conservatory of rare and historical perfumes based in Versailles, explored the issue of the most popular and sought-after fragrances in the history of perfumery. International guests analysed market trends, strategies and data, introducing evidence of usages
and customs in far-off countries that promise to be of vital importance for future evolutions in the sector, including a lecture on oriental cosmetics.
The culture of the 'nose' was introduced – for the first time at Esxence – with a little workshop for children of play-school age: who knows whether one of them may not turn out to be a future winner of the Art and Olfaction Awards, the Los Angeles-based award presented to independent perfumers for their creativity, which announced the 2016 edition's finalists at the Artistic Perfumery Event (see the
finalists here).