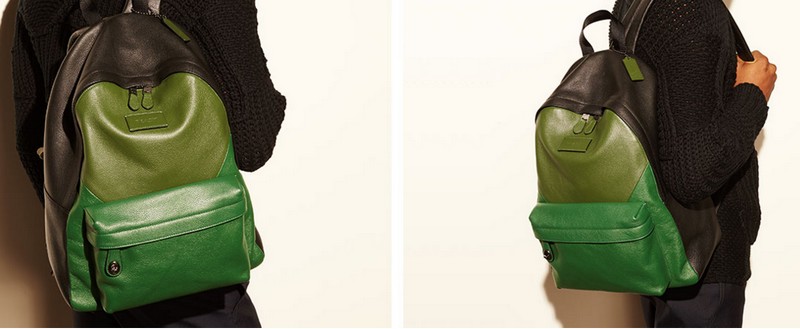 ---
This article titled "Camo chameleon: why the luxe army look is having a moment" was written by Priya Elan, for theguardian.com on Wednesday 6th April 2016 12.02 UTC
Menswear is currently having a love affair with the sartorial style of the blue-collar worker, from the DHL delivery man to the fisherman to the lumbersexual to the waltzer boys. Taken as an extension of the utilitarian wear movement, it makes sense: worker wear is functional in a way that doesn't scare the horses, is inventive enough to power of the imaginations of designers and has a masculine associative appeal. Now menswear is turning to the army for inspiration, taking old favourites and giving them a modernist reboot.
A recent piece in Ad Week focused on the "hipster hunter" and related look: in the US this is essentially the familiar khaki camo look we associate with Liam Gallagher and his many, many army surplus jackets. It's a style that has been seen on the menswear catwalk in the collections of Marc Jacobs, Drake's Hotline Bling video (the Timbaland boots) and Coach's SS16 collection, which featured three army jackets including the M65, which is inspired by a 60s-era US military field jacket.
John Elliot and Albam have re-imagined army essentials like the fishtail parka (designed for soldiers in the Korean war) with embellishmentssuch as sewn-on patches, and multiple pockets and badges, while Calvin Klein have worked similar wonders on cargo trousers, give them a slimline makeover. Zayn Malik sported the look, stepping out wearing an olive green Nikelab hoodie and Stampd bomber jacket, a sure sign that this luxe army look has gone mainstream. "It harkens to that military-styled look (but) done in a more casual and cool way," says Olie Arnold, style director at Mr Porter.
There might be a troubling element of class tourism about the catwalk adopting the wares of a certain socio-economic group, but the appeal of these items stretches beyond the catwalk. "One analyst told me that a lot of the people purchasing hunting apparel aren't really hunters; they just like the style of the gear," says Christine Birkner, author of Ad Week's "hipster hunter" piece. While Lukas Duszynski, manager of retailer Military 1 who supply hunters, hikers and campers, confirms the move from functional to fashion wear. "I can recall several cases when customers asked for the jacket Justin Bieber wore the other week and if we had something similar." He adds that there has been an increase in demand for army wear "in the last six to seven years".
Durability, value for money and classic style, it seems like the trend has legs. "There's a sense that these looks – which include pieces like the Arran jumper and heavier-weight denim – will be able to fight the elements in a functional way," says Arnold. "There's an all encompassing masculinity and timelessness about the look." And it helps that it looks good too.
guardian.co.uk © Guardian News & Media Limited 2010
Published via the Guardian News Feed plugin for WordPress.