---
This article titled "Why we're all still mad about Alexander McQueen" was written by Tim Lewis, for The Observer on Sunday 8th February 2015 00.05 UTC
"It's a sackable offence this collection," said the fashion designer Alexander McQueen in February 2009, a month before his autumn/winter women's ready-to-wear show in Paris called The Horn of Plenty: Everything But the Kitchen Sink. "It's not safe in any way. It's a punked-up McQueen It girl parody of a certain ideal, of a woman who never existed in the first place. It's Audrey Hepburn in Breakfast at Tiffany's. It's Dior. It's Valentino's ladies who lunch… I want people to look at it and say, 'What's that? What's that? What's that? What's that? What the hell is that?'"
McQueen succeeded spectacularly. The Horn of Plenty, which lasted not even 15 minutes, was a retrospective on 15 shocking years in fashion: models wore fantastical, outrageous outfits and teetered on impossible platform heels; in their hair were spray-painted Coke cans, upturned umbrellas. They walked through a set that looked like a rubbish dump, including tyres, TVs and, yes, a kitchen sink. "Exceptional," wrote the critic from the New York Times in his review. "A slap in the face to his industry." One magazine editor dismissed it as "a collection inspired by Wall-E," but mostly they were dazzled. "That was the kind of show that puts your faith back in fashion," said Miranda Almond, Vogue's fashion editor.
The Horn of Plenty would turn out to be a landmark spectacle, in part because McQueen, then about to turn 40, considered it his "last collection as a young man", but mostly because it was his final autumn/winter show before he killed himself on 11 February 2010. And for the first and only time, McQueen allowed an outsider – his friend, art photographer Nick Waplington – to document every stage of his working process, from sketches to runway, which he planned to publish as a photobook. That book, Working Process (published by Damiani), came out in 2013 and next month more than 130 of these photographs will be displayed at Tate Britain. The exhibition coincides with the V&A's Alexander McQueen: Savage Beauty, a transplant with additions of the Metropolitan Museum of Art's 2011 show in New York, which was the most popular fashion exhibition in its history.
"He saw [The Horn of Plenty] as his retrospective season," says Waplington. "He brought back models he had used over the last 15 years, jewellery people, hair and makeup people. It was the end of one period of his work. He was very insistent I do it – thankfully, it turns out."
At McQu een's studio in London's Clerkenwell, Waplington tried to disappear into the background – staff were instructed not to speak to him, even to offer him a cup of tea. When he had photographs he was happy with, he brought in contact sheets in to show McQueen.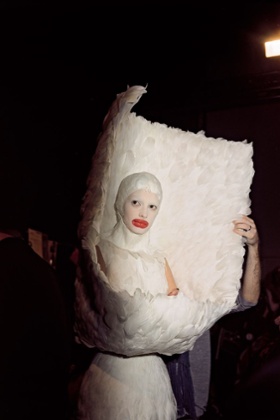 "There was a look of horror on his face," recalls Waplington, laughing. "So 20 minutes later, I was summoned into this dark little room where Lee [as friends called McQueen] was lying on a chaise longue with his cigarettes and this woman, whom they called Mrs McQueen – she came in close to the shows, but took no part in the work, I think – was holding the lighter in case the cigarette went out. He was devastated by how he looked in the pictures; he was too fat or whatever. So we decided at that point he wouldn't see anything again until I'd finished."
McQueen had a famous temper and his studio could be an intense place: sometimes, Philip Glass's soundtrack to The Hours would play on a loop all day or there would be a brooding silence as McQueen waited for inspiration to come. The tension ratcheted up when the team decamped to Paris before the show, especially when American Vogue editor Anna Wintour swung by to cast her eye over the work. But McQueen is smiling and playful in many of the pictures and Waplington insists this is not a trick of the editing.
"This was the happiest he'd been for years, I was told," says Waplington. "Things were really good. There would be bad days when he would visit his mum, because she had cancer, but other than that he was in a fantastic mood and that was quite unusual." Part of this excitement, Waplington reveals now, was because McQueen had been accepted to do an MA in fine art at the Slade in London. "Ultimately, he wanted to move more into making art," says Waplington. "He'd come to my studio in Hackney Wick, east London, and the Chapman brothers are in the same yard and he loved them. Fine art was his passion and that was what he really wanted to do. He was looking for a way out of fashion, I think."
After The Horn of Plenty, Waplington and McQueen spent six months editing the photographs, supplementing them with images Waplington shot of landfill sites and recycling plants, a nod to the rubbish dump in the show and McQueen's anger at the financial crisis that was starting to sting. "I think people will look back at it and know that we were living through a recession when I designed it," said McQueen in 2009. "That we got to this point because of rampant, indiscriminate consumption."
The pair finally agreed on the set of images for the book before McQueen died. Five years on, Waplington believes that he would be thrilled that they will be shown at Tate Britain. "That's really where he saw himself," he says. "That's where he saw his contemporaries and the Tate was where he wanted to place himself, so it's amazing that's happening."
Nick Waplington/Alexander McQueen: Working Process, Tate Britain, London SW1, 10 Mar-17 May. Alexander McQueen: Savage Beauty, V&A, London SW7, 14 Mar-2 Aug
guardian.co.uk © Guardian News & Media Limited 2010
Published via the Guardian News Feed plugin for WordPress.