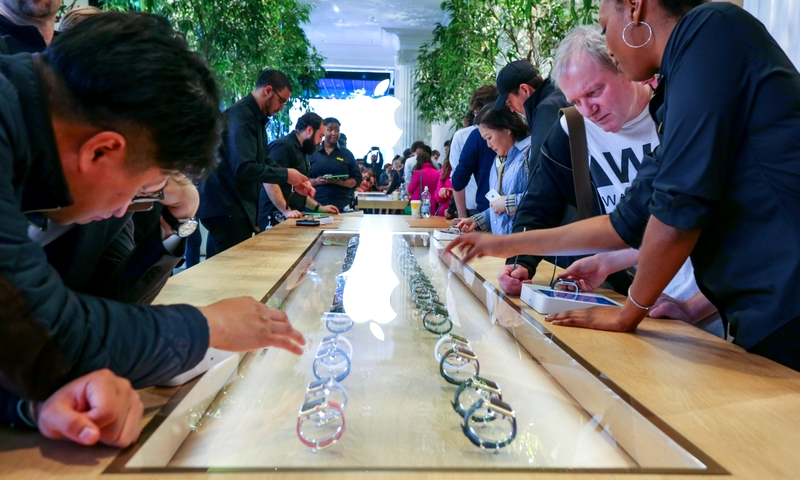 ---
This article titled "Apple Watch launch swaps high-street crowds for high-end fashionistas" was written by Hannah Marriott, for The Guardian on Friday 10th April 2015 16.01 UTC
There were no over-excited enthusiasts triumphantly brandishing white boxes at the Apple Watch launch at Selfridges in London. Instead, a handful of shoppers formed an orderly queue, enjoy ed iced Earl Grey tea served on trays by uniformed waiters, and patiently waited for their appointments.
The discreet event on Friday was quite a departure for Apple, whose past product launches have famously attracted long queues and high spirits. This was a preview, not a regular shopping trip, a chance to fiddle with the watch's features in a light-flooded, pristine space before ordering online and waiting for the watches to be shipped from 24 April.
It was a deliberate strategy. The crowds made for good television coverage in the past, but they have become something of a curse for the company.
For a start, they lead to stores running out of devices and a large number of customers leaving disappointed. Selling devices online means it is easier for Apple to control its stock and manage customers' delivery expectations.
The Apple Watch is particularly hard to sell in stores, as it comes in a plethora of customisable options. Most importantly, however, the queuing crowds encouraged the depiction of Apple fans as nerdy and obsessive, and the company wants to market its watch to a higher-end, fashion conscious market. Apple has targeted the fashion press hard.
"The days of waiting in line and crossing fingers for a product are over for our customers," Apple's retail chief, Angela Ahrendts, said in an internal memo sent to store employees and leaked to Business Insider recently. "This is a significant change in mindset, and we need your help to make it happen. Tell your customers we have more availability online, and show them how easy it is to order. You'll make their day."
The strategy worked. The pavements were bare outside Apple stores in Regent Street and Covent Garden on Friday morning.
At Selfridges, one of the first through the door was Ajay Chowdhury, a self-confessed Apple "fanboy" who ordered a watch with a navy blue strap and stainless steel case online at the end of his appointment. "I love the design," he said. "I haven't loved any other e-watch. I tried it on and it feels terrific. They say we check our phones 150 times a day, so I hope this will stop me doing that all day and pissing my family off."
Gwen Renard also hoped the phone would help her spend less time glued to her iPhone screen. "I love fitness and fashion," she said. "I was going to buy a fitness band. I am pregnant and I need a new toy to help motivate me to lose weight afterwards, but I realised I wouldn't wear a fitness band and a watch as well, so I decided to get an Apple Watch instead." Renard's watch will have a pink leather strap, and she plans to wear it in rotation with others by Cartier and Chanel.
The experience feels exclusive, with the Apple pop-up store housed in a chic corner of Selfridges' wonder room, where timepieces, jewellery and accessories by brands from Bulgari to Chopard are sold. Appointments take place around a gleaming display case full of the watch's various incarnations, from the £299 sports version to the £9,500 18-carat rose gold model.
It's impossible to tell from the sales assistant-led demonstration how well the smartwatch will work in everyday life, but toying with it for a while – scrolling through messages, flicking through contacts and photographs – certainly builds a sense of excitement. It also helps customers decide whether they like the look of the thing.
"I wanted to come and check the aesthetics," said Marina Austin. "I've been looking through Vogue, I've seen that they are featuring them, but to my eye they still look quite masculine. I think either they will evolve or our eyes will get used to them."
For now, this would be one watch rather than the watch in her life. "I like the sportier white one. I usually wear watches that are more blingy – a Tag watch today, Michael Kors watches. But I don't have a sports watch." After ordering online she left, like the other customers, with nothing but anticipation.
Additional reporting by Samuel Gibbs
guardian.co.uk © Guardian News & Media Limited 2010
Published via the Guardian News Feed plugin for WordPress.