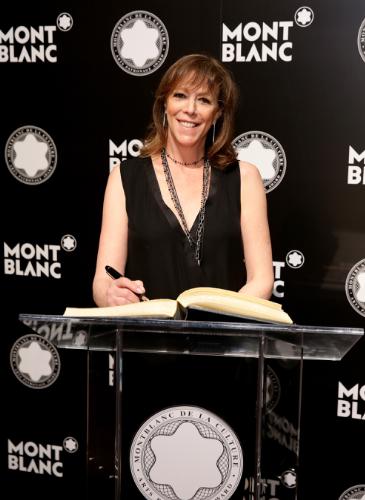 For the past 23 years the Montblanc de la Culture Arts Patronage Award has celebrated the work of outstanding private patrons of the global arts community who are recognized for their committed and continuous philanthropic activism. This year, acclaimed film producer Jane Rosenthal was honored with the Montblanc de la Culture Arts Patronage Award.
Rosenthal joined the prestigious ranks of past Montblanc de la Culture winners, which include entertainment pioneers like Quincy Jones and Yoko Ono to philanthropic royals like HRH Charles Prince of Wales and Queen Sofia of Spain. Of the 12 annually participating countries, the 2014 recipients also include Paul Ruddock (United Kingdom,) Maria Flora Monini (Italy) and Steve & Chiara Rosenblum (France.)
In 1988, Rosenthal co-founded Tribeca Productions and the Tribeca Film Center in the lower Manhattan neighborhood with actor Robert De Niro and has since used her acclaimed film production accreditation as a platform to bring visibility to otherwise underground and overlooked topics. Rosenthal has consistently dedicated her intellect and time towards this goal via the annual Tribeca Film Festival, which she organized in 2002 and has since developed into the most significant international event that introduces new filmmakers and films to audiences.
"Since 1992 Montblanc has celebrated their rich heritage in supporting artists and cultural projects around the world," said Lutz Bethge, VP Chairman of the Montblanc Cultural Foundation. "It is crucial to recognize those who continue to enable the well-being of the arts and Montblanc is proudly welcomes Mrs. Rosenthal as a member of this celebrated group."
The Montblanc de la Culture Arts Patronage Award was established to honor and support individuals who have given exceptional time, energy, and funds to artists and their work. To be chosen, a winning patron has to demonstrate not only a history of personal commitment to the arts, but also a concern that the wider public should benefit as a result of that support. A jury of internationally renowned artists chooses 12 winners from a shortlist of 36 nominees.
This year the American jury was comprised of iconic fashion designer Prabal Gurung, publishing legend Christopher Forbes and prominent actor Anthony Mackie.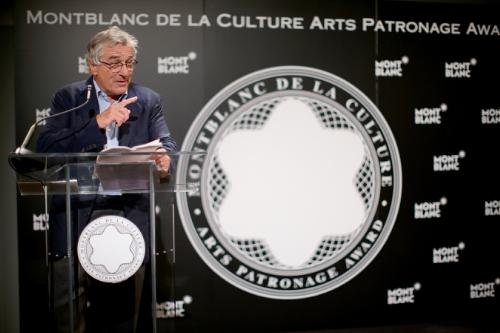 As part of the Montblanc de la Culture Arts Patronage Award, Rosenthal received 15,000€ that will be donated to Tribeca Film Institute to continue its growth and staging of altruistic filmmaking. In 2001, Rosenthal, De Niro and Craig Hatkoff, founded the Tribeca Film Institute, which Rosenthal and De Niro co-chair. TFI supports a diverse group of underrepresented filmmakers through grants and professional development programs such as Tribeca All Access. Additionally, TFI annually exposes 25,000 underserved students to socially relevant films, hands on training and educational programming as to help them learn filmmaking and gain the media skills necessary to be productive citizens and creative individuals in the 21st century.
In addition, Rosenthal received the Montblanc Patron of Art Edition 2014: Henry B. Steinway Limited Edition 888. The writing instrument commemorates the life and influence of Henry B. Steinway, the world's greatest piano building pioneer, who revolutionized the world of music and dedicated his life to the advancement of the arts.