18 films will compete for the prestigious Palme D'Or at this year's Cannes Film Festival in France.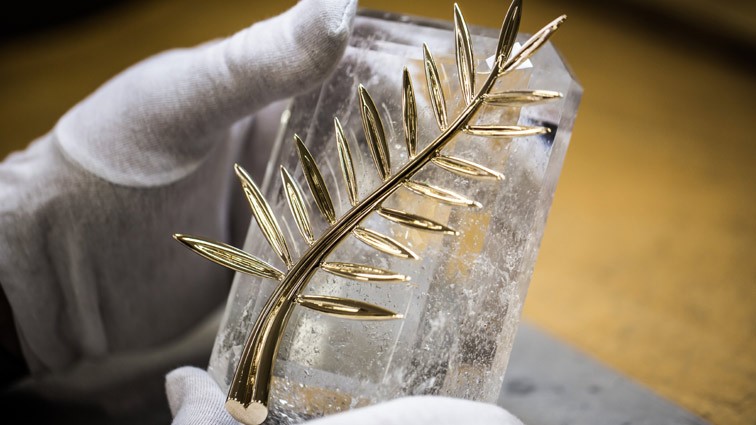 The Palme d'Or, one of the world's most coveted trophies, is made in Geneva in the ateliers of the Chopard's luxury Maisons. By combining "Fairmined" gold and the world of cinema, Chopard introduces sustainable luxury and highlights the importance of the artisan's skills from the very sources of the supply chain.
This 70th edition celebrates 20 years of Chopard as the official partner of the Festival de Cannes and the Palme d'Or will be superbly dressed on this special occasion.
Euronews caught up with Chopard's Artistic Director Caroline Scheufele to find out how the trophy is made.
"It has become a love story and we have really, also grown our high-class jewellery with the involvement of Cannes," explained Caroline. "Within this manufacturing location, we have over 37 different crafts, from polishing to watch making, setting, to goldsmith, you find everything under one roof."
The first film to win a Chopard-made Palme d'Or was called Eternity and a Day. "A wonderful premonitory association with a Palme d'Or that is so majestically… eternal," says Chopard Maison.
It all began in 1997, when Pierre Viot, President of the Festival at the time, asked Caroline Scheufele, Chopard Co-President and Artistic Director, to redesign the Palme d'Or. On that year, Chopard was preparing to open a Boutique on "La Croisette" with prestigious patronesses including Eva Herzigova, Carla Bruni and Ornella Mutti.
Caroline Scheufele recalls her first meeting with Pierre Viot: "I noticed the Palme d'Or just behindhim in his office. I asked to have a closer look and seeing my keen interest, he asked if I would like to come up with a new version for him, a "makeover" of some sort. I was delighted and took on the task with great enthusiasm!"
Caroline Scheufele told euronews what makes this particular Palme d'or so special:
"This year actually, for the festival anniversary we have decide to make the Palme even more glamorous. So we added tiny little diamonds all together, 0.70 carats, there are just like little snowflakes, that have set themselves on the Palme. And it gives extra sparkle. So the one who get this one, gets something very special this year…diamonds are forever."