---
This article titled "Fondation Cartier celebrates 30 years with portrait tribute to artists" was written by Hannah Ellis-Petersen, for The Guardian on Friday 24th October 2014 18.29 UTC
On the wall of the Fondation Cartier in Paris, a patchwork of more than 100 small, colourful portraits hang in a perfectly linear collage. Most of the faces are instantly recognisable – David Lynch is mounted alongside a smiling Patti Smith and Lou Reed, while the imposing figure of Paul Virilio hangs next to an abstract Wolfgang Tillmans.
The work, by Japanese painter and graphic designer Tadanori Yokoo, was commissioned by the Fondation Cartier to mark its 30th anniversary this week. It pays a visual tribute to Fondation Cartier's treasured community – some of the biggest names in art, music, film and science – who have worked with and exhibited at the museum since it began three decades ago.
A museum and patron of contemporary art, this was the place that orchestrated an impromptu Velvet Underground reunion in 1990, commissioned a show by Jean Paul Gaultier that was made entirely from bread (drily named Pain Couture) and was the first major museum to exhibit the drawings and photographs of film director Lynch in 2007. Even the building, a great glass structure in Montparnasse designed by the French architect Jean Nouvel, has become a Parisian landmark.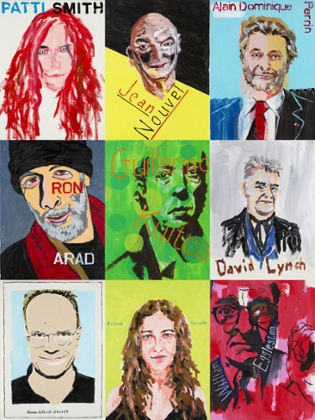 To mark the 30th anniversary, an exhibition by the esteemed Argentinian painter Guillermo Kuitca, titled Les Habitants, opens on Saturday. Intended as a journey through the foundation's history, Kuitca's installation is a direct response to Lynch's life-sized recreation of an eerie living room, with deep red walls and a zebra print chair sat hauntingly in the middle, which was first exhibited in 2007.
Instead of simply being an exhibition of his own work, Kuitca's installation or "visual journey" responds to themes in Lynch's piece by bringing together a diverse selection of other artworks which purvey themes of space and suburban weirdness. Lynch's Living Room is on display – with a recording of a concert given by Patti Smith and Lynch at the foundation in 2011 playing in the background – alongside a film by the Armenian film-maker Artavazd Pelechian, a painting by Francis Bacon and two works by Kuitca himself.
"David's living room had a very profound impact on me when I first saw it," said Kuitca. "So I wanted to revisit that feeling with this exhibition, and expand on that using work by other artists as well as my own paintings, bringing them together in a dialogue. It is a visualisation and celebration of the foundation's history and the unique networks between art and artists it has created over the 30 years."
Discussing Kuitca's interpretation of his living room piece, Lynch, laughing, told the Guardian: "He completely ruined the whole thing." He added: "There's really something to the exhibition. By him taking my work as a starting point it kind of kicks a new trail and it has led to fantastic things, so I'm all for it."
The director of films such as Mulholland Drive and creator of the cult TV show Twin Peaks also spoke about how the foundation had been the first to champion him as an artist and photographer, rather than as a film-maker.
"Before I worked with the Fondation Cartier, I had never really thought about my art, my drawings and my photographs, in that way," said Lynch. "It all began when Hervé Chandès, the director of the foundation, came to my house and the next thing I knew I was having my first solo show here in 2007. Now I have so many shows of my art, so it is incredible what Hervé and the Fondation started."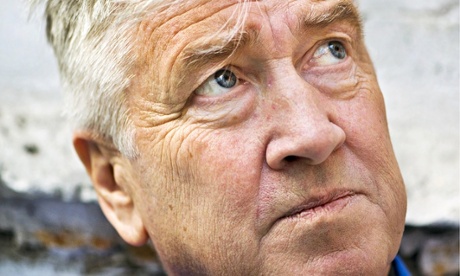 Lynch, who also contributed to a 2011 exhibition at the foundation celebrating mathematics, added: "This is a place that is completely designed to champion artists without restraint. It inspires them, it connects them, it feeds the work and that is very very important. They celebrate art, they protect the art but then they also become like family with these artists. And they have no boundaries."
The Fondation Cartier began life in 1984, at a time when contemporary art was beginning to burgeon in France. While it is still funded 60% by the jeweller Cartier, it operates under the strict rule that no artist who works with the foundation can ever work with the luxury brand, creating a distinct and important line between the business and arts patronage.
Alain Dominique Perrin, who set up the foundation, said: "What we have done is not only show the artists like other museums have done, we have gone further and we have pushed them to go further, in their exhibitions and our commissions.
"We have around 1,000 artists we work with and the great thing is, they always come back. David Lynch is here every month, the same with Patti Smith. I think it is very unique. Where in the world do you see artists putting on an exhibition but then revisiting over and over? That's why we are different. We are here only to serve the art and the artists."
William Eggleston, the celebrated photographer widely credited as the pioneer of colour photography as an artistic medium, also spoke about his fruitful relationship with the museum. which It began eight years ago when the foundation commissioned him to go into the Arizona desert in the US to take photos, and later Kyoto, Japan, and then Paris. His pictures, showing a darker, raw side to the French capital, have since become iconic.
Now aged 75, he echoed Lynch's sentiments that the foundation had become family. Speaking in his gravelly Memphis drawl, he said: "It was the foundation who first invited me to photograph Paris. But I've also been doing abstract drawings all my life and the foundation was the first place to say, let's bring both together in an exhibition and show them alongside my photos. No one had ever done that before. It was very unusual and I loved it.
"This is a unique place to be as an artist. If there is another place in the art world like this, then I have never found it. They understood that, whether people like it or not, the world is in colour. Always has been, always will be."
guardian.co.uk © Guardian News & Media Limited 2010
Published via the Guardian News Feed plugin for WordPress.