---
This article titled "Google Streetview gives glimpse of the world of Jane Goodall's chimpanzees" was written by Adam Vaughan, for theguardian.com on Thursday 23rd October 2014 11.35 UTC
Chimpanzees and their remote forest home in Tanzania have joined camels in the Abu Dhabi desert and the wildlife of the Galapagos islands on the list of things you can see on Google Streetview.
A team spent nine days with backpack-mounted cameras mapping Gombe national park, where primatologist Jane Goodall made her ground-breaking discovery over 50 years ago of chimps not just using but making tools.
The resulting 360-degree images show chimps riding on their mother's back, park rangers taking measurements and the spectacular view from 'the peak' – reportedly Goodall's favourite spot in the park, which sits next to Lake Tanganyika.
Bill Wallauer, a wildlife videographer for the Jane Goodall Institute who wore the camera equipment, said: "If you were shipwrecked and you washed up on shore, this is the paradise you would want to land in."
"You just lose the rest of the world. You don't hear the news, you don't hear what's going on," he told the Smithsonian magazine, which reported the team facing "poisonous snakes, killer bees and army ants."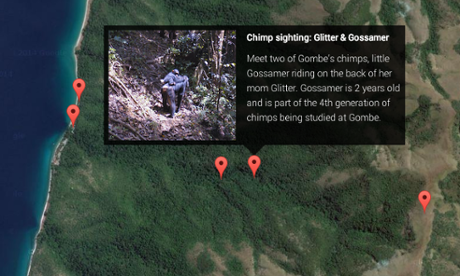 Separately, a new study has reported chimps being caught red-handed carrying out night-time raids on farms in Uganda.
The researchers, whose work is published in the journal Plos One, used camera traps in Sebitoli in the northern part of Kibale national park to film chimpanzees emerging from their forest home to take maize from farmland.
The chimps, whose forest has suffered logging and who have been subjected to snares as a result of previous agricultural losses, surprised the research team by using nocturnal raids to avoid human guards and by doing so in larger-than-expected groups, including mothers with infants clinging to them.
They "presented few signs of vigilance and anxiety during these nocturnal crop-raids", the authors note, despite some being chased by dogs. About 40% of the estimated 80 chimps in the area had limb mutilations which the researchers said were likely due to the use of snares.
guardian.co.uk © Guardian News & Media Limited 2010
Published via the Guardian News Feed plugin for WordPress.