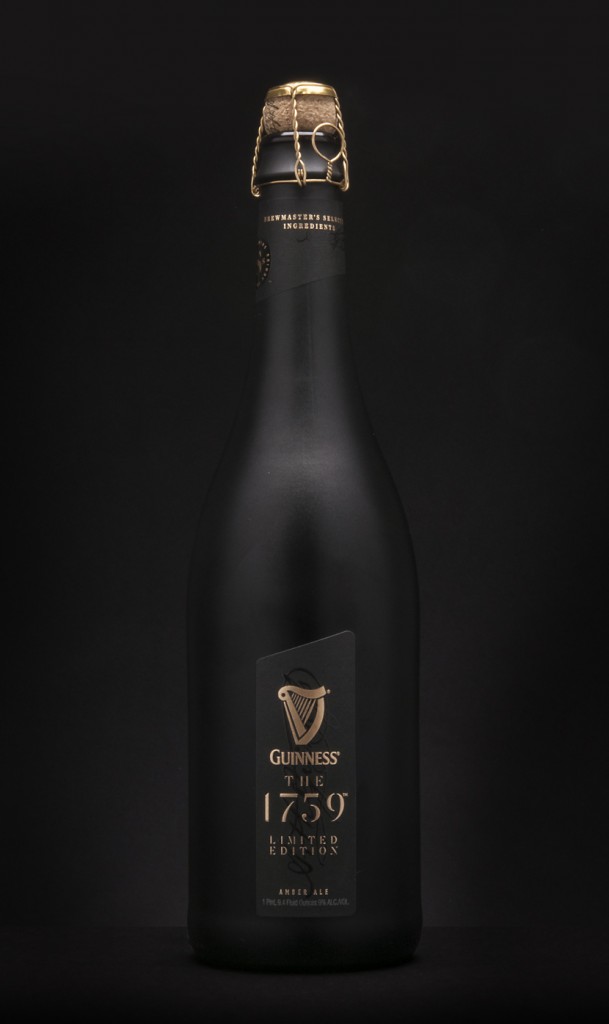 Guinness launched a limited edition luxury beer that requires special glassware. The brewer is bringing a new level of elegance and artistry to the beer category with Guinness The 1759, a limited edition amber ale inspired by a 200 year old recipe.
With only 90,000 bottles being produced, the new "Guinness The 1759″ is an ultra-premium beer brewed with both traditional beer malt and the same peated whisky malt used in the world's finest Scotch and Irish whiskies. Brewed with the same Guinness yeast that has been used for more than 125 years, this rich amber ale offers new style and flavor under the Guinness trademark.
The name is derived from the year Arthur Guinness signed the 9,000 year old lease at St. James's Gate in Dublin so he could brew what would become one of the most respected and beloved beer brands in the world.
"This is the first limited edition beer brewed in the newly dedicated Brewhouse No. 4 at St. James's Gate. Our commitment and dedication to quality is what Arthur Guinness himself would have expected and something we cherish just as he did," said Michael Donnelly, Master Brewer at St. James's Gate in Dublin. "The fine peated whisky malt used in the Guinness The 1759 brewing process brings a complex taste to the amber ale that gently complements the hop flavors, resulting in a liquid that is distinguished and innately Guinness."
Guinness The 1759 has a rich butterscotch aroma with subtle hop notes. The mellow, caramel flavors combine with a subtle hop character and fruity sweetness from the strong ester profile, says the description of the new limited edition beer concoction.
The beer is the first offering of the new Guinness Signature Series which offers a range of limited edition luxury beers. Utilizing the artistry of Guinness Master Brewers, this series features beers made from rare and highly sought after ingredients.