At first glance, it seems one of the film world's least likely collaborations – the director seeking to reinvent science fiction with visceral realism and a haute-couture designer best known for dressing Queen Elizabeth II. Yet it was Sir Hardy Amies who stamped his own style philosophy on 2001: A Space Odyssey.
---
This article titled "2001: Space Odyssey – the fashion power of designer Hardy Amies" was written by Lauren Cochrane, for theguardian.com on Friday 28th November 2014 10.17 UTC
The news that 2001: Space Odyssey is being re-released in cinemas today will no doubt delight sci-fi geeks nationwide. But the chance to see the 1968 classic Kubrick space epic on the big screen will also thrill a certain kind of fashion connoisseur. The clothes in the film might have the look of the era's space-age style-pushers Pierre Cardin and Andre Courreges, but they were in fact designed by Hardy Amies, the Savile Row tailor behind the Queen's clothes from 1952 onwards.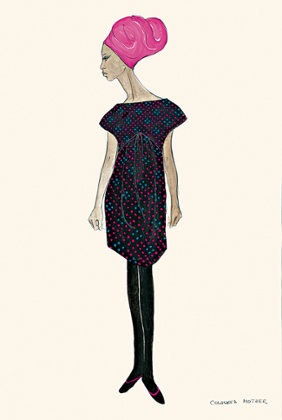 Unlike other film and fashion moments – Givenchy for Breakfast at Tiffany's, say, or Yves Saint Laurent for Belle Du Jour – this partnership has fallen into relative obscurity. However, with the discovery of the sketches in the Hardy Amies basement four years ago and an exhibition of Kubrick's archive at LA's LACMA gallery last year, it's being reassessed. Three files of Amies' sketches on outfits include the stewardesses' sugar pink uniforms, the tweed suits worn by the astronauts and almost every other character. His work – all block colours, simple square cuts and off-kilter details – was central to giving the film its oddly timeless futurism.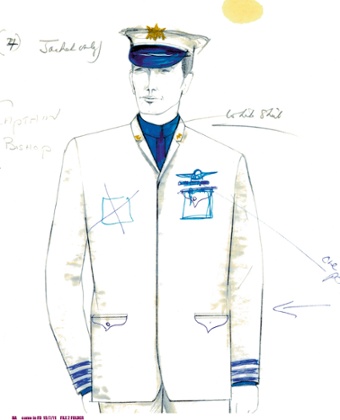 The collaboration is all the more intriguing on account of the personality clash: an always-immaculately-turned- out designer who worked with royalty and a bearded maverick in a corduroy suit doesn't sound like an easy meeting of minds. "When I tell people about this, they are open-mouthed," says Austin Mutti-Mewes, the curator of the Hardy Amies archive. "I can't imagine they got on – just from the way that Kubrick looked."
Con Gornell, the executive vice president of Warner Brothers who produced 2001, oversees relations with the Kubrick estate. He says the appointment of Amies was typical Kubrick – a man who originally had Woody Allen in mind for Tom Cruise's role in Eyes Wide Shut. "Stanley had a lot of lateral thoughts," says Gornell. "He would have reached out knowing Hardy was known for one thing and thinking: 'What if he did 2001?'"
Kubrick's eye for costume can be seen throughout his work, from the period pieces for Barry Lyndon that inspired Alexander McQueen, to the Clockwork Orange look still beloved of pop stars and Lolita's cat's eye sunglasses. Gornell says that Kubrick's legendary perfectionism would have seen a hands-on approach with Amies' designs to get the look right for 2001. "There wasn't anything he didn't have control over," he says. "He would have signed off on swatches for every costume." This was something new for Amies, but a way of working that he may have valued. "The Queen followed fashion," says Mutti-Mewes, "but she wasn't that interested. Kubrick wanted to know about buttons, fabrics, everything. That would have been a thrill."
With Amies' role in the film now being acknowledged, Mutti-Mewes says he may have influenced the look of the film beyond clothes – "particularly with all the red. Hardy always said that red was the most masculine of colours." Ultimately, Amies' contribution helped 2001 become the last word on the future, even in 2014. "My first impression [of the designs] was that they weren't very futuristic at all," says Mutti-Mewes. "He did that because he didn't want the film to date. Amies was a great believer in the understated – he wanted clothes that worked in the city, the country and on the spaceship."
guardian.co.uk © Guardian News & Media Limited 2010
Published via the Guardian News Feed plugin for WordPress.