Bugatti is celebrating the reopening of its London showroom.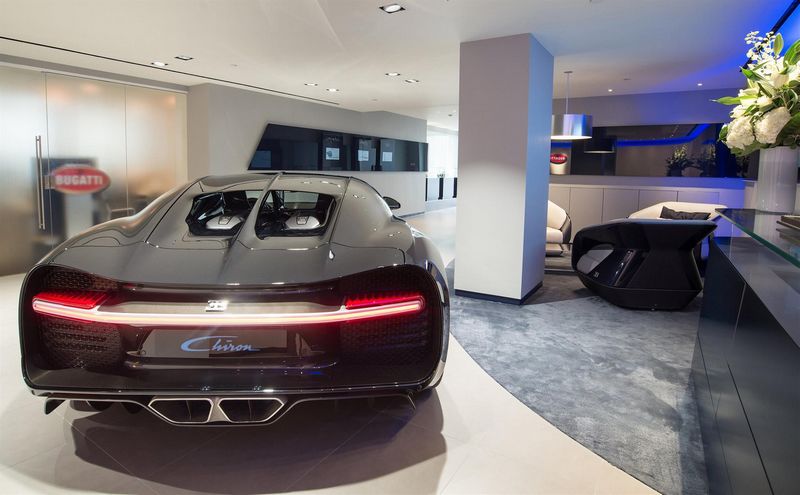 Bugatti unveiled the only place in the UK to view and order the new Bugatti Chiron. Bugatti is celebrating the reopening of its London showroom in Mayfair, now completed by H.R. Owen, Bugatti's long-term partner in the United Kingdom, in the new Bugatti brand design.
The showroom is located on Bruton Street in Mayfair, adjacent to Bentley dealership and delivers the perfect environment in which to view the new Bugatti and discuss personalisation options with the factory trained team. It allows customers a private and secluded buying experience, out of view from the outside world, and allows them to get up close with the car.
The showroom features the very latest Bugatti branding, with the legendary Bugatti blue playing a prominent part in the modern and clean styling around the room. H.R. Owen Bugatti is furnished with items from the recently launched Bugatti Home Collection. The specially designed armchairs are made using the finest leather and blue carbon fibre, the same high-spec materials that feature in Bugatti's cars. As well as the present and future, the showroom will also reflect Bugatti's history and heritage, with a selection of art installations and sculptures that celebrate the brand beyond the cars.
About 65 Bugatti Veyrons are currently owned by customers in the United Kingdom and about 15 orders for the Chiron have been received from this country so far. Since the start of cooperation with Bugatti in 2006, H.R. Owen Bugatti in London has always been one of the top performers in the super sports car manufacturer's dealer network.