This new kick-scooter with electric auxiliary drive is light and compact and takes its rider where he wants to go regardless of traffic back-ups, shortage of parking space and public transport timetables. With a top speed of up to 25 km/h and an electric range of around 25 to 35 kilometres, the BMW Motorrad X2City is predestined for ever-more congested city traffic conditions. The X2City is classified as a "Pedelec25" requiring no helmet or driving licence for every one aged 14 and over.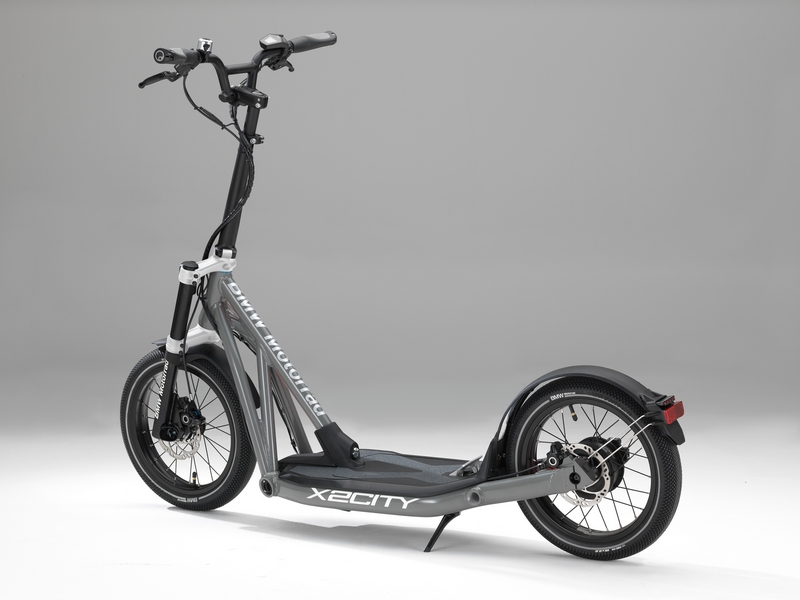 This new product gives BMW the access to new target groups beyond the conventional motorcycle segments. The BMW Motorrad X2City is expected to be available in shops from the end of 2017. The price has not yet been fixed but it will be below € 2,500.-
The BMW Motorrad X2City is ideally suited to all situations where individual mobility by car or public transport reaches its limits. It can be used as a stand-alone means of transport over short distances, or as a supplement to the car or to public transport – any combination is possible. Thanks to its low weight of 20 kilograms and the foldable steering unit, the BMW Motorrad X2City can be stored easily in the luggage compartment of a small car.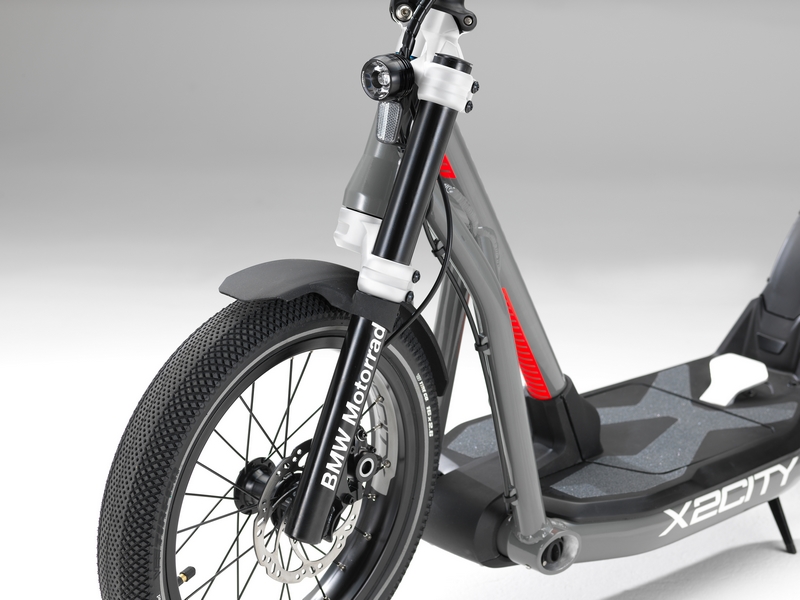 Thanks to its compact dimensions, the BMW Motorrad X2City is even smaller than a foldable bicycle.
In contrast to these, however, it also features an electric auxiliary drive in the rear wheel making it more comfortable and more fun to ride. The brushless hub motor provides effective support for the rider and accelerates the BMW Motorrad X2City to up to 25 km/h. The operating unit on the handlebars offers five speeds (8, 12, 16, 20 and 25 km/h). For safety reasons the supporting power of the electric motor is only activated once a speed of 6 km/h has been reached. The electric drive can be turned off at any time using a switch in the brake lever, thereby interrupting any electric support.
Intelligent energy management. A 408 Wh lithium ion battery supplies the electric motor with power. It is contained in a rain and splash-proof housing underneath the running board and is integrated into the frame from where it can also be removed easily. A battery management system with integrated power electronics ensures a range of between 25 – 35 km in everyday use. A specific charging unit with magnetic connector makes for easy charging using the exterior charging socket on the scooter or directly at the battery itself. The battery is charged using a conventional household socket and it takes approx. 2.5 hours to charge an empty battery.