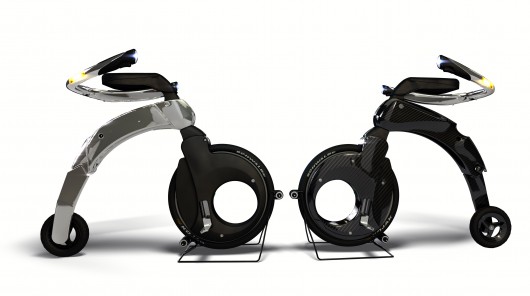 Weighing just 11.5kg the YikeBike is the smallest folding electric bike in the world. With the ability to fold up or unfold in just 15 seconds and travel at 23km/hr you will never have to worry about getting to that meeting across town again. This urban toy can be charged from any power outlet in the world for less then US$0.01 per km of travel. The YikeBike is the perfect tool to reduce your carbon footprint and replace it with a very earth friendly tire tread.
In 2011, YikeBike, the creators of the world's smallest, lightest, compact electric bicycle, unveiled the YikeBike Fusion, a
lower-priced yet uncompromising version of the original YikeBike Carbon Fiber electric bicycle. The YikeBike Fusion retails for $1,990 USD, which is half of the price of YikeBike Carbon Fiber.
At about half of the size and weight of other electric bicycles and many regular bicycles, the YikeBike Fusion is the perfect vehicle for urban and suburban use, especially for commuters.  Similar to the original, the YikeBike Fusion travels at a maximum speed of 14 miles per hour, with a distance of up to six miles between charges, or up to eighteen miles with the optional extended batteries.
YikeBike founder, Grant Ryan is an addicted inventor and entrepreneur. He has founded a number of companies including GlobalBrain.net (sold to NBCi), RealContacts, SLI Systems (profitable fast growing SaaS search company) and Eurekster (North America Red Herring 100 in 2006). He is on the board of Canterbury Development Corporation and has also served on the board of the New Zealand Government's $140 million Venture Investment Fund and $430 million Foundation for Research Science and Technology. Grant has a degree in Mechanical Engineering and a PhD in Ecological Economics from the University of Canterbury. The YikeBike perfectly combines his love of mechanics, environment and innovation.