Jeff Koons designs 2010 Mouton Rothschild label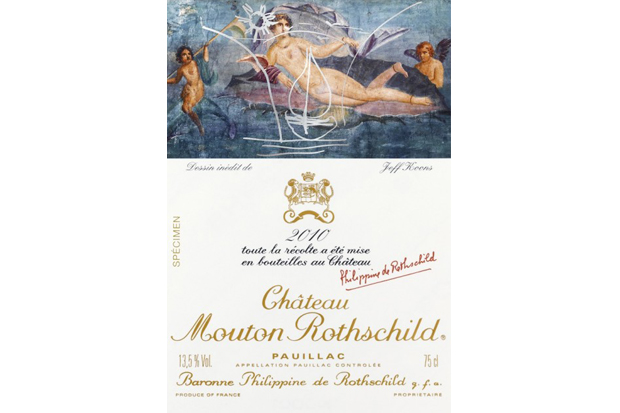 Modernist American artist Jeff Koons has been commissioned to design a wine label for Chateau Mouton Rothschild's 2010 vintage, one of Bordeaux's premier cru red wines.
The artist known for his reproductions of banal objects—such as Balloon animals produced in stainless steel, continues the annual tradition to produce a label for the celebrated wine of Chateau Mouton Rothschild.
Every year since 1945, Baron Philippe de Rothschild commissioned an original artwork to adorn its bottles. Jeff Koons joins Jean Cocteau, Salvador Dali, Pablo Picasso, Andy Warhol, film director John Huston and Britain's Prince Charles.
The bottles which bear Koons' design illustrates a fresco from ancient Roman Pompeii combined with a silver line drawing depicting a sailing boat and a sun. Already sold to suppliers around the world, Jeff Koons 2010 Mouton Rothschild will retail at a price of 800 euros and upwards.
Jeff Koons became the world's most expensive living artist after his multi-coloured steel was sold for US$33,682,500 at Christie's New York.