This stylish McLaren lets toddlers rest their weary legs when the excitement of running around has worn off. McLaren Automotive and US toy company Step2 create unique open-top car.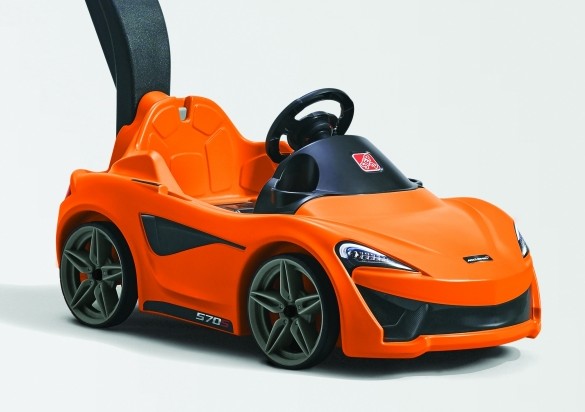 British manufacturer of luxury, high-performance sports and super cars McLaren Automotive has teamed up with The Step2 Company, a large North American toy manufacturer, to create a unique model tailored to appeal to a small but very important audience.
The design brief for the 570S Push Sports Car was to create something fun that would captivate the intended audience, displaying engineering and design prowess. Designers from McLaren Automotive and Step2 toys worked closely together to replicate the essence of the real McLaren 570S; Step2's Whisper Wheels give the car a smooth ride, the flat-based steering wheel offers excellent feedback and electronic sounds provide an exhilarating experience for mini-racers.
The revolutionary McLaren 570S Step2 Push Sports Car was designed with family in mind, providing practical support for modern living by allowing parents to carry out their daily tasks or simply enjoy a leisurely stroll in the park without needing a conventional stroller. With a handy storage area under the seat that is perfect for stowing snacks and multiple cup holders to house that vital morning coffee and bottles of water, this stylish car lets toddlers rest their weary legs when the excitement of running around has worn off.
With its enthusiastic spirit to develop and create ground-breaking toys, Step2 shares many values with McLaren Automotive: just as McLaren is recognized as pioneering carbon fibre technology – used in all its cars since 1981 – Ohio-based Step2 is recognized as pioneering the 'push car' and its expertise and knowledge of the needs of children and parents alike was vital to the project.