The McLaren 570S Spider in Curacao Blue or 15 seconds from coupe to open-air enjoyment.
McLaren Automotive's 2017 Sports Series Summer tour continues to showcase the new Mclaren 570S Spider. The tour also offers the opportunity to test drive the most refined Mclaren Sports Series model: the Mclaren 570GT.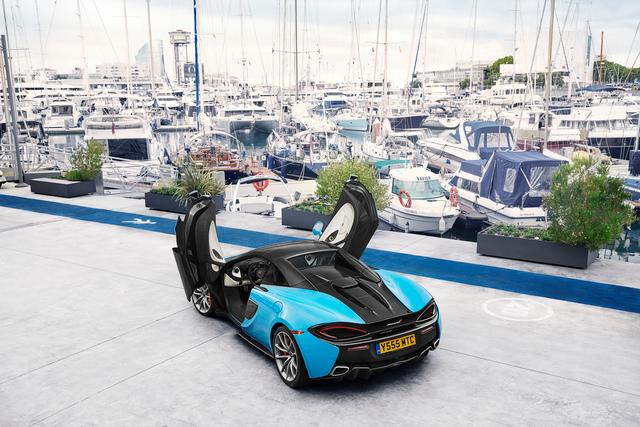 Starting in Barcelona at the One Ocean Vell Port, the tour visits a total of seven city locations in Southern Europe over two weeks, breaking during the hotter hours of the day but running late into the evening to allow people to see, touch and even test drive a Mclaren Sports Series car. The Mclaren 570S Spider is displayed on a branded structure that makes it easier to view the new luxury convertible, while an adjacent test drive station enables quick access to nearby roads.
"We started the concept of a tour in 2015 with the Mclaren 570S, aiming to bring the Mclaren brand and the Sports Series range of products closer to the public. We continued in 2016 with the Mclaren 570GT as the centrepiece and from these two experiences better understand the expectations of visitors; as a result, as  well as showcasing the new Mclaren 570S Spider, our 2017 Sports Series Summer tour includes a test drive experience to further raise awareness of Mclaren products and our brand," said David Gilbert, Regional Director McLaren Automotive Europe.
The Sports Series Summer tour, which featured a Mclaren 570S Spider on display and a Mclaren 570GT available to test drive, continues as follows:
4th August: Majorca – Porte Adriano, Spain;
5th August: Majorca – Marina Tramonta, Spain;
9th August: Cannes – Jetée Albert Edouard, France;
10th August: St-Tropez – Jean Reveille Pier, France;
12th August: San Remo – Portosole, Italy.
Take a look at the Motor 1 review of the new McLaren 570S Spider.