2017 Laureus World Sports Awards. The winners. The premier global sports awards took place on February 14, 2017 in Monaco in the company of royalty as HSH Prince Albert and HSH Princess Charlene joined the biggest names in sport.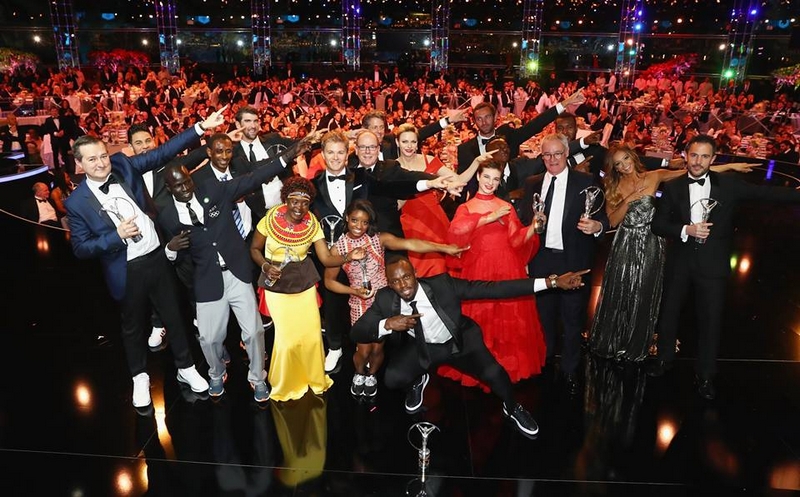 At the 2017 Laureus World Sports Awards Ceremony in Monaco, Usain Bolt and Simone Biles were named Laureus Sportsman and Sportswoman of the Year, following their outstanding performances in 2016.
They are the little and large of sport – Usain stands 1.95 metres, while Simone measures just 1.45 metres – but they were both giants at the Rio de Janeiro Olympic Games, and enjoyed an ecstatic welcome as they received their Statuettes at the Laureus World Sports Awards Ceremony in Monaco. Bolt joins sporting greats Roger Federer, Serena Williams and Kelly Slater as four-time Laureus Award winner.
The Rio Olympic and Paralympic Games produced three more Laureus winners: Michael Phelps, the most decorated Olympian of all-time, won Comeback of the Year after he returned to swimming and scooped five more gold medals; Italy's Beatrice Vio, the only quadruple amputee in international wheelchair fencing, won the Disability Award, and the Olympic Refugee Team, led by Tegla Loroupe, won the Laureus Sport for Good Award for Sporting Inspiration.
The prestigious Laureus Sport for Good Award, won by an organization or individual who, in the opinion of the members of the Laureus World Sports Academy, has used the power of sport to overcome violence, discrimination or disadvantage, went to Waves for Change. The South African based project uses the sport  of surfing project for vulnerable young adults growing up in South Africa's most violent communities.
After finishing second in the Formula One World Championship to his Mercedes AMG Petronas team-mate Lewis Hamilton in 2014 and 2015, Germany's Nico Rosberg at last won his first world title and he was presented with the Laureus Breakthrough of the Year Award.
There were two Awards for British sport: the world's greatest downhill mountain biker Rachel Atherton won the Action Sportsperson of the Year, while Leicester City won a special Laureus Spirit of Sport Award to mark their remarkable achievement in winning English football's Premier League as 5,000-1 outsiders.
Another historic team performance was Chicago Cubs' first Major League Baseball World Series victory for 108 years. This feat won them the Laureus Team of the Year Award.
For the first time ever, sports fans around the world voted for the new Best Sporting Moment of the Year Award. The Award, which brings to life the true power and magic of sport, looked beyond the headlines and captured the fair play, emotion and sportsmanship of sport in 2016. It was presented to the Barcelona Under-12 Team for the humanity and warmth they showed in consoling a Japanese team who they had beaten.