Tesla Motors delivers world's first premium electric sedan to customers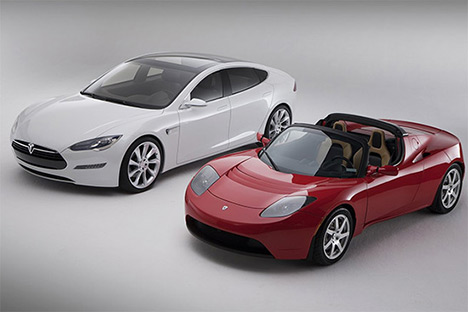 Tesla Motors delivered Model S, the world's first premium electric sedan, to its first customers at an invitation-only event at the Tesla Factory in Fremont, California. These deliveries put Model S on the road approximately one month earlier than previously announced and places the company in a good position to build 5,000 cars by the end of 2012, followed by 20,000 cars in 2013.
Model S is the world's first premium sedan to be built from the ground up as an electric vehicle. The five-door premium sedan competes with the top cars in its class in spaciousness, handling and style, yet produces zero emissions. Because there is no internal combustion engine or transmission tunnel, the interior of the car allows for additional cargo space in the front of the vehicle and one of the most spacious cabins in its class.
The heart of Tesla Model S is its efficiently-packaged electric powertrain that delivers a thrilling driving experience while setting a new EPA record for electric vehicle range of 265 miles1. Model S comes with three battery options – 40 kWh, 60 kWh and 85 kWh. The battery's floor-mounted position gives Model S a low center of gravity and ideal weight distribution for exhilarating performance and superior handling. Model S has many similar features, including immediate responsiveness, instant torque and smooth acceleration that made the Tesla Roadster famous. Tesla said that the company already received more than 10,000 reservations worldwide for Model S.
The base price of Tesla Model S is $49,900 after available federal tax credits of $7,500. Deliveries of Model S in Europe and Asia will begin in early and mid-2013, respectively.