Which trends are set to shape the travel industry in the Americas, the UK, Europe, Middle East, Africa, Asia, India?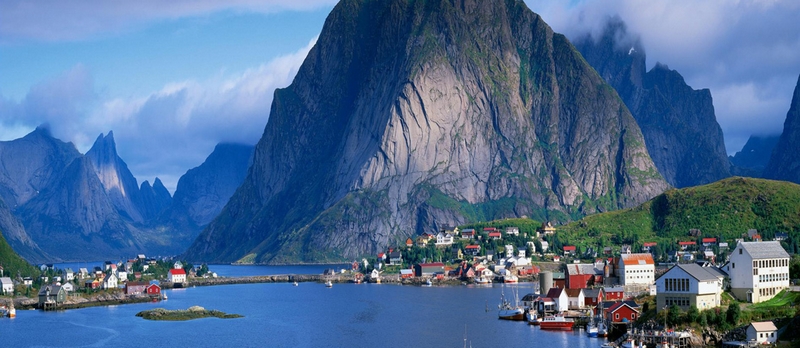 Celebrating 10 years of partnership with World Travel Market London, Euromonitor International, the world's leading provider for strategic market analysis, unveiled the WTM Global Trends Report 2015 identifying the top emerging travel trends.
"The WTM Global Trends Report 2015, in association with Euromonitor International, highlights the emerging trends in the global travel and tourism industry, and has been doing so for an impressive 10 years," said Simon Press, Senior Exhibition Director WTM.
"The GTR has been at the forefront of predicting major trends in the travel and tourism industry since its launch in 2006. The 2015 report is no different forecasting a number of trends I'm sure will bear fruit over the coming years. I would like to thank Euromonitor International for compiling the WTM Global Trends Report 2015. I hope you find the report useful and interesting and wish you a thought-provoking and productive WTM 2015," added WTM's Senior Exhibition Director WTM.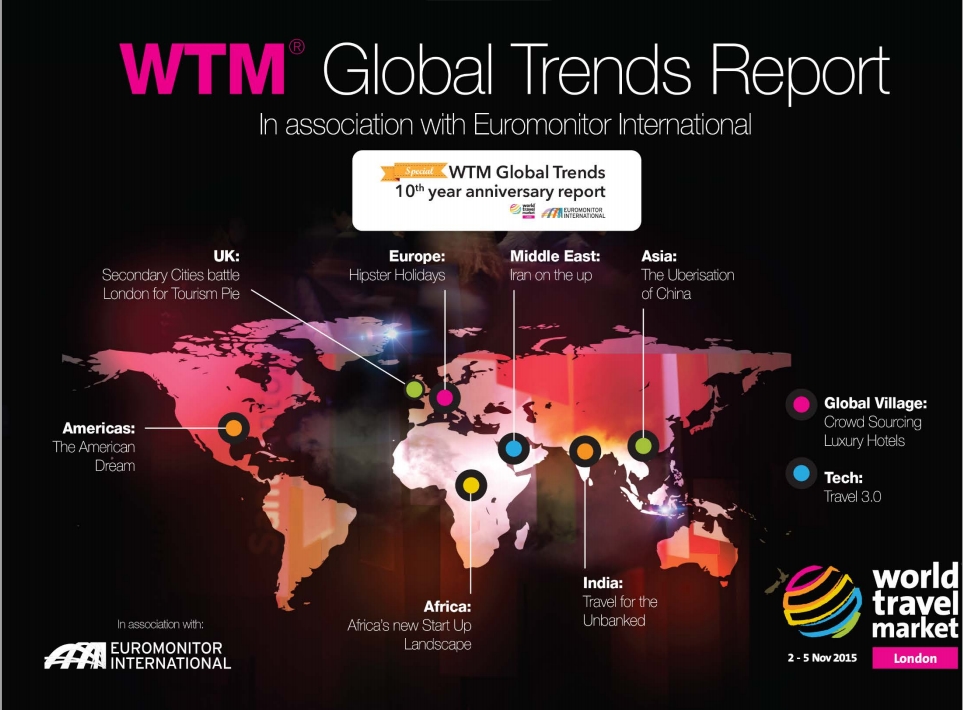 Geopolitical events are impacting economic performance, with conflicts affecting certain destinations in the Middle East and North Africa, Russia and Ukraine.
• Nonetheless, travel continues to shine globally, with arrivals reaching over 1.1 billion in 2014,up by 4.3%. 2015 is forecast to see slightly slower growth, estimated at 3.7%.
• Expenditure is also rising, with the Asia Pacific region predicted to see the fastest growth in inbound expenditure over the next five years.
• The mobile booking channel has finally reached the mainstream, accounting for some US$96 billion of travel sales globally in 2014.
• Despite a recent slowdown, outbound Chinese travellers are still on the rise, reaching over 84 million in 2014, with increasing disposable incomes favouring overseas trips.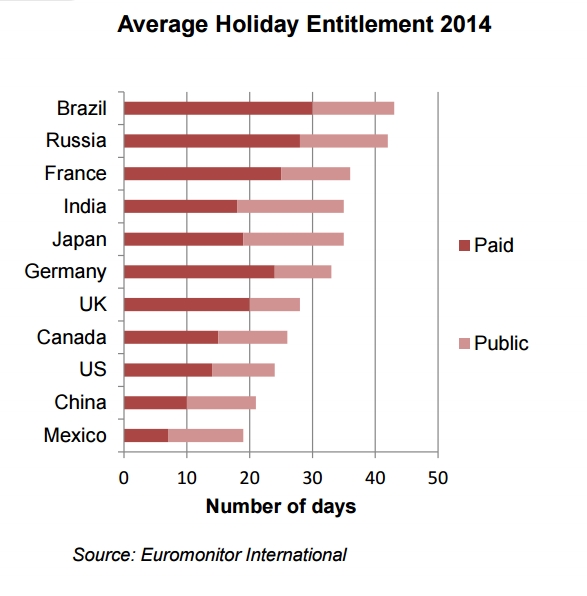 Take a short look at top emerging travel trends for the years to come:
The new American dream: work less, play hard
A growing number of American companies offer unlimited vacation time to create a happier, loyal and motivated staff, which will have an effect on travel bookings.
An annual survey by Expedia in 2014 shows that 54% of Americans feel "vacation-deprived".
However, some leading companies are changing this attitude by offering employees unmonitored or even "unlimited" holidays.
• Companies that have implemented this policy include Netflix, Evernote, Gravity Payments,and Virgin Group in its offices in London, Geneva and New York.
• Around 1% of American companies operate this policy, with employees taking as much time off as they want.
• However, in reality employees seldom abuse the policy if there is a good trust relationship in the workplace and a sense of only taking time off when it will not impact the business.
• More holidays would be a win-win for the travel industry and employers, with benefits for both being seen, coupled with an improved work/life balance for employees.
Smart technology drives travel to UK's secondary cities
Digitalisation and hi-tech solutions are redefining the tourist offerings of UK urban centres to boost travel outside of London, currently the jewel in the crown of UK tourism.
'Hipster Holidays' revolutionise European city break
Young and hip travellers' interest in alternative city areas opens new business opportunities and helps diversifying urban attractions in European cities struggling with excessive tourism.
Luxury hotels keeping in with the crowd
Luxury hotels are turning to crowdsourcing and crowdfunding to get their properties financed, rather than relying on traditional sources of investment.
The sharing economy heads to China
After a shaky start, the sharing economy is taking off in China, with the rise of new local players in 2014, a trend boosted by the number of Chinese millennials.
Travel for the Indian unbanked
Travel firms are adopting 'cash-on-delivery' payments to cater to the half a billion Indians without a bank account.
Travel 3.0: the advent of smart travel
Smart technology is transforming the tourism industry with personalised services to create enjoyable experiences suited to a traveller's individual preferences.
Iran: the next travel hotspot
The recent sanction lift sparked a scramble to open Iran to international visitors, attracted by its ancient Persian history, 17 World Heritage Sites, as well as natural attractions.
Technology Start-ups changing the face of Africa
With technology start-ups flourishing across the continent, Africa is entering a new era of innovation, which will help change the perception to international tourists.