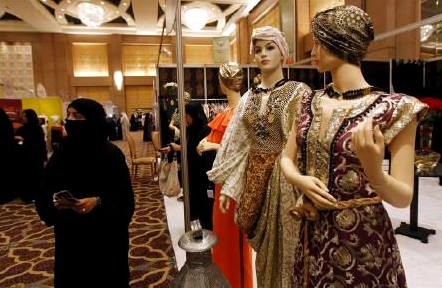 Out of public eye, Arab women power haute couture
The trend may surprise given that many Arab women, particularly in the Gulf region, are traditionally kept under wraps.
But their social calendar, which usually consists of 15-20 weddings a year and private parties every month, creates much bigger demand for couture than the occasional charity ball and high society party in Europe and in North America. And wearing the same dress twice is not an option.
The biggest buyers of haute couture today centre around the Gulf — Saudis, Kuwaitis, Qataris and nationals of the United Arab Emirates (UAE) who do not hesitate to spend 50,000 euros on a low-cleavage lame for an event where no men will be present.
Generally at weddings in Gulf countries, men and women are split into two separate groups, attendees say. Thousands of women gather together in one big ball room — all wearing haute couture — and some are not afraid to wear provocative and revealing outfits.
"All the royal families of the Middle East are our customers,"  Catherine Riviere, head of haute couture at Christian Dior, told Reuters at the brand's show at Paris Fashion Week.
"Women from the Middle East are our top buyers and they are likely to remain so," said Jeffry Aronsson, who became chief executive of Emanuel Ungaro three months ago.
For Dior, Chanel, Valentino, Stephane Rolland and other luxury labels favoured by affluent Middle Eastern women, the biggest challenge is keeping a detailed track record of who buys what, to avoid selling the same dress to members of the same circles, attending the same event.
[adsenseyu1]
More:  reuters