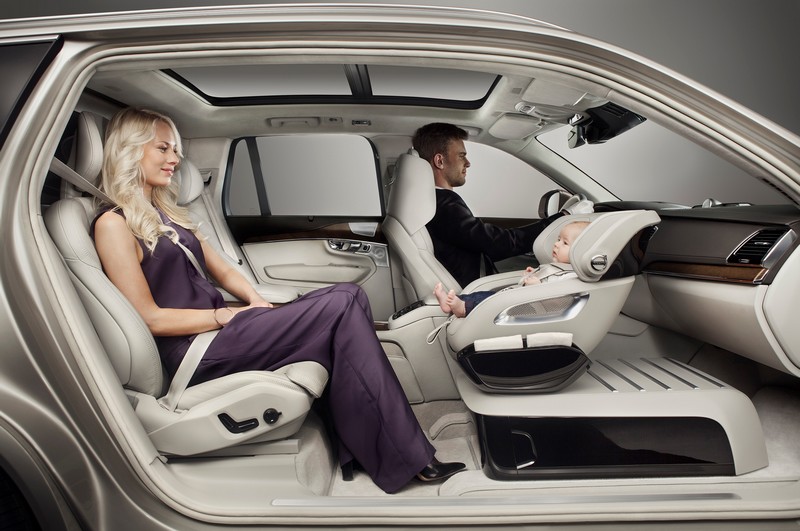 Volvo's luxurious Lounge Console Concept in the new XC90 Excellence, a bold and luxurious step forward for the Swedish car brand, leaves a lot of space for new practical ideas. This is how The Excellence Child Seat was born, says Volvo. The design team have completely re-imagined how children could travel safely. The new concept is making life easier for parents taking their small child on a trip.
The Excellence Child Seat Concept enables the child to travel rear faced and to keep eye-contact with either the driver or the rear passenger.
According to Tisha Johnson, Chief Designer Interiors at Volvo Cars Concept and Monitoring Centre, the idea originated in a conversation with Volvo Cars' owner Li Shufu when he reviewed the XC90 Excellence Lounge Console Concept earlier this year and thought about how else the space left by removing a front passenger seat could be used. The design team at Volvo Cars took on the challenge and in the process re-imagined the way in which small children can travel.
"We focused on three key benefits — making it easier to get the child into and out of the child seat from an ergonomic and comfort perspective, providing the child with a safe rearward facing seating position that enables it to keep eye- contact with either the driver or the rear passenger and of course including enough storage for those vital child accessories," said Tisha Johnson.
The resulting concept enables the parent to swivel the seat counter-clockwise when seating the child and then lock the seat in a rearward facing position. The concept also provides storage for small items beside the seat and a storage space underneath.
The Excellence Child Seat Concept, which also provides a function to help small children safely lean back and sleep, is based on Volvo's clear safety position; that small children should travel rearward facing as long as possible (at least up to the age of 3 or 4). This is primarily due to the lack of muscular strength in the necks of small children and the disproportionate head size and weight* in relation to the body.