Made by craftsmen from choice materials, the Pen of the Year 2017 by Graf Von Faber Castell brings the Viking age into the present day in a fascinating way.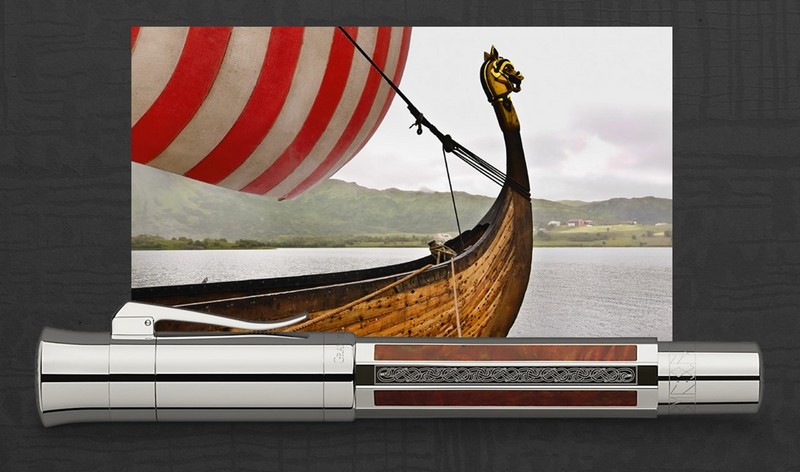 "Admired as daring masters of wind and wave, feared as ruthless invaders and valued as merchants, the Vikings set up a trading network that span across continents. The revolutionary and pioneering construction of the Nordic longboats, the mystic force of the runes and the curly birch as one of the characteristic trees of the Nordic world inspired us in designing the Pen of the Year 2017," explains Graf Von Faber Castell.
The platinum-plated barrel of the Viking luxury pen is reminiscent of the elegant curves of those renowned boats; finished with masterly craftsmanship in the spirit of the epoch-making skill of the Vikings. With great precision, slivers of 'curly' birch are integrated.
A special process has made it possible to cut such thin pieces from this wood, which is very delicate on account of its attractive patterning. The version with a tough anthracite-coloured PVD coating has a particularly masculine appeal. Matt-grey smoked oak – the preferred wood for building the Viking ships – stands in exciting contrast to the gleaming metal parts of fountain pen and roller-ball pen, which change their appearance with every movement. Both editions come with an 18-carat gold nib that is run in by hand. An end-cap protects the rotary knob of the plunger mechanism of the plunger-type fountain pen.
The platinum-plated fountain pen comes with an 18-carat, bicolour gold nib that is inscribed by hand. Each pen is a unique work of art and is individually numbered: the fountain pen is a limited edition of 500, the roller-ball pen of only 150. The special edition is limited to 230 fountain pens and 70 rollerball pens.
The fountain pen comes with an 18-carat gold nib with ruthenium plating that is inscribed by hand. Each of these writing implements is presented in a brightly polished black wooden case. A certificate bearing the signature of Count Charles von Faber-Castell confirms that this is a limited edition.
Last year, the Pen of the Year was dedicated to Schloss Schönbrunn, Vienna.