The aviation-inspired Ford "Ole Yeller" Mustang.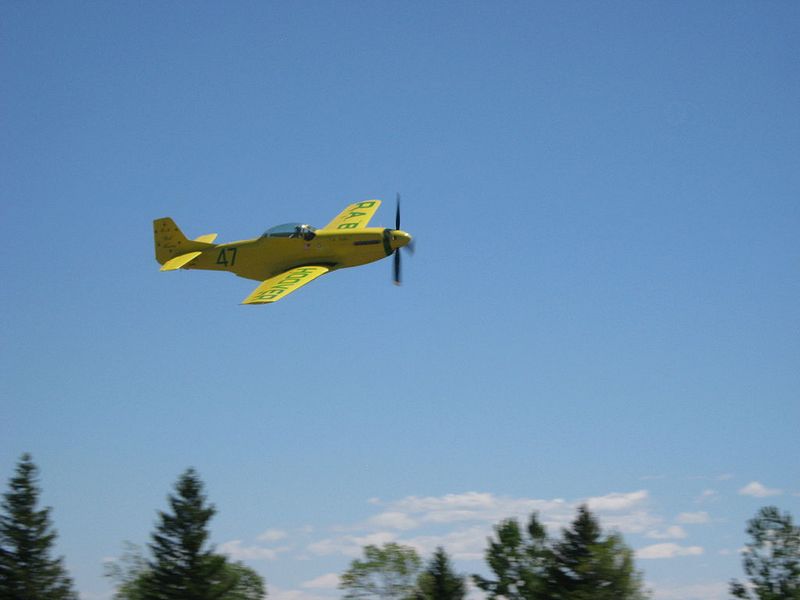 Unique Ford Mustangs have raised $3 million for EAA youth education programs, including Young Eagles, a program created by the US Experimental Aircraft Association designed to give children between the ages of 8 to 17 an opportunity to experience flight in a general aviation airplane while educating children about aviation.
This year's one-of-a-kind Ford Mustang honored two aviation greats, the iconic and historic P-51D Mustang fighter plane, and highly decorated fighter pilot, test pilot, and air show performer, Bob Hoover, who is referred to by many as one of the greatest pilots ever to have lived.
The Ford "Ole Yeller" Mustang features a custom yellow exterior finish with "Ole Yeller" accents and badging, unique carbon fiber components and mirrors projecting images of the aircraft. The interior incorporates specially designed Recaro seats, sill plates, floor mats with unique logos and aviation inspired gauges.
Bred from the ultra high-performance and limited production, Shelby GT350 Mustang, it features a 5.2L Ti-VCT V8 engine with Flat Plane Crank. Boasting the most powerful naturally-aspirated engine Ford has ever produced, the Shelby GT350 generates a heart-pounding 526 horsepower and exhilarating 429 lb-ft of torque. This powerhouse is mated to a TREMEC 6-speed manual transmission and features a specially tuned sport suspension, making it the most track-ready, road-legal Mustang ever produced.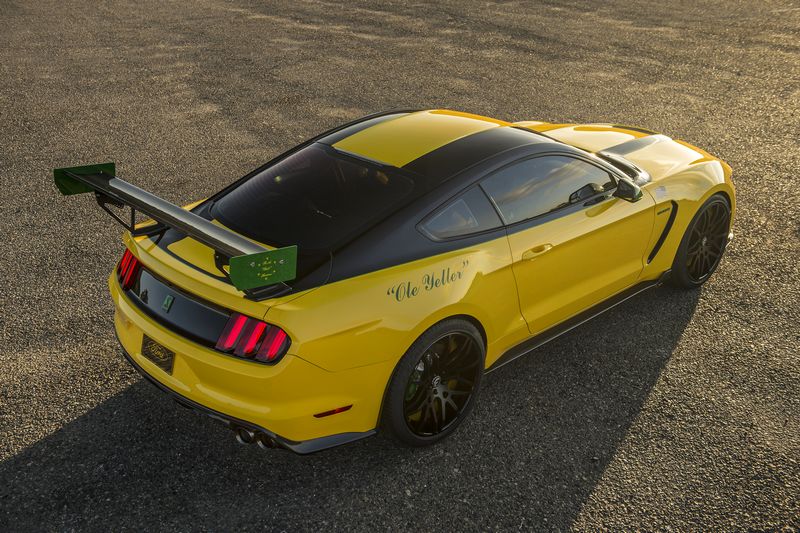 "The Shelby GT350 Mustang, with its nimbleness, speed and aerodynamics, provided us with the perfect platform to create this tribute to the P-51D aircraft," said Edsel B. Ford II, a member of the Ford board of directors.
"Ole Yeller," with its bright, eye-catching yellow exterior, is one of the most recognizable P-51D Mustangs in the world. It still holds the prop plane record for coast-to-coast travel at 5 hours and 20 minutes, set in 1985. R. A. "Bob" Hoover, known as a pilot's pilot, will be forever linked with "Ole Yeller." Hoover is widely considered the founding father of modern aerobatics and thrilled airshow fans piloting "Ole Yeller" for more than 20 years. In 1997, Hoover sold "Ole Yeller" to his good friend John Bagley of Rexburg, Idaho. "Ole Yeller" still flies frequently and is based at the Legacy Flight Museum in Rexburg, Idaho.
All proceeds from the sale of the car will benefit EAA's youth education programs, including the Young Eagles, which has provided free introductory flights to 2 million young people since 1992, helping grow the next generation of aviators.
Previous years' unique aviation themed Mustangs created to support EAA's youth education programs, including Young Eagles, were: Mustang AV8R (2008), AV-X10 "Dearborn Doll" Mustang (2009), SR-71 Blackbird Mustang inspired by the legendary reconnaissance jet (2010), Blue Angels Mustang (2011), Red Tails Mustang (2012), U.S. Air Force Thunderbirds Edition Mustang (2013), F-35 Lightning II Edition Mustang (2014), Apollo Edition Mustang (2015).