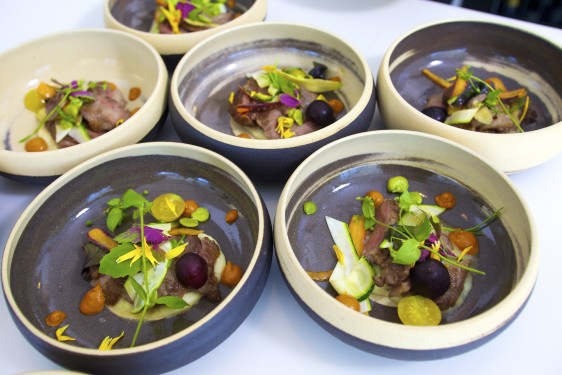 Electrolux has asked some of the world's most influential food critics and chefs where to go if you are looking for the next big thing within the culinary world. The answer is a Scandinavian bistro style slow street food restaurant with Japanese influences focusing on local ingredients.
To get the lowdown on what really goes on in the world of top tier cooking, Electrolux has conducted a survey among the members of the Electrolux World's 50 Best Restaurants Academy. The company asked them what they think will be the dominant trends for the coming two years. Among the respondents almost 60 percent think local focus is going to continue to be the no. 1 trend. On second place comes bistro styled restaurants followed by slow food and on fourth place street food.
"I think that the trend is to feel closer to nature. Not to transform to much in the product, but to recreate it to give it in a kind of simplicity to the guests, so you can feel really good taste of the products. I think that the future trends are probably very close to what is happening," says Anne-Sophie Pic, winner of the World's Best Female Chef award.
Chefs vs. Critics Beef
Although most of the participants in the survey seem to be of one mind there are some differences. As an example, luxury restaurants only rate as the fifth most important trend overall. But interestingly enough, both chefs and restaurateurs rate luxury restaurants as the third most important trend. Among the food critics however, luxury dining doesn't even make in to the top five.
Scandinavia, Japan and France rule the plates
When asked where the most influential food trends are coming from, Scandinavia seems to be cooking up the coolest dishes at the moment. Danish top restaurant Noma being selected as the world's best restaurant two years in a row, and the top three places at the prestigious Bocuse d'Or competition being held by a Dane, a Swede and a Norwegian, are clear signs that food is hot in the cold north. Simplicity and fidelity to the ingredients seems to be a sign of things to come, since the second most influential cuisine is the Japanese. The Japanese cuisine has the aforementioned qualities in common with Scandinavian style cooking.
But "new" world cuisines aren't the only ones with a bright future. The cuisine perhaps most associated with great culinary art of them all, the French, is ranked as the third most important trendsetter.
[adsenseyu1]