From the unexpected to defying the status quo, we all have the power for audacity in what we do. Where will yours lead you?
You have to be bold to be an entrepreneur, and you have to be equally bold to hold an online event to celebrate exceptional women entrepreneurs.
Veuve Clicquot has since 1972 honored exceptional women leaders, creating a community that now counts nearly 350 bold women around the world.
During a special online ceremony on November 9, Veuve Clicquot announced the three bold entrepreneurs honored by its 2020 Bold Woman Award and Bold Future Award, respectively Juliette Lévy, founder of Oh My Cream!, and Donia Amamra & Loubna Ksibi, co-founders of Meet My Mama.The event was hosted by writer and fashion critic Sophie Fontanel. Veuve Clicquot also presented the results of a survey conducted with Odoxa on the impact of the
current health crisis on female entrepreneurship.
"Motivated by our House's resolutely optimistic and forward-looking vision, we want to continue inspiring generations of women to be even bolder," said Jean-Marc Gallot, CEO of Veuve Clicquot and a member of a prestigious jury that includes Delphine Arnault, Executive Vice President of Louis Vuitton and a member of the Board of Directors and the Executive Committee of LVMH. In addition, the jury comprises former winners and experts in a range of disciplines, such as computational scientist and entrepreneur Aurélie Jean, and Fleur Pellerin, former French culture minister and managing director of Korelya Capital.
The finalists shortlisted for the 2020 Veuve Clicquot Bold Woman Award and Bold Future Award distinguished themselves with their entrepreneurial audacity, their ability to reinvent convention approaches and their ethical and committed vision of business. On November 9 the jury presented the Bold Woman Award to Juliette Levy, Founder and CEO of Oh My Cream, a network of cosmetics stores offering only "clean" brands to introduce women to what is best for their skin.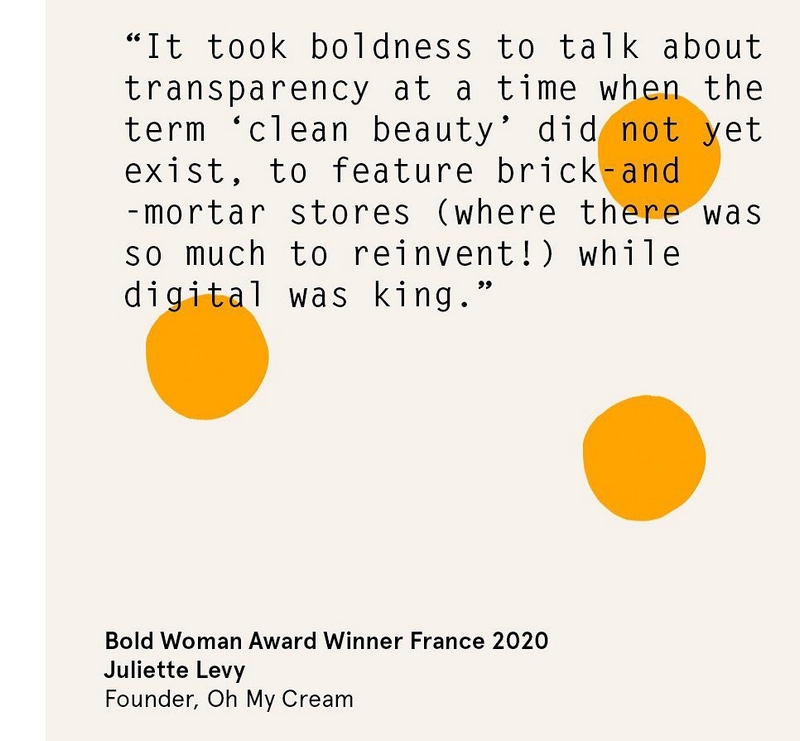 The Bold Future Award was presented to the co-founders of Meet My Mama, Loubna Ksibi & Donia Amamra. With a focus on supporting minorities, they have created a community of migrant and refugee women from around the world with real culinary skills and trained them to work in green catering services.
For the second year in a row, the House also recognized a man who helps improve women's representation and consideration in society through his own concrete actions. The Bold Champion Award, an honorary award, was presented to Gérald Karsenti, President of SAP France.
The luxury champagne Maison first created the Veuve Clicquot Bold Woman Award in 1972 to celebrate its 200th anniversary, and to honor Madame Clicquot's story of boldness, creativity and entrepreneurial spirit. For almost 50 years, the Maison has recognized businesswomen who have built, taken on or developed a business. To date, 350 women in 27 countries have been honored.