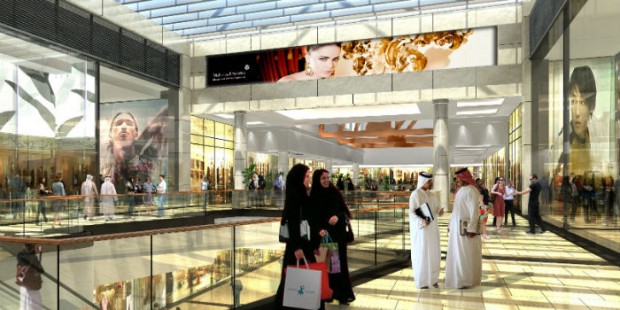 ---
This article titled "'This is not a harem': the sheikh and his 60 attractive young personal shoppers" was written by Becky Lucas, for The Guardian on Monday 7th April 2014 17.50 UTC
It seemed like an April Fools' joke. On Tuesday 1 April, news circulated in Italy that a Dubai sheikh had a job opening – in fact, he had 60 of them. The candidate requirements? Applicants must be female, attractive, stylish, aged (or at least look) between 18 and 28, from the province of Venice, able to speak English (French and Arabic a bonus) and, most importantly, possess supremely sharp shopping skills.
In return they would be offered €100 (£83) a day and the opportunity to join the sheikh on a visit to Europe, where they would attend various high-end dinners and events, stay in luxury accommodation and fly "by private jet only" between Madrid, Paris, London, Stockholm, Ibiza, Milan and Venice. The role itself? To assist his numerous wives and daughters with their shopping.
Mauro Belcaro, owner of Italian fashion company Rosy Garbo and casting agency Padua DOC, is in charge of recruitment. He quickly confirms the ad's legitimacy. "I got a call from an agency in Dubai because we regularly cast fashion models and other roles in the industry," he says. They wanted Italian women because of "their strong taste in fashion".
Now 100 women have thrown their (oh-so-on-trend) hats into the ring. Sixty went under the casting directors' scrutiny last week: only "one or two" made the grade. The selection process is stringent. The hopefuls must face a panel consisting of an image consultant, a personal shopper and a lawyer ("to keep the process transparent and ensure the contracts they sign with the sheikh are 100% accurate"). "Beauty is the least important criteria here," says Belcaro. "Image consultancy experience and intelligence are more crucial."
On Friday, one applicant apparently answered "bread" when asked what the word "baguette" conjured in her mind. The answer should have been the famed Fendi bag of the same name. Other questions the women have so far been faced with include: "What are the big makeup trends of 2014?" and "Which designer labels best suit a woman in her 50s?"
When I ask Belcaro if the women's marital status is relevant, he laughs. "This is not a harem we are building! It is more like a family vacation; many of the sheikh's children will be there. The ladies' responsibility is to ensure they are dressed correctly for the social events they attend." And what if the Italian employees also lack suitable attire? "They may buy clothes too."
Like all good things, the role is rather short-lived: the "shopping shifts" last 15 days, after which 10 new women are installed. On the plus side, Belcaro is in desperate need of English speakers, as this is the language the Emirati women use. "If there are any interested English women living in Italy, or who have lived here before for a year or so, please tell them to apply," he says.
• This article was amended on 8 April 2014 and the footnote updated on 10 April 2014. An earlier version of the article stated that the advertisement was posted on behalf of Sheikh Mohammed bin Rashid Al Maktoum, UAE vice-president and prime minister and ruler of Dubai. Sheikh Mohammed's office has contacted us to confirm that no request, or authorisation, for recruitment of assistants related to travel has been made by the palace or his office. We are happy to clarify that and apologise.
guardian.co.uk © Guardian News & Media Limited 2010
Published via the Guardian News Feed plugin for WordPress.