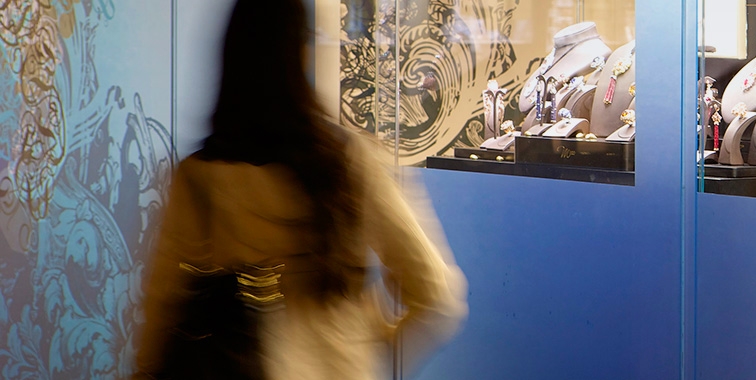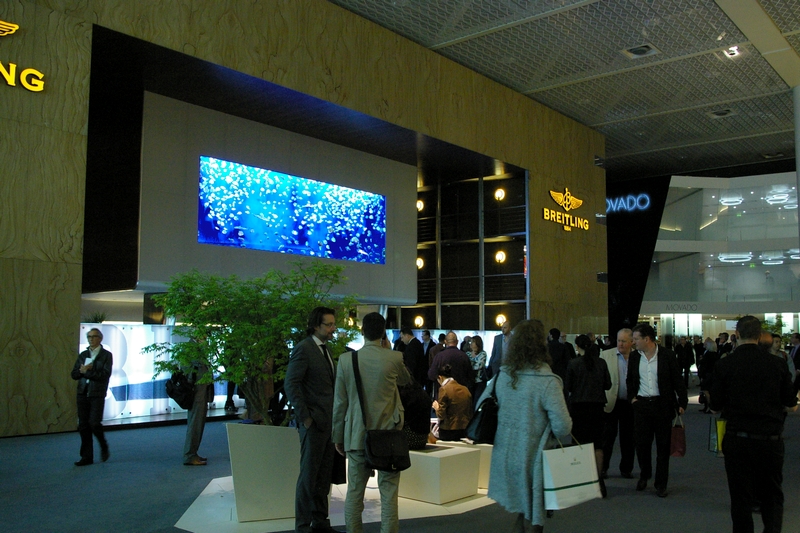 On 27th of March, the world's most important event for the watch and jewellery industry will offer in Basel, Switzerland, an unique insight into the world of watches and jewellery. "Who's Who" in this versatile industry? Come at Basel forthe opportunity to discover the new watch and jewellery collections launched by the most eminent players worldwide. Here is a preview of some Swiss high-end and luxury timepieces present at this year's Baselword.
Check also "The watches of 2014 Baselworld. Swiss-Made at its very best. Part I and Part II. Read also about 2luxury2's report from last year's Baselworld.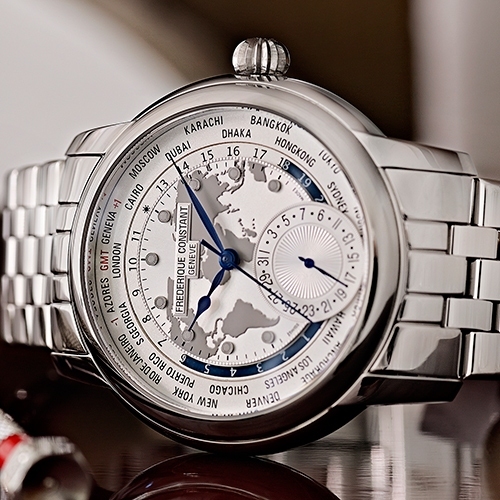 FREDERIQUE CONSTANT Classics Manufacture Worldtimer watch – the companion to long-distance travellers
The true genius of this watch is its simplicity of use, with all the functions commanded by the crown. The wearer can read, at a glance, time in 24 major world cities simultaneously around the dial. And so as never to lose track with home as he criss-crosses the globe, the 24-hour disc includes a day/night indicator. The date, meanwhile, can be read from the elegant counter that is swept by a hand at 6 o'clock.
CHRISTOPHE CLARET Poker watch – a full pack of 52 cards inside the 45 mm case
After 21 Blackjack and Baccara, Christophe Claret plays a new card in a strong hand of interactive fine timepieces with the Poker watch. The master watchmaker has once again called aficionados' bluff and put a full pack of 52 cards inside the 45 mm case, so that three players can immerse themselves in real-life games of Texas Hold'em, the most popular variant of poker. As well as the bank, Poker packs in 32,768 combinations: that's 98,304 combinations for three players. A patented cathedral gong sounds each time thepushers for flop and turn/river are actuated. The casino atmosphere continues on the flipside, with a 3D roulette wheel on the oscillating weight. Each version is proposed as a 20-piece limited series.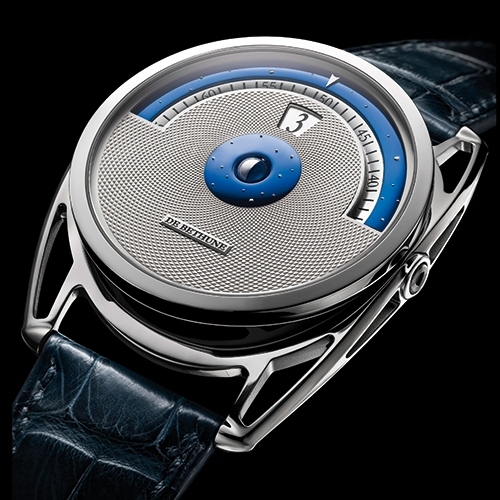 DE BETHUNE DB28 Digitale watch – late eighteenth-century inspiration
For De Bethune, late eighteenth-century fine watchmaking is an inspiration from which the future can be drawn. The Manufacture delivers its highly contemporary vision of this period's aesthetic in the new DB28 Digitale, whose hand- guilloché dial is the backdrop for three types of display: spherical for moon phases, digital for jumping hours, and analogue for minutes on a rotating disc. Visual balance is achieved by the patented spherical moon in the centre of the
dial. Its two polished hemispheres, one in palladium, the other in flame-blued steel, show the moon's phases with a precision of one lunar day every 1,112 years. The case, which is crafted from mirror-polished titanium, benefits from a patented system of spring-mounted floating lugs for millimetric adjustment to the wrist and its movements.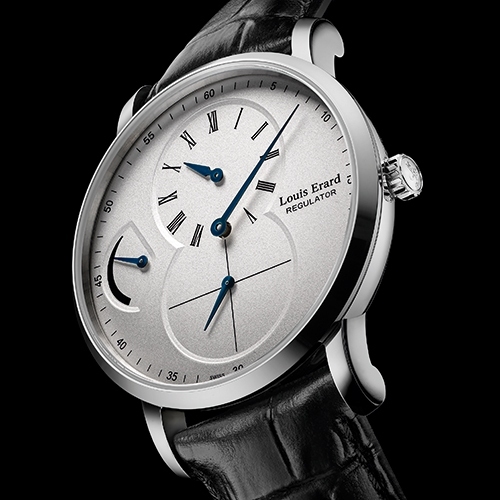 LOUIS ERARD Excellence Regulator Power Reserve watch – a tribute to the early instruments of precision timekeeping
The Regulator Power Reserve is a tribute to the early instruments of precision timekeeping, as well as a contemporary expression of the brand's virtuoso skill as it draws on a complication that is exclusive to the Le Noirmont watchmaker. A sober white dial showing hours by Roman numerals on an offset subdial at 12 o'clock, small seconds at 6 o'clock, and power reserve at 9 o'clock accentuate the classic sophistication of a richly nuanced collection. This Power Reserve model is
proof that Louis Erard takes the most consensual displays to a new level of perfection. Forty millimetres that inspire multiple variations and continue to embody an uncompromising philosophy of fine timepieces at affordable prices.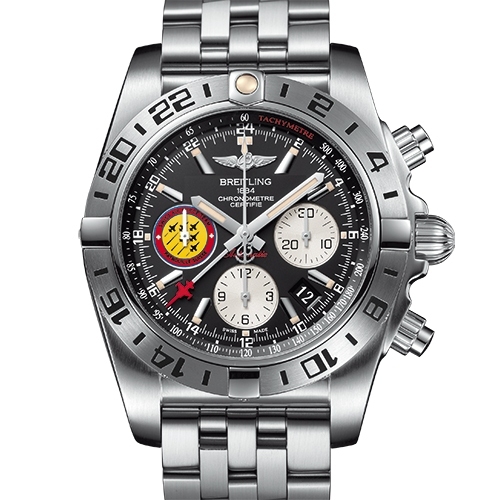 BREITLING Chronomat 44 GMT "Patrouille Suisse 50th Anniversary" watch – celebrates one of the rare supersonic jet teams
To celebrate the 50th anniversary of the the Patrouille Suisse exceptional squadron, an aerobatics team composed of professional air force pilots , Breitling is dedicating an exclusive version of its famous Chronomet in a dual-time versions. Issued in a 1,000-piece limited numbered series, this authentic wrist instrument for pilots features a caseback engraved with the Patrouille Suisse official 50th anniversary logo, a dial personalised with the squadron logo at 9 o'clock, while the additional hours hand is tipped with the outline of a red F-5E Tiger II.

VAN DER BAUWEDE Twilight Collection watch – glamorous and avant-garde Twilight collection
The white gold ring boasts a stunning and bold design, captured by a tanzanite weighing 12.95 carats and 198 white diamonds for 2.4 carats. The watch brings to life its own "Twilight" scene in an explosion of black, purple, blue and pink sapphires.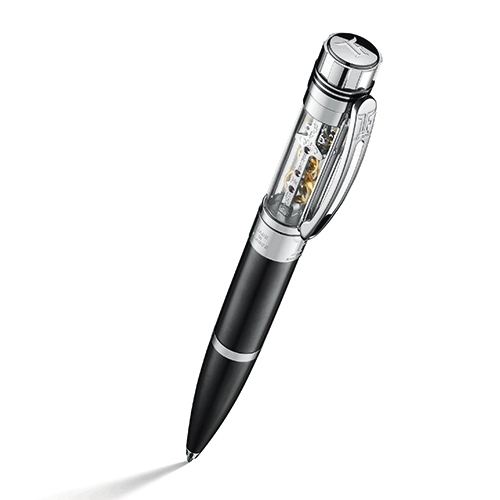 TF EST 1968 T-Mechanic Rollerball – The art of movement with a sense of fun
The T-Mechanic Rollerball brings more accessible luxury from the Geneva-based firm, brimming with subtle details: a clip system, sporting TF initials and made from 58 parts, attaches unobtrusively to a jacket lapel or shirt pocket; a Schmidt mechanism commands the rollerball pen tip or pencil lead (and takes all types of refill); and a hermetically sealed, highly shock-resistant sapphire crystal encloses the watch mechanism. Served in a TF Est. 1968 box, in three versions:
palladium, yellow gold-plated, or pink gold-plated.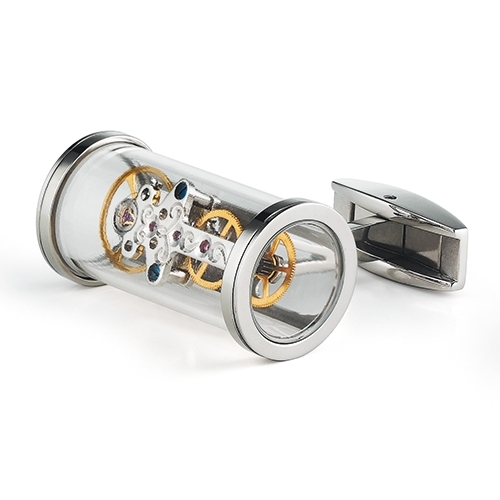 TF EST 1968 T- Mechanic Open Side Cufflinks – a new twist on the famous watch-inspired cufflinks
This time all is revealed thanks to a tube in PPMA glass with sapphire treatment, made to withstand scratching and any other form of aggression. It reveals fragments of an authentic watch movement, vertically-mounted inside the tube. After all, vertical is in vogue. In an amazingly short space of time, TF Est. 1968 cufflinks, along with other accessories such as coordinating pens, key holders, even watches, have carved out a place at over 500 points of sale worldwide, not least
at prestigious watch and jewellery retailers. The man behind this success story is Freddy Tschumi, a firm believer in Swiss craftsmanship. Of German quality, the clip closure is stable with a reassuringly frank click. The flowing, polished curves respect the most luxurious fabrics, whether a man's shirt or a woman's blouse. In steel, pink-gold plated and black PVD.

HORA NOVA AHCI Collection Vincent Calabrese – Régulus watch – the essence of watchmaking
At the summit of his art, master watchmaker Vincent Calabrese presents the purest rendering ever of a tourbillon regulator: Régulus. A fascinating case in white sapphire contains a movement, proposed in 18K white or yellow gold, whose design and manufacture are entirely the watchmaker's work. The skilfully orchestrated wheels come alive against a backdrop of absolute transparency, as if to remind us that the essence of watchmaking has always lain with mechanical genius.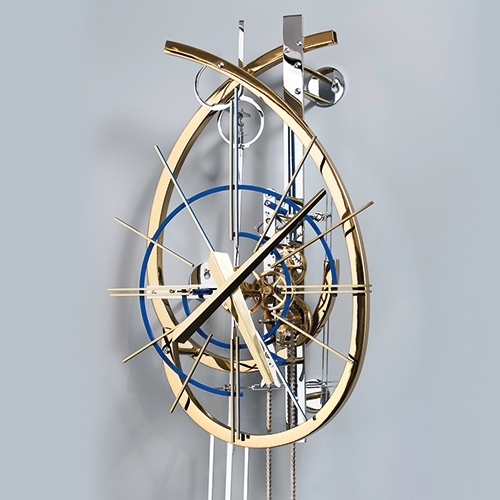 HORA NOVA AHCI Collection Jean Kazes – Explorer watch
Custodian of a unique expertise, Jean Kazes has created legendary clocks that are in fact mechanical sculptures. To ensure these marvels are not forgotten, he is passing on the intricacies of his art to another member of the Watchmaking Academy of Independent Creators (AHCI), Vincent Calabrese. Perpetuating such a work is an exciting and yet daunting challenge. The collaboration between these two virtuoso horologists with golden fingers has given rise to the Explorer clock. This
entirely mechanical and hand-crafted timepiece displays the hours and minutes. Other models issued in small limited series or as one-of-a-kind creations may be fitted with striking mechanisms or other additional complications on request.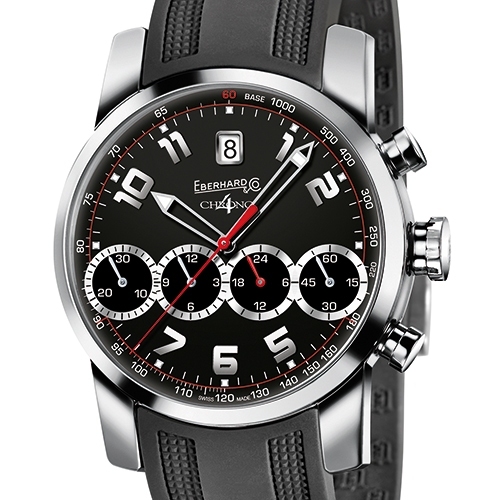 EBERHARD & Co Chrono 4 watch
Featuring its iconic counters lined up along the same horizontal axis, an exclusive feature of Eberhard & Co, the famous Chrono 4 adopts an even sportier look this year in its original 40 mm steel case. The black counters creating a tone-on- tone effect with the dial are lit up by contrasting silver-toned rings echoed by the Arabic numerals that stand out against the hollowed luminescent studs. The chronograph sweep seconds hand lends a very dynamic touch of red also featured on the 24-hour counter hand.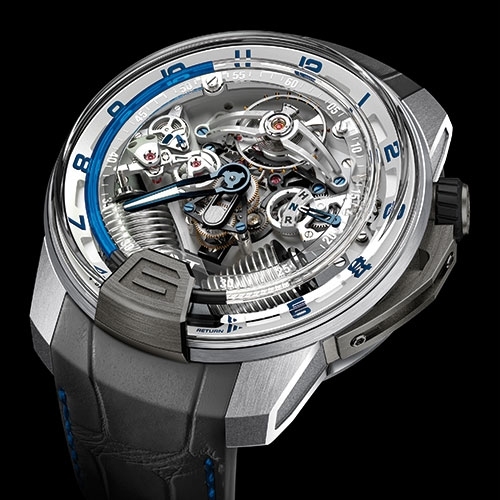 HYT H2 Titanium & White Gold Blue watch – the quest for hybridisation goes on
HYT continues its quest for hybridisation, this time with a blue liquid that interacts with the mechanical movement through an interface of two bellows in a "V" arrangement. The central minute hand has a layered construction to run alongside the fluid system and sweep the bellows by making a jump after 30 minutes. The crown-position indicator ("H-N-R") at 3 o'clock is balanced by another hand corresponding to a temperature indicator. This exclusive HYT innovation tells the
wearer when the liquid is at the optimal temperature to adjust the watch. Limited series of 20.

GRAFF DIAMONDS Diamond GyroGraff watch
The perfect union of watchmaking and jewellery, this new timepiece from Graff shines the spotlight on a gyroscopic moon phase and a double-axis tourbillon, no less. The bezel is embellished with a mosaic of diamonds in a stunning and patented invisible setting, the work of the jeweller's master craftsmen using a technique which took one year to perfect. This sculptural composition is formed by three rows of diamonds, with two triangular diamonds surrounding a hexagonal diamond.
A triangular emerald lends the ultimate prestige to the guilloché dial, while another diamond adorns the crown at 2 o'clock. The Diamond GyroGraff is proposed in two iterations, in pink gold or in white gold, each a limited series of 20.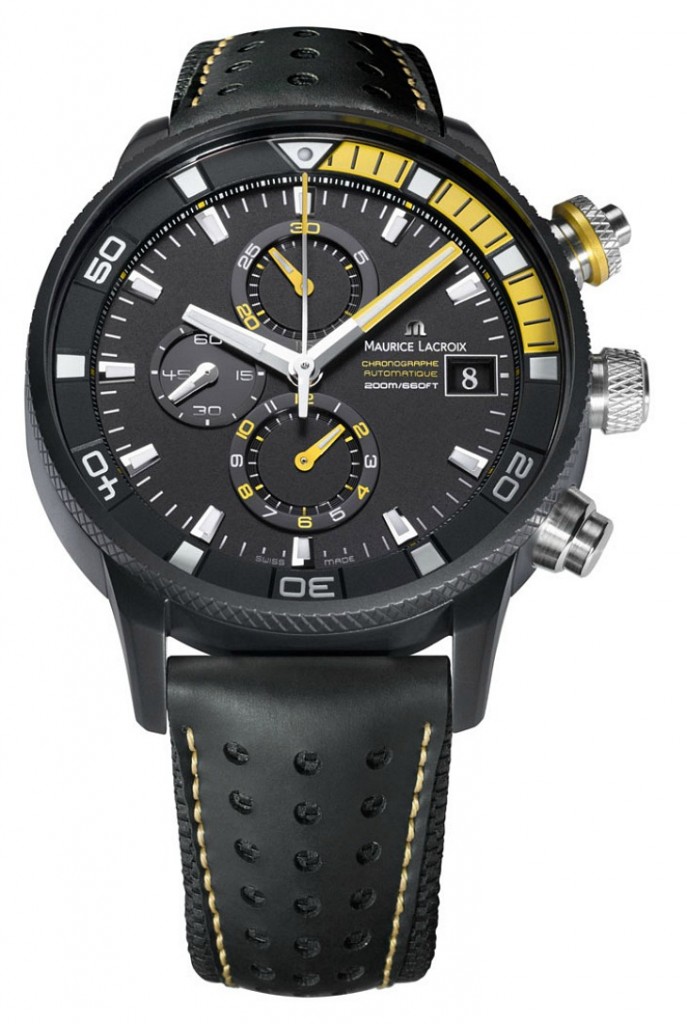 MAURICE LACROIX Pontos S Supercharged watch – guaranteed to set the pulse of thrill-seekers racing.
Such are the principles governing this new Pontos S Supercharged from Maurice Lacroix, propelled by the personalised automatic ETA Valgranges movement. While this authentic mechanical performance-accelerator is known for its reliability and its precision, it is also one of the biggest horological 'motors' on the market, enabling optimal layout of the chronograph counters to ensure perfect readability. The generous case with its adrenaline-charged lines does the rest.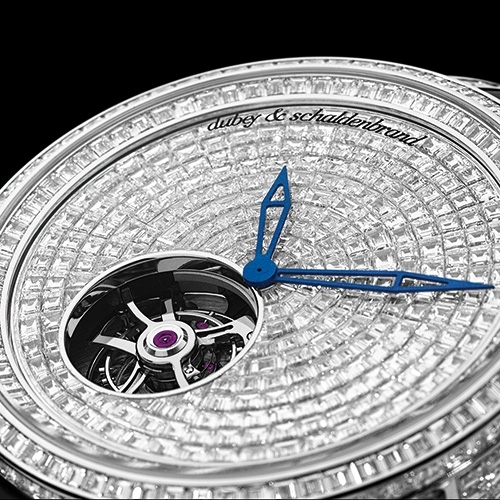 DUBEY & SCHALDENBRAND Cœur Blanc watch with invisible setting
Then white, symbol of delicacy and purity. Individually baguette-cut, these precious stones combine to form a unique composition around the tourbillon, one of watchmaking's most demanding complications. Their beauty is exalted by an invisible setting, a meticulous technique that requires rare skill. Thus the diamonds seem to float on the dial, as though nothing holds them there but their own power of seduction. They capture the light, illuminate the bezel with their sparkle, embrace the caseband, form one with the attachments, twinkle like stars on the crown, and come to a dazzling conclusion on the buckle of the strap.