Muslim tourism market potential.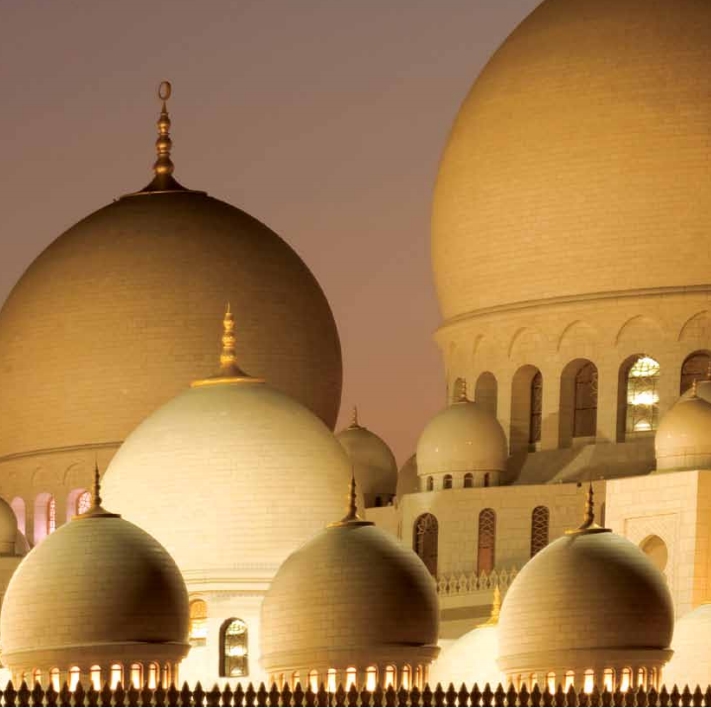 Muslim tourists may very well be the largest un-tapped niche market of the tourism Industry, according to Global Muslim Lifestyle Travel Market: Landscape & Consumer Needs Study' compiled by DinarStandard, a US based marketing research & advisory firm focused on the Muslim markets. By 2020, 14 percent of all international trips will be undertaken by Muslims.
The unique Muslim lifestyle consumer drivers are centered around food ('Halal' options), family friendly environments, religious practices accommodation, gender relation nuances, and other areas. While this is a large travel segment—very few hotels, airlines and tourism destinations moved to meet demand. This gives industry players a unique opportunity to lead in adding this segment to their multicultural marketing mix.
The study estimates that the global Muslim tourism market in 2011 was $126.1 billion in outbound expenditure (excluding core religious travel expenditure of Hajj & Umrah, but including leisure, business, and rest of tourism segments), growing at a higher 4.8% through 2020, compared to global average of 3.8%.
This expenditure is 12.3% of the total global outbound tourism expenditure in 2011 of $1,034 billion as estimated by (UNWTO) World Tourism Organization.
Comparatively this Muslim tourism market as a whole is larger than the largest spending tourist market in the world – Germany – and almost twice that of China's in 2011.
MENA markets ("Middle East and North Africa") represent 60% of total global Muslim tourist outbound expenditure in 2011
The top Outbound Muslim tourism source country is Saudi Arabia in 2011, followed by Iran, UAE, Indonesia and KuwaitMuslim communities living in non-Muslim countries also have sizable outbound tourism expenditure share. The largest of these markets are Germany, Russia, France and UK.
The top destinations for Muslim tourists are Malaysia, Turkey, and UAE. The following six markets are Singapore, Russia, China France, Thailand and Italy.
Overall, which of the following are important to you when travelling for leisure?", top answers were, "Halal Food" (67%), followed by "Overall price" (53%), and "Muslim-friendly experience" (49%).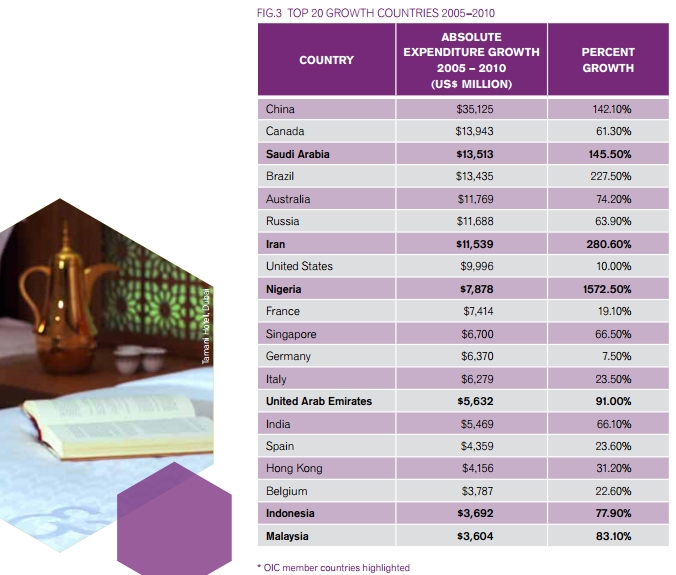 The most important factors for Muslim travelers:
1. Halal Food
2. Overall Price
3. Muslim-friendly Experience
4. Relaxation
5. Hotel/Resort Stay Experience
6. Adventure
7. Dinning/Food Experience
8. Air & Hotel Deal
9. Air Travel Experience
10. All other responses.
Australia's Gold Coast is attracting Muslim tourists by offering a Gold Coast Ramadan Lounge. in Thailand, spa-outlets have introduced the concept of Muslim-friendly spas in a bid to lure tourists from the Middle east. Global Health City, in Chennai, india, has gotten Halal certified to better serve its growing medical tourists from Muslim countries. even in Muslim majority destinations, hotels/resorts such as De Palma Group of Hotels in Malaysia, Al-Jawhara Hotel in Dubai, Amer Group of Resorts in Egypt, Ciragan Palace Kempinski Hotel in Turkey are offering Muslim lifestyle related services by not serving alcohol, separating recreation services/timings for women, providing prayer facilities and more. Airlines and destinations are just beginning to pay attention, say the authors of the study.
Growth Estimation:
Due to the fact that many of the Muslim majority markets are now fast emerging economies, with higher than global average population growth rates, and a younger demographic, the Muslim tourists expenditure growth rate is expected to be at 4.79% per year on average through 2012–2020. This is higher than the global expected average growth rate of 3.8% during the same period. by 2020, this study estimates the total Muslim tourists' expenditure to be $192 billion representing 13.36% of global tourism expenditure.
While the Muslim tourism market is sizeable and attractive as a growth market, it is widely distributed and culturally diverse. These variances have implications on differences even within Muslim travelers in terms of tourism destination preferences, travel habits and patterns. At a macro level, the Muslim population can be segmented by those in mostly Muslim majority markets and those living as a sizeable minority in non-Muslim majority countries.
Of the total 1.62 billion global Muslim population in 2011, 78% reside in the 57 OIC (Organization of Islamic Cooperation) mostly Muslim majority countries. of the total estimated Muslim tourism expenditure in 2011, 82% came from the OIC member countries ($102.9 billion). However, within the OIC member countries as well as globally, there is a wide disparity in the share of tourism expenditure relative to population.
The six Gulf Cooperation Council (GCC) members countries represent the highest proportion of global Muslim traveler expenditure at 37% while representing only 3 percent of the global Muslim population.
Top Muslim Tourist Source Countries
The top Outbound Muslim tourism source country is Saudi Arabia ($23.8 bill in outbound tourism expenditure), followed by Iran, UAE, Indonesia and Kuwait based on 2011 data.
Three of these top markets are the Gulf countries. Another interesting finding is that Muslim communities living in non-Muslim countries also have sizable outbound tourism expenditure share. The largest of these markets are Germany, Russia, France and UK.