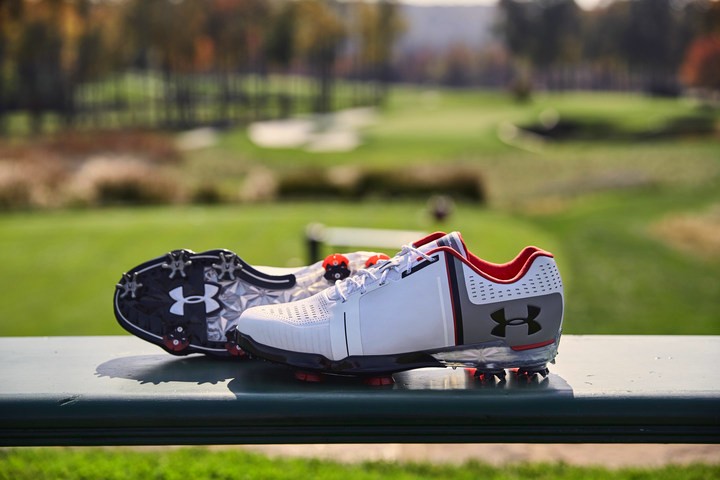 Jordan Spieth, the American professional golfer on the PGA Tour, and former world number one in the Official World Golf Ranking, debuts his first signature Under Armour golf shoe, the Spieth One. The innovative shoe is grounded in the details of Spieth's game.
The Spieth One is being introduced as engineered "Down to a Science;" a nod to the concentrated level of detail by which the shoe was designed. The sport shoe features a number of technical design elements that were dictated by Jordan and his game.
The professional golfer is a two-time major winner and the 2015 FedEx Cup champion. In April 2016 Time magazine named Spieth to its list of the "100 Most Influential People", noting that he "exemplifies everything that's great about sports.
The golf shoe has a breathable, waterproof upper to ensure world-class performance even in the toughest golfing conditions—preventing water from entering the shoe, but allowing perspiration to escape.
The shoe features groundbreaking "Rotational Resistance Traction", which prevents the rotation of the foot during the swing from load up to impact. The upper of the Spieth One is composed with a single seam, reducing layers and weight while enhancing the overall fit and feel.
The outsole of the Spieth One has a softer forefoot for flexibility, paired with a firm heel for stability and support.
The Spieth One Global Tour kicks off today with a launch event in Tokyo where Jordan will unveil the Spieth One to hundreds of fans, media and consumers. After a whirlwind 48 hours in Tokyo, Jordan will head to Seoul, where he will participate in the grand opening of Under Armour's first Brand House retail location in the market. Jordan and Under Armour will also visit Los Angeles and Mexico City in the coming weeks.
Fans can follow the Tour experience on Twitter, Instagram and Snapchat.