Spring-Summer 2016 is coming with the reworked shirt. Let's take a look at this wearable classic.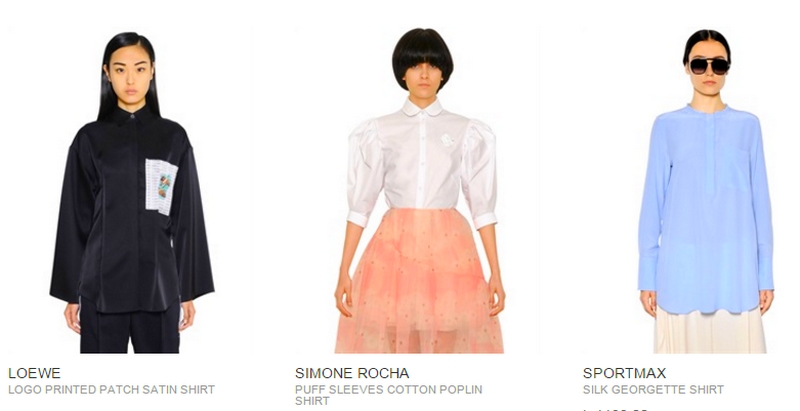 ---
This article titled "The return of the shirt: how the classic got reworked" was written by Lauren Cochrane, for theguardian.com on Tuesday 5th January 2016 06.06 UTC
While it's usually the sequin skirts and sky-high heels that hit fashion's headlines, sometimes there's a season when something more familiar and dependable sneaks through. Spring 2016 is one of those times. The cotton shirt – the squad player of one's wardrobe, as opposed to the star striker – is enjoying an unaccustomed moment in fashion's first eleven.
This is partially through an image overhaul. The classic, straightforward button-through shirt worn for the office has been replaced by more experimental designs. Céline's were slouchy with tulip sleeves, while Stella McCartney's were denim and slashed with a V at the front and Christopher Kane's had rubber pockets and pop art patterns. Celine's resort collection goes further, turning the poplin shirt into trousers, wrap tops and skirts. It's fair to say a lot of these are NSFW.
They are, however, a commercially sure thing. With shirts being a wearable classic, a design based even slightly on a familiar format piques consumers' interest, and retailers are responding. Net-a-porter.com has dedicated a section of the website for spring to the reworked shirt. It includes wrap styles from 3.1 Phillip Lim, ones with deep Vs from The Row and off-the-shoulder styles from cult brand Jacquemus. Sarah Rutson, the vice president of global buying at the site, says this combination of familiarity and innovation makes the shirt a winner. "The shirt is the fundamental backbone of every woman's wardrobe," she says. "And designers reimagined it in so many different guises this season. We know once the new statement versions launch on site next year they will be hugely popular."
The reworked shirt is building on the wider trend for fashion fetishising the building block pieces of a wardrobe – across genders, budgets and tastes. Louise Trotter, the creative director of Joseph, a brand included in net-a-porter.com's shirt edit, believes it's the slightly androgynous nature of the shirt that particularly appeals now. "As genders are becoming more blurred, the classic appeal of a man's white shirt has never felt so right," she says. "One of our best sellers season on season is our Garçon shirt, which is a classic man's shirt fabricated in silk."
It's these minor twists – like changing the fabric – that drum up interest in a prosaic item. "It's the small details that make all the difference," confirms Trotter. This is something that also works at the high street level – where an increasingly sophisticated customer is looking for a bit of a refresh on old faithfuls. Jane Shepherdson, the CEO of Whistles, says the shirt is particularly popular at the moment because it has been reinvented in a modern way, with cleaner lines and new proportions, and this has given it a new life," she says.
At Finery London, the label launched last year by ex-Topshop and Asos staffers, head of design Emma Farrow says the shirt is a key part of their world of wearable but discreetly interesting design. "It's keeping the essence of the DNA – the collar and cuffs for example – but rearranging, customising and recutting the rest of it so much it transforms the style into something new and exciting," she says. Current bestsellers include shirt dresses and styles like the Grainger Lace Up Boyfriend (a loose white shirt with a gathered detail on one side, for £49), which tick that box of old favourite, new perspective.
According to Shepherdson, a whole suite of shirts is now a necessity. "My wardrobe is full of white shirts, but the style and details on each make them all very different," she says. "I always keep them as they will feel perfect again soon. Updating my white shirts every year or so is something that never fails to excite me."
guardian.co.uk © Guardian News & Media Limited 2010
Published via the Guardian News Feed plugin for WordPress.