Between France and Italy, the men's wear business is "ready-to-war," says Suzy Menkes in her latest article dedicated to men's wear booming. The French luxury companies have seized the opportunity to ally with Italian savoir-faire.
PPR, the luxury group headed by François-Henri Pinault, completed its 100 percent purchase of the Italian men's wear brand Brioni. The luxury brand had a €170 million turnover in 2010 – an ideal position to grow without "cannibalizing our existing portfolio.", says Alexis Babeau, deputy chief executive of PPR Luxury.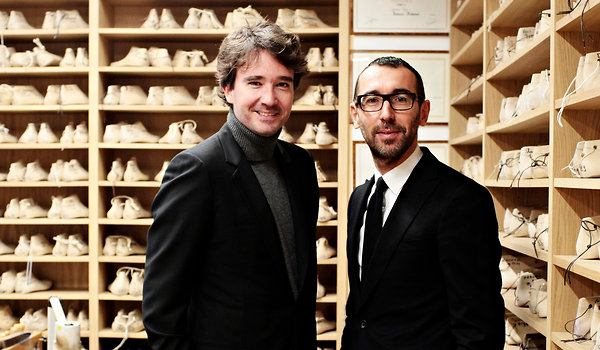 Menawhile, the luxury giant LVMH unveils new Berluti footwear brand strategy, with a debut show Jan. 20 during the Paris men's wear season. Bernard Arnault, chairman of LVMH, has named his 34-year-old son Antoine as Berluti's executive. The first move made by Antoine was to bring to Berluti Alessandro Sartori, a creative designer at Zegna for 14 years.
"I must admit that, when Alessandro joined us, his company was not happy," says Antoine Arnault. "But business is business. It's competition. And we fight a fair fight."
Yet, "it isn't war," insists the young executive. "We were pleased to see our friends at PPR taking over Brioni. But talent is one of the spots where I have no soft feelings."
Mr. Zegna also rejected politely the idea of a French-Italian men's wear war, saying: "I always believe strong competition is positive. I welcome them to the party."
More: nytimes
[adsenseyu1]