The Dalmore Selected By Daniel Boulud.
Michelin-star chef Daniel Boulud dreamed to compliment its cuisine with an exclusive Single Malt Scotch Whisky. After months of collaborating with The Dalmore's Master Distiller Richard Paterson, Chef Boulud created a bespoke single malt based on his specific flavor preferences and cuisine of his restaurants. The Dalmore Selected by Daniel Boulud is a unique assemblage of aged stocks drawn from Muscatel, Madeira and Port wine casks.
In addition to the Scotch itself, Chef Boulud has created a different signature whisky-infused dessert at each of his restaurants bringing to life his passion for both single malts and haute cuisine.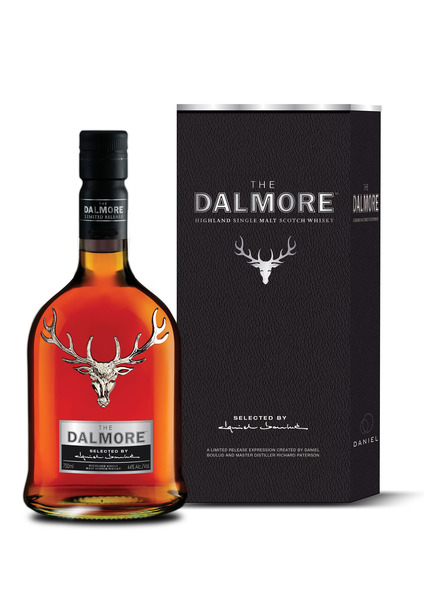 "It was important to be able to work with Richard and collaborate in detail to create a whisky specific to the taste profile of my cuisine. Much like creating one of my dishes, the creation of a single malt is an artisanal craft which takes expertise and time. It is an art, and in this way, has parallels with the world of fine cuisine," said Boulud.
Richard Paterson is a third-generation Master Blender; a title that he has held at The Dalmore since 1970. With a truly unique talent for assessing whisky, Paterson identified ten cask samples from The Dalmore distillery that complemented Chef Boulud's tastes. After two trips to New York City to work directly with Chef Boulud, they together created the final assemblage consisting of three vintages from The Dalmore distillery finished in Muscatel, Madeira and Port wine casks.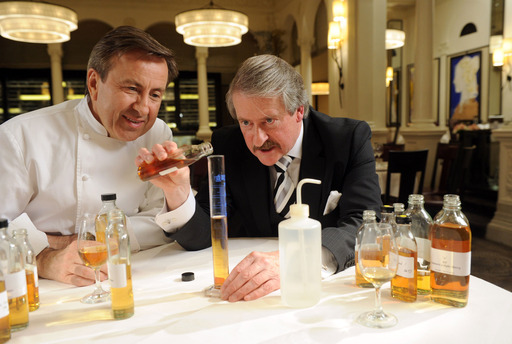 "The Dalmore single malt comes from one distillery and one distillery only," says Paterson. "After years maturing in American White Oak, the whisky is finished in a variety of different wine casks, adding complex flavors and nuances to the whisky's flavor profile. Although I have crafted many different expressions at The Dalmore distillery, this is the first single malt whisky that I have ever created using these three woods."
"When you 'nose' the whisky you will be greeted with generous and full bodied aromas of tarte tatin, oranges, pralines and crushed almonds." says Paterson. "The taste is elegant and refined yet powerful and passionate. Enticing flavors of dark chocolate, plums, mocha and pear will open up on your palate."
The Dalmore Selected by Daniel Boulud is now available at all six of Daniel Boulud's New York City restaurants, including: DANIEL, Café Boulud, Boulud Sud, db Bistro Moderne, Bar Boulud and DBGB Kitchen & Bar.