The Bushmills x Lowden Limited Edition Guitar: The specialist hand-crafted skills are not bought, but perfected over time and passed from generation to generation.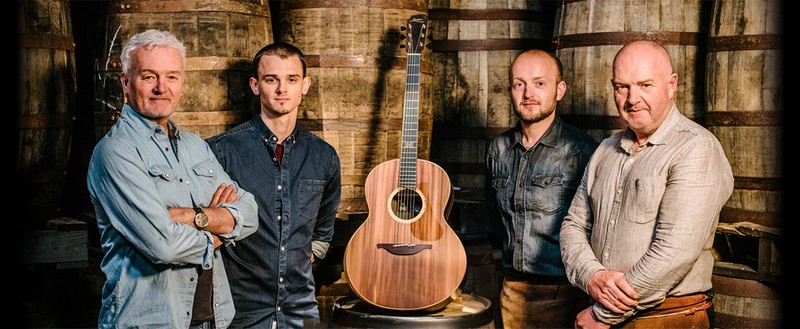 This new limited edition guitar is made from Bushmills Irish whiskey barrels and ancient bog oak. The oldest licensed distillery in Ireland and one of the world's finest acoustic guitar manufacturers – have created a guitar made from whiskey barrels and ancient bog oak.
The limited edition 'Bushmills x Lowden' F-50 guitar, of which only eight are available to buy, combines hundreds of years of cooper and luthier craftsmanship with three types of wood.
At the Old Bushmills Distillery, the Kane family has been coopering barrels for four generations passing their specialist skills down through the years to ensure Bushmills delivers the same premium quality whiskey it began making 400 years ago. Similarly, George Lowden, the founder of Lowden Guitars, has pioneered acoustic guitar building techniques since 1974 selecting only the very best quality woods to make his famous guitars and is passing his guitar making skills onto his sons.
George Lowden personally selected Bushmills Irish Whiskey barrel wood for the 12th fret and back inlays, the bindings, rosette and head facings; ancient bog oak for the back and sides of the guitar; and sinker redwood for the soundboard.
It took George and his sons more than 40 hours to design and build the first guitar in this limited range. Other features of this unique guitar include a cross symbol formed of a cooper's hammer and luthier's chisel, representing the coming together of these two crafts. On the back, two lines echo the staves found in a Bushmills Irish Whiskey barrel and represent the passing of skills from one generation to the next.
"The back and sides are made up of Ancient Bog Oak to offer a mellow, warm sound and when paired with Sinker Redwood on the soundboard, it helps extract a clarity and sparkle from each and every note the guitar produces," said George Lowden, whose acoustic guitars have been used by some of the world's most famous artists, including Gary Lightbody, Ed Sheeran and Eric Clapton.