---
This article titled "Street-style etiquette: what are the rules?" was written by Morwenna Ferrier, for theguardian.com on Friday 31st July 2015 15.01 UTC
The etiquette of street-style photography is called into question by Jay Giampietro, a New York photographer who takes social documentary-style photographs of people from his ear while pretending to be on the phone. His work is bold, shocking and revelatory, showing the sort of images you can capture when you photograph someone surreptitiously. So with iPhones making photographers of us all, have ethics all but gone out the window? Here, a handful of well-known photographers and experts tell us how they approach people, their thoughts about permission and what it's like to be hit on the head with a camera.
Scott Schuman, The Sartorialist: 'The main difficulties I have are shooting older women'
At fashion week, people expect to be shot so you don't always ask. The downside of that is that the clothes are often less surprising as people don't want to be ridiculed. They know they'll appear everywhere. People have started packaging themselves.
What makes a great shot isn't what they're wearing – it's the light, their expression, how sexy they look. That's how I judge a good photograph. For example when choosing which pictures to use in my book, I took off my glasses and saw which photos stood out. So I factor all that in when I'm trying to get the shot. It used to be the stylists who wore the most surprising outfits, were the most photographable. Now it's the bloggers. That means the stylists aren't getting the opportunities, or the seats, at the shows and I think it's diluting the quality of the crowds at fashion week.
I ask permission, say nine times out of ten, especially if I'm shooting away from fashion week, you know, with everyday people. I like having that engagement with people although I might ask them to look away or shoot them not from the front. I have had to evolve how I shoot. I used to put people in a position and now I just shoot what I can so I ask less. Now I can weave in and out – but before I was much more self-conscious.
It also depends where you are. In Morocco, people don't want to appear vain, to be seen to want to be shot. If they'll never say yes, I just shoot. I remember one guy saying no then walking down the road about 20 yards and saying yes because that way it wasn't obvious I was shooting for him. That's how it works.
The main difficulties I have are with shooting older women. I've stopped asking now. If you approach someone, she'll turn round to her friends and they'll talk it out. I'd say vanity is the issue, the "I'm not as beautiful as I used to be". I don't mind. To shoot someone just because they are old? Personally I find it a bit patronising.
The Sartorialist: X (The Sartorialist Volume 3) is out on 3 September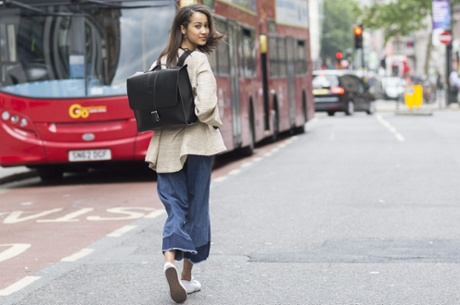 Hannah Almassi, fashion news and features editor, Grazia: 'Five years ago, everyone was worried they would end up on Vice's dos and don'ts'
Being photographed at fashion week is to be expected, and many people dress for that purpose. Whether it's fair game [to expect to be shot at fashion week without being asked], I'm not sure.
I'm shot a handful of times a year as far as I know. That could be down to the fact that most street-style photographers during fashion week have wanted to, but also had to, adopt Tommy Ton's method of shooting: longer lens, pulled back, more candid than a straight up shot so you can't always tell you're being photographed.
For the key street style icons who are constantly photographed it must add time onto the schedule if they are asked to pose – it's almost impossible to attend everything (and be on time) as it is. I can't imagine factoring in stopping every two minutes for a photo opportunity, especially as the street photographers will start snapping at someone and then everyone else will descend and follow suit. It's competitive and some photographers will stop at nothing to get the shot, so we have all almost been slammed to the pavement or had a giant digital camera swung at our heads.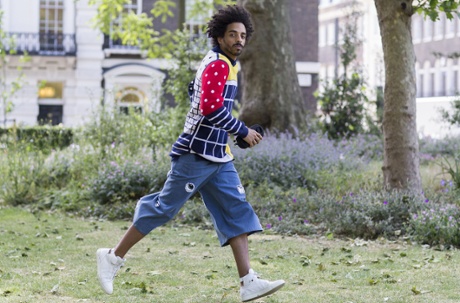 It tends to be more of a point and shoot situation during fashion week but on the streets it's different. I remember well over five years ago everyone was worried they would end up on something like Vice's dos and don'ts – I think this kind of personal style coverage is almost redundant now because one woman's don't is another woman's do.
I saw a picture of myself sourced from online which was used for a radio interview in a Facebook promotion that I hadn't OK'd, but the fact is it's out there in the ether… Part of my job is being photographed for social media, and while it's a nice thought to have complete control over your "personal brand" that would be relentless to manage, but it does make you consider how an image will never disappear once it's on the internet.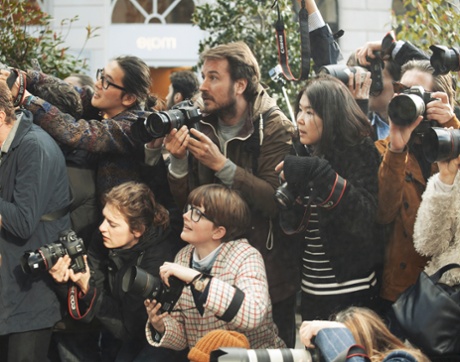 Phill Taylor, British fashion photographer for i-D, Grazia and Elle: 'I never just photograph somebody without asking'
When I first started photographing at the shows in September 2008, it was a lot calmer. You would have the time to approach somebody, talk to them and compose your shots. But as the popularity of street style grew, so did the necessity to just be there and get the shot. You have to create the pictures yourself.
I have built a rapport with the people who attend the shows, but I know that if they stop for me, then about 500 other photographers will want the same and most have probably already been asked before I get to them anyway, so people get used to you just shooting them as they go.
When shooting on the streets, I never just photograph somebody without asking really. Also I'll usually need to get all of the information about what they're wearing etc, so I'll explain what I am doing and then find the best spot to get the picture.
95% of the time, people are positive. It's quite a compliment to say they are the most stylish person you've seen and that you want to put them in a magazine because of it. Some people are a little freaked out though, especially a woman on her own. They tend to think I am going to rob them or get them to sign up to a charity. Their boyfriends can give me a frosty reception too.
I think it really comes down to the person. Generally if a person looks so good that you've noticed them, the chances are that they are pretty confident in themselves anyway or at least will take the compliment and oblige. That's not to say everybody wants to be photographed though and if they don't, then you have to just respect their wishes.
There are so many people with cameras now, most people have become accustomed to it. I've witnessed photographers getting into trouble – people screaming to have the memory card from them, or the time when one guy decided to photograph a passerby at a show in Paris who subsequently attempted to smash up his camera before beating the hell out of him. He had it coming to him though!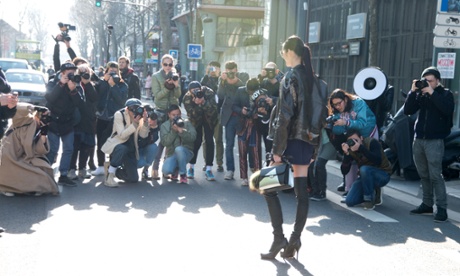 Roger Tooth, head of photography for the Guardian: 'In a fashion situation, I should imagine that everyone is fair game'
People shouldn't have an expectation of privacy on the streets. But I think it's always polite to ask before you take a portrait of someone. It does tend to to ruin the immediacy of the image of course. Most street snappers wouldn't ask, but working for the Guardian I think a photographer has to be a bit more mindful of people's reactions to having their picture actually published. In a fashion situation, I should imagine that everyone is totally fair game, positively welcoming the attention of photographers. After all, to paraphrase Oscar Wilde: There is only one thing in life worse than being snapped, and that is not being snapped!
guardian.co.uk © Guardian News & Media Limited 2010
Published via the Guardian News Feed plugin for WordPress.