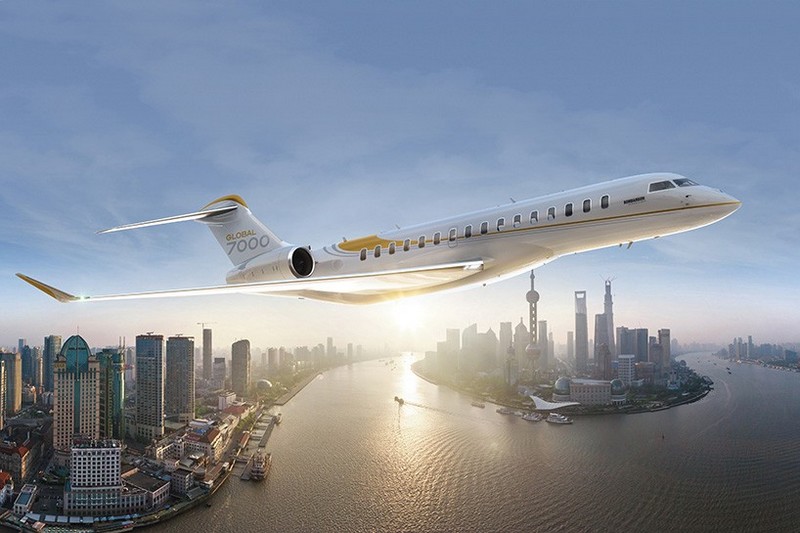 With Bombardier's latest Global 7000 luxury jet you could fly from London to Singapore non-stop. Unveiled at the 2015 EBACE show (European Business Aviation Convention & Exhibition) in Geneva, the plane can be configured to suit leisure or business needs as desired. Featuring the first true four-zone cabin, this aircraft will set the standard for a new category of large business jets, providing unparalleled spaciousness, luxury, and comfort. Passengers flying on the Global 7000 aircraft will experience a spectacularly roomy cabin, coupled with a superior high-speed cruise of M 0.90. Featuring the highly-acclaimed Bombardier Vision flight deck, the Global 7000 business jet will have a range of 7,300 nm (13,520 km)* and can connect Geneva to Honolulu and London to Singapore.
Formula 1 World Champion and Bombardier Business Aircraft brand ambassador, Niki Lauda, was one of the first customers to purchase the new Global 7000 aircraft.
"The Global 7000 aircraft is an incredible business jet in so many ways," said Niki Lauda. "The cabin is large and spacious and the four separate zones provide greater comfort, especially for longer trips. With its impressive range and speed, I can easily fly from Vienna to São Paolo, and almost all other stops along the Formula 1 circuit, quickly and efficiently."
Three-time Formula 1 World Champion Niki Lauda has an extensive history in aviation and is a long-time Bombardier Business Aircraft customer. The Global 7000 aircraft will be the latest in a series of Bombardier business jets that Mr. Lauda has owned and piloted during his career as an aviator. Until recently, Lauda owned and operated a Global 5000 aircraft and a Challenger 300 jet as his private aircraft, which he frequently used to travel to Formula 1 races around the world from his home base in Austria.
Niki Lauda currently owns a Global 6000 aircraft, which recently won the 2015 International Yacht & Aviation Awards prize for best interior in the Private Jet Design Category. The interior of Mr. Lauda's Global 6000 aircraft elegantly combines handcrafted leather and upholstery details with bold and striking woodwork. The award was presented on May 15, 2015, during a gala event at the famed Hotel Cipriani in Venice, Italy.