We had the opportunity to speak about luxury , precious materials and the timeless elegant  pieces with Valerie Mouawad, co-founder Norma Ishak  – a luxury accessory line that celebrates the individual style and personality of the contemporary woman.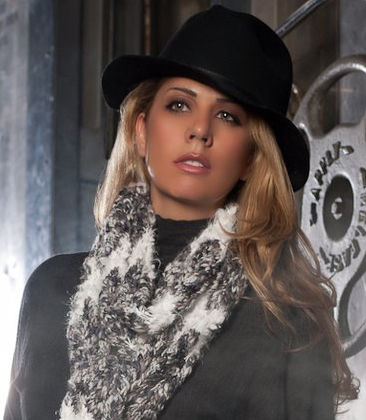 How the whole story of Norma Ishak started ? It is a family brand. What are the values behind it?
At the tender age of 15, I began my dream of fine design. With extensive study, imagination, and a flair for elegance, I created scarves as wearable art.
Collecting rare and luxurious yarn from around the world is a passion that I acquired from my mother Norma. Together, We continue to regularly present eye-catching ranges of truly unique luxury accessory made with only the finest fabrics, beads, lace and feathers in the world. Today, as always, I personally design and inspect each high quality, fashion-forward piece. My quest for perfection results in production of the finest unique scarves for customers who demand to be ensconced in absolute luxury.
Where do you find your inspiration for creating this accessories ?
Sometimes my inspiration comes from images I come across or structures and objects in my environment, but mostly I am inspired by yarn, color, and the act of knitting. My designs often utilize simple stockinet and garter stitch, showcasing beautiful yarns. Simple, clear lines mixed with some interesting detail or shape appeal to her. Some of my new designs often feature vintage detailing and use of French lace. My most opulent pieces to date have featured semiprecious stones. Rare and luxurious materials allow me to offer the finest of neckwear for any woman that needs something small to call her own.
Finding the best yarn: difficult…or almost impossible ? What other precious materials do you use ?
In giving my clientele the most superlative of offerings, I have scoured the world for raw materials I deem satisfactory for my scarves. My yarns are imported premier manufacturers in Europe. Mongolia offers the best cashmere. Lace comes from Switzerland and the Brittany region of France. Silks come from the finest silk ateliers in Paris. Feathers are shipped from the most exotic African birds. Peruvian alpaca's shed their finest wools for my creations. At times, my pieces feature beads from Japan and crystals from the house of Swarovski.
I spare no expense in acquiring my yarns and materials, as they are the lifeblood of my designs. I will not settle for anything less than perfection in materials and craftsmanship.
The scarf…what does it mean for you ? Why a man should by a scarf as a Gift for his Love ?
I chose to concentrate on making scarves, as I am fascinated by how a beautiful piece of neckwear could perfectly complete any look. A scarf has versatility, it can be functional and depending on how you wrap, twist it it will look different each time you wear it. Norma Ishak scarves are designed so that they can be worn as jewelry pieces, day after day, to accessorize an outfit. They are simply, a timeless piece.
What means luxury to you in one word
Exclusivity.
What are the models or fundamentals in life which you will recommend to others?
Always go deep inside yourself and find what you really love to do. If you do things from your heart you can make things happen. You can change the world because you have the power and the power comes from within you. They say that if you work hard even a rusted rod can become a fine needle.
What is your criteria for luxury in order of preference
First and foremost, superior quality is the most important attribute that defines a luxury brand, followed by craftsmanship and design. Also,customer service is a key. Luxury brands that can successfully combine their long-standing reputation for quality and service with modern modes of interactive marketing that will make the greatest gains.
What is your favourite luxury brands and why
Chanel, YSL, Givenchy and Alexander McQueen for their uniqueness, the exceptional artistry in their craftsmen of every single piece.
Name 5 luxuries which are "indispensable" for you and why
A Chanel handbag , the ever stylish bag
Louboutins shoes, the sexiest shoes ever
Tom ford sunglasses, a timeless piece
Crème de la Mer moisturizing cream, does magic
Yoga works, my stress reliever
Digital and luxury. Love or hate? What means digital for you
Hate…
To me luxury is all about exclusivity and uniqueness. Nowadays, with all the social media that we are surrounded with, it is hard to get back to the exclusivity of the old-world fashion glamour by not being as accessible and available to the public. All the prestigious brands had a cloud of mystery and exclusivity because they were not as accessible or available. Only today when one had the resources did anyone begin to get access to such brands.
How will be luxury in the future?
As we enter a new decade, the fashion business, like the rest of the world, is encountering significant economic and technological change.
Nowadays, we have digital fashion shows where you can watch live coverage of every runway during fashion weeks. But it is very different from when people actually see and feel the clothes at a show. The details, the craftsmanship, the inspiration are often left overlooked.
You can now buy the collection right of the runway and wear it. This generation now has eye that are trained digitally.Designers can reach huge audiences via social media. A brand need only put someone famous in its clothes and eight million people on Facebook can know about it immediately. It is the nature of fashion to evolve.