Pierre Marcolini is a chocolatier with a passion who always strives for the very best. In his world, simplicity rhymes with enjoyment,sharing,discovery, with a touch of refinement and creativity… And last but not least, with a childhood dream: to give this delicious treat – wrongfully considered a deadly sin – a new image.
Sink your teeth into the chocolates created by Pierre Marcolini and you'll find yourself in heaven…
Pierre Marcolini is one of the few chocolatiers who roasts his cocoa beans himself. This fundamental step, the intensity and duration of which need to be established with precision,guarantees the aroma of the chocolate.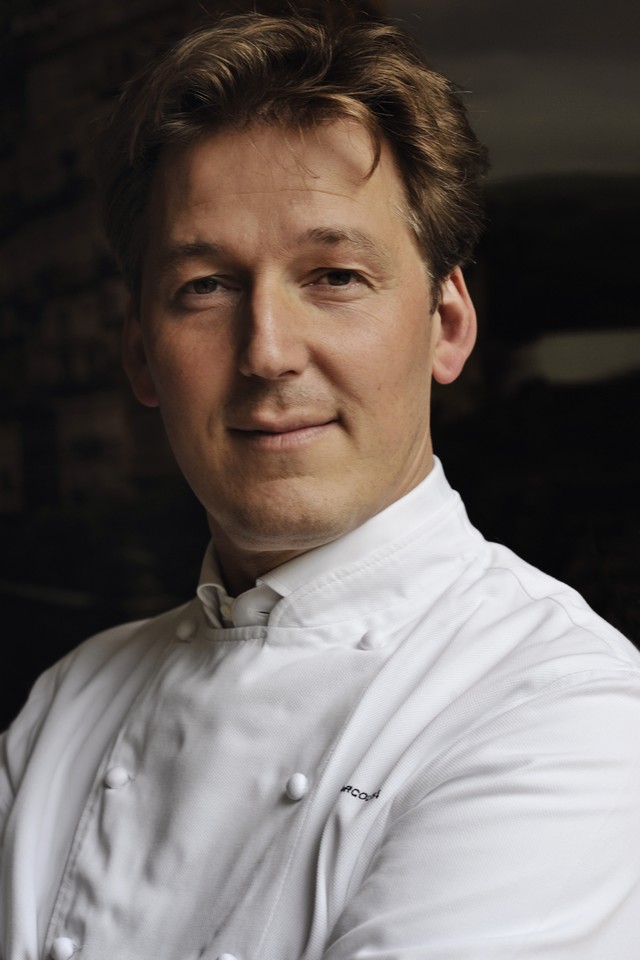 For Pierre Marcolini this phase is part of an overall production process which needs to be perfectly mastered for each and every product: from the delivery of the ingredients to the sorting of the beans, the blending, the preparation of ganaches, the tempering and finally the packaging of the chocolates…
Today, there are only about fifteen chocolatiers in Europe who still roast their cocoa beans themselves.
In 2001, when the directive on vegetable fats* was introduced, Pierre Marcolini reacted immediately. He decided to work directly with cocoa beans to create his chocolate, an increasingly rare know-how that Pierre Marcolini introduced in his workshops in 2002.
Pierre Marcolini purchases his ingredients directly from cocoa farms in Mexico, Venezuela,Cuba and Peru to keep the chocolate chain in motion and to allow cocoa producers to live a dignified existence.
In order to "secure the market" (as he puts it), he always offers the farmers a price that is higher than the market price…which he describes as a "necessary sacrifice and a token of respect".
In Ecuador, Pierre Marcolini entered into a long-term partnership with cocoa producer Pedro Martinetti who reserves 20 hectares of his production solely for Pierre Marcolini.
Pierre Marcolini brings the best cocoa beans in the world to his workshop in Brussels and goes one step further by creating a subtle blend of the different varieties from across the globe. The result: truly original flavours.
Pierre Marcolini was the first chocolatier to work with raw cocoa and believes that just like wine,cocoa deserves a tribute to its noble roots.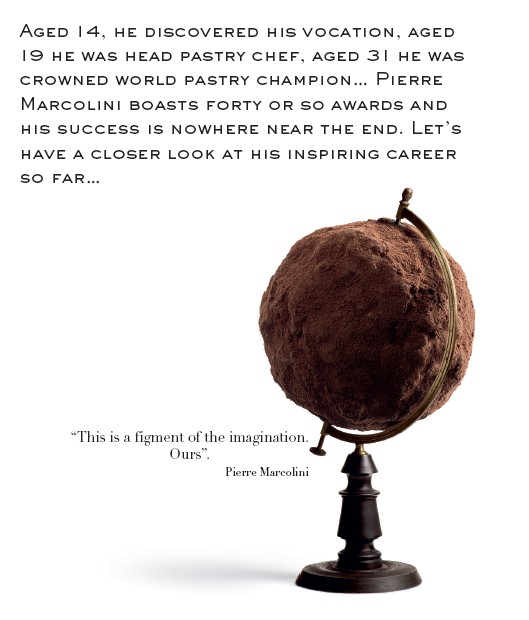 In his stores, Pierre Marcolini offers his customers plenty of choice… Chocolate Bonbons, Carrés, Truffes, Palets fins, Saveurs du monde: every collection has its own name. And there's more than just chocolate: biscuits, macaroons and other delights complete the range. Just like the greatest fashion designers, Pierre Marcolini proposes seasonal collections, allowing his customers to discover new flavours twice a year.
What means luxury to you in one word?
Rare
What are your models or fundamentals in life which you will recommend to others?
Be demanding (in a kindly way)
Aim for perfection (with tolerance)
And never be satisfied (with a touch of humour)
What is your criteria for luxury in order of preference
It must not be ostentatious. Its obviousness makes it a friend. Its remanence must be eternal and its possession a daily delight
What is your favourite luxury brand(s) and why?
Hermès, which makes perfect products with utter discretion.
Chanel, which is synonymous with excellence in perfumes and cosmetics in absolute codes.
Apple, for understanding that intelligence has the edge on technology.
Name 5 luxuries which are "indispensable" for you and why:
Style, which cannot be imitated
Time, which creates and rebels
Light, which invents shade
Art, which solidifies the idea
Philosophy, which dissolves dogma
Digital and Luxury. Love or Hate? What means "digital" for you ?
The tardy recognition of the zero which has since become the absolute number. The world is just a succession of 0 and 1. It is therefore an essential instrument which is self perfecting. Hand, stylet, pencil, pen, typewriter – and now computer. A simple goose quill in the eighteenth century could be used to write a masterpiece or sign a lettre de cachet. Digital technology is only a tool.
How will be luxury in the future ?
Exactly what it is today. Time still rules. It shapes but above all perpetuates luxury.