Marc Alary is a French born , New York based jewelry designer who launched his first fine jewelry collection in November 2009.Marc has enjoyed continued attention from the fashion press and is primed to develop further with his latest collection , which will arrive in autumn 2012.
Marc Alary studied Graphic Design & Illustration at the prestigious Ecole Superieure de Design, d'Art Graphique et d'Architecture Interieure.
After Paris , in 2003 Marc moved to New York where te started to work on designing prints, graphics and T-shirts for DKNY and Louis Vuitton.After to years Alary began to freelance for Marc Jacobs designing everything from graphics for T-shirts,dresses,jackets & linings,to designing hardware for bags.
We had the opportunity to speak with Marc Alary about his past , present and future, about how all begins and what are his next moves in the jewelry market.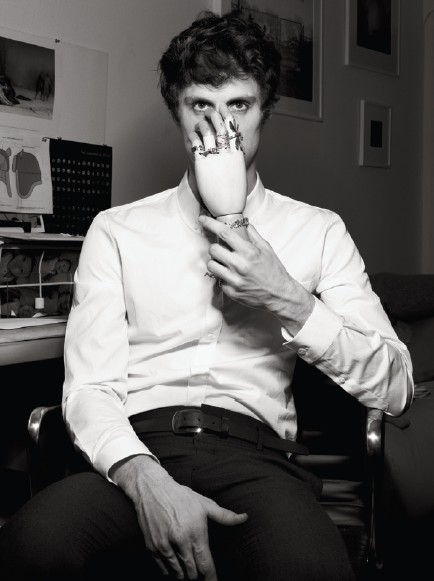 1. When was the moment when you realise that you was born for creating jewelry?
I studied Art and Graphic Design and started to work in Fashion designing prints, but I always loved jewelry.
One day while at Marc Jacobs, I was asked to work on some jewelry pieces, as soon as I started to work on the sketches and went through the process of jewelry production, creating the waxes (carving) molding, to eventually get the finished piece back, an object of art that you can carry around with yourself at all time, I knew this was what I wanted to do.
2. You have a excellent background behind …working alongside Marc Jacobs is not an easy thing. Tell us how is to work with such a great designer ?
For me it was a great opportunity, Marc Jacobs is an amazing designer, I completely respect his vision, his direction and his choices.
When you work with such a great designer you know you are going to work on amazing projects, so for me that was fantastic, you also get the chance to get feedback and work advices from him which is something invaluable.
3. Why "Menajerie" ?What does it mean to you, and what do you want that your jewelry to mean to those who wear them ?
By definition "Menagerie" is a form of keeping common and exotic animals. A menagerie was mostly connected with an aristocratic or royal court. These aristocrats wanted to illustrate their power and wealth, because exotic animals, alive and active, were less common, more difficult to acquire, and more expensive to maintain. I thought that meant sense, but also when I was in Art School, I use to go
very often to the Menagerie of the Jardin des Plantes in Paris, so I can draw animals, I use to spend long hours watching and drawing them, obviously I've always been passionate about animals. I wanted to make a reference to that memory.
4. Tell us that designers you appreciate the most and why?
In the past, I would say Karl Faberge (house of Faberge) for the incredible details, the innovation, it was a real luxury house, they had the best stone carver, enamelers, incredible ideas, dedication… They also had a great service and follow up… Karl Farberge also had a collection called Menagerie, with animals carved into beautiful stones!!
I just loved how Karl took the house from his father and turned into what it became, he had a real vision! I think real designer have a strong vision.
Rene Lalique, one of my favorite designer, like me he started as a graphic designer and later on became a jewelry designer all his pieces were incredible, very creative, the level of drawing and creation was great. I loved his use of colors, enamel… Opals, every time you see one of his piece it is always special.
I also loved that he was a real engineer and also ventured in other fields, innovating and working in the glass industry, he eventually created his own process for glass making.
In the Modern time, Yves Saint Laurent, an incredible designer, he was so creative very versatile had a true vision, he was an artist.
Alexander McQueen, he was an absolute genius with a great vision, Raf Simmons is one my favorite designer I love his work and his aesthetic.
5. You are French, you have studied in Paris,and then moved to New York to study again. What are the differences between those 2 cities when we are talking about fashion and tastes ?
The 2 cities are so different, Paris is more than a few centuries old, it has been the center of the culture and creation for almost as long as it has existed, whether it was for literature, music, painting, sculpture… There is so many history to that city. The architecture and the buildings are so old and beautiful, the city has some of the most exquisite gardens, monuments, churches, museums.
Also Paris has lived through so many things, wars, invasions, revolutions, so many creators, important men through the history lived in Paris and shaped the city to what it is now. Which is so great for inspiration but also can be paralyzing at time. It is charged with so much history, that sometime it is difficult to move onvand to want to do things differently… New York is much younger, it is also charged in history, but in a very different way, much younger, a lot of important people and stars have lived there and a lot has happened, but it is definitely younger, so it is easier to break barriers and try different ways and create new things. Weight of the past and tradition is definitely not as heavy as in Paris. Everything is still so fresh that people can decide pretty much at all time, not to follow what has been established "yesterday" and to do things in a complete different way, which is very exciting for an artist/designer.
I think it is also a question of culture, Paris has a tendency to turn back to the past and follow traditions where New York can be more innovative and fast paced, both have their advantages and inconveniences.
Also In New York it is very easy to get things done in no time where in Paris it could be quite difficult. But on the other hand the level of achievement and artistry in New York is not always as good as what you will find in France, the attention to detail isn't the same. For me both cites have their advantage and inconvenient, I always say it would be great to be able to live between the 2!
6.What means luxury to you in one word?
Fantasy
7.What is your criteria for luxury in order of preference?
Quality
Craftsmanship
Rarity
Originality
Bond with client
8.What is your favourite luxury brand(s) and why?
Breguet for the history of the house, the desire to be the best, the innovation the incredible quality of the product.
Cartier again for the history of the house, the incredible designs, the relation to clients.
9.Name 5 luxuries which are "indispensable" for you and why:
1. Passeport : I love traveling exploring, it is something indispensable for me, I love to see new places, new cultures…
2. My own jewelry, Gold Articulated Monkey Pendant and Panther Ring : they are my good luck charms, I never travel or do anything without them.
3. Montblanc Meisterstück & Moleskine Notebook : I keep an agenda and sketch book with me at all time to draw and note things
4. My surfboards, growing up with part of my family in Biarritz, I've been surfing since I'm a kid, it is one of my other deepest passion. I do believe it helps me being more creative , I also love the art of making surfboard.
5. My perfume, Aqua Di Parma Colona Assoluta : I think perfumes are incredible, it is an art, it says so much of a person
10.Digital and Luxury. Love or Hate?
I think when I look back (or we all look back) It didn't seem like the perfect match, but it seems like is working absolutely fine by now.
11.What means "digital" for you ?
It is a very interesting question, as I work a lot with digitals images, but also of course with real physical support, digital for me is more a projection of an idea until it gets real, so I guess this is why it works very well with luxury, cause for me luxury is about dream and desire. Doers it make sense??
12. How will be luxury in the future ?
In my opinion luxury never really changes, since for me it is defined by timeless criteria (see above) since those won't change, so the idea of Luxury shouldn't. The products, the clients and the demand might change but not the idea of luxury… Does
it make sense?