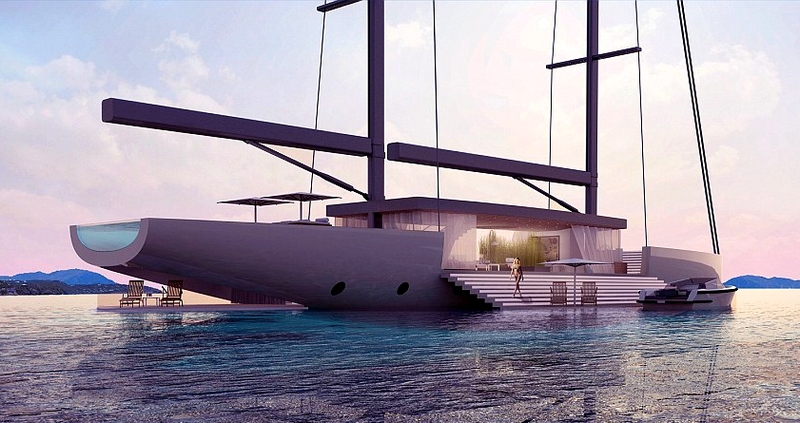 This futuristic 'floating construction' may well be just what one enthusiast millionaire is after. SALT is a glass sailing yacht conceived by young architecture and yacht designer Lujac Desautel. The superyacht concept aims to redefine leisure sailing with a flexible and transparent environment for life on the water. Desautel's SALT concept is a 180-foot vessel with huge sails instead of a motor. The superyacht is very much a futuristic design and a natural progression from Desautel's GLASS structure which was inspired by skyscrapers and Lego.
"The world is a laboratory of ideas that can be borrowed. Certain typologies can evolve because they have adoptive features. SALT could be thought of as an evolution of these preconceived ideas." explains Desautel.
A glass box will serve as living quarters with ocean views 24/7, a dining area, a cocktail bar, an interior mini-garden, and space for 12 guests (a master cabin, two VIP cabins and two twin-bed residences). The hull is cut out to create an unobstructed view of the sea.
The glass facade slides open, transforming the deck house into a beachside cabana. Just like in a pool (an idea that's not been tried as yet in superyacht design), the downstairs area offers easy access for a quick dip in the sea, while the lower deck tempts the guests with a stunning balcony view.
In 2015, Lujac Desautel was nominated for Young Designer of the Year by Boat International Media.