Fendi Château Residences, Fendi-branded Miami Residence offers a penthouse for $25 million.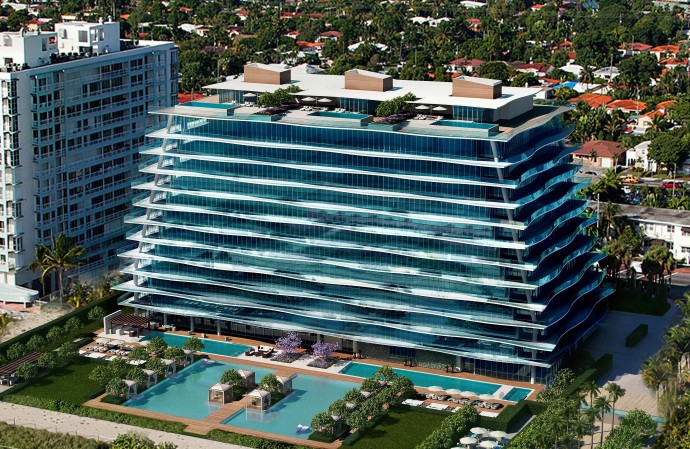 Waves of elegance come to Miami Beach with Fendi Château, the very first residential collaboration between luxury house Fendi and private developer Château Group.
Located right on the ocean, just steps from Miami's Bal Harbour Shops, Fendi Château marks Fendi's first branded project in the US luxury real estate market. Characterized by innovative undulated architecture by Arquitectonica that echoes the waves outside its windows, Fendi Château's expansive waterfront apartments and penthouses boast views of the Atlantic Ocean, deluxe amenities and interiors in a perfect mingling of function and style.
Over the course of Fendi's 89 – year – history, the luxury Italian house has been defined by its ability to combine a variety of precious materials – from leather to fur to crystal to silk – to yield one extraordinary whole.
Common areas and kitchens are exquisitely decorated with FENDI Casa fixtures and fittings, revealing bespoke designs and distinctive materials such as streaked woods, smoky glass and bronzed reflections.
And from the second one walks in to the Fendi Château lobby, a space defined by 20-foot ceilings, they will be immersed in the ultimate Fendi experience. Taking cues from the Fendi collections, interior designer Fanny Haim has handpicked the very best Fendi Casa furnishings – from the walls to the couches, the rugs to the light fixtures – for this lobby.
The Fendi-branded Miami Residence now offers a two-story penthouse in the building for $25 million. The penthouse marketed by Venegas International Group has 7,000 square feet and 2,000 square feet of terraces, along with a rooftop pool. The first level includes a family room with spacious walk-in closets, gym, media room, steam room, and full staff quarters. An expansive terrace space with an outdoor summer kitchen, a rooftop pool, and an entertainment area are conceived for the second level.