Global interest for luxury hotels remains stable at +1.5%: Digital Luxury Group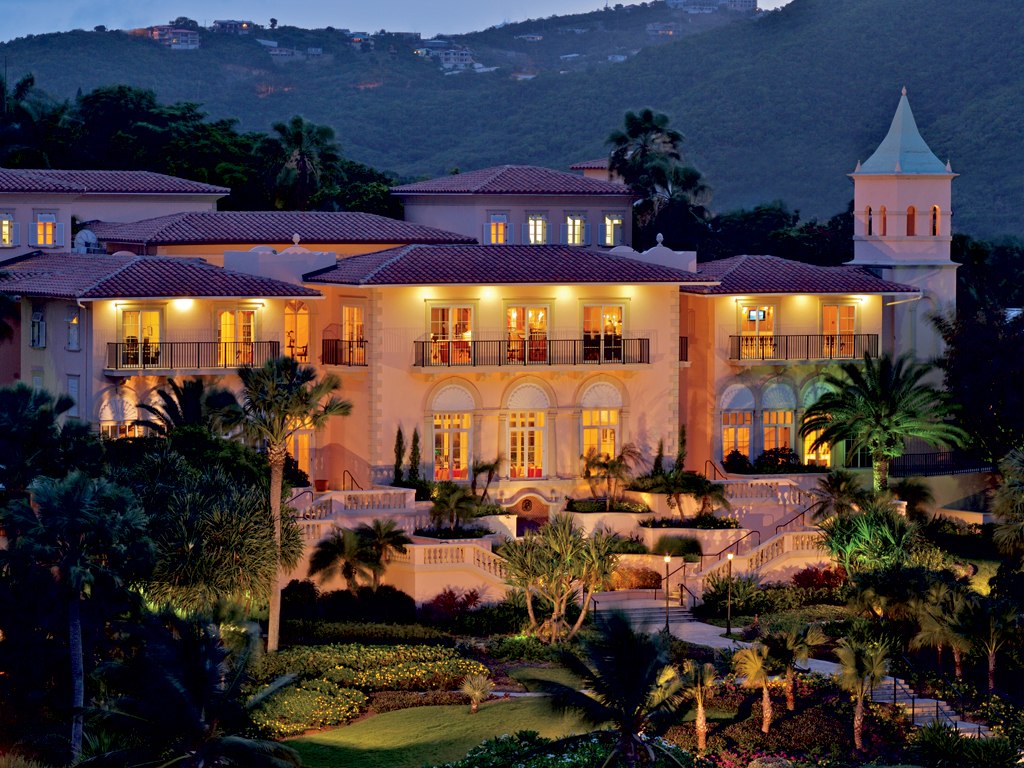 US dominates the luxury hotel industry with New York remaining top destination for luxury hospitality destinations worldwide, according to 1st World Luxury Index Hotels, a in-depth analysis of leading luxury hotel brands produced by Digital Luxury Group in partnership with the Chair of Luxury Hospitality of Ecole hôtelière de Lausanne– the world's first hotel management school, and Luxury Society, the world's largest community of luxury executives.
US consumers express the largest interest for luxury hotel brands globally (66.3% of the total), but strong demand growth was fueled by Russians (+12.8%), British (+8.5%) and Chinese (+3.3%) who become the fastest growing luxury hospitality consumers. Signs of demand decline were recorded in Italy (-14.3%), Brazil (-12.1%) and Japan (-11.1%).
"The luxury hotel market is very heterogeneous from one market to the other. We have defined for this study 3 main categories: luxury brands integrated to hotel groups and hotel groups that are playing mainly or only in the luxury market segment. In the three categories, emerging markets are showing increasing interest for luxury hotel brands and the US market is by far the dominant market with the most connected and savviest consumers." commented Samad Laaroussi, Holder of the Chair of Luxury Hospitality of Ecole hôtelière de Lausanne, presenting the results at the IHT/EHL Luxury Hospitality Summit 2013.
The US gave birth to the majority of leading hotel chains in the world (75.5% of hotels in the WLI Hotels are American) and US consumers, express the largest interest for hotel brands globally (66.3%). Furthermore, their cities are the most sought-after and fastest growing destinations worldwide, attracting a large segment of international travelers. New York leads the way as the #1 most searched city and Washington D.C. as the fastest growing destination worldwide.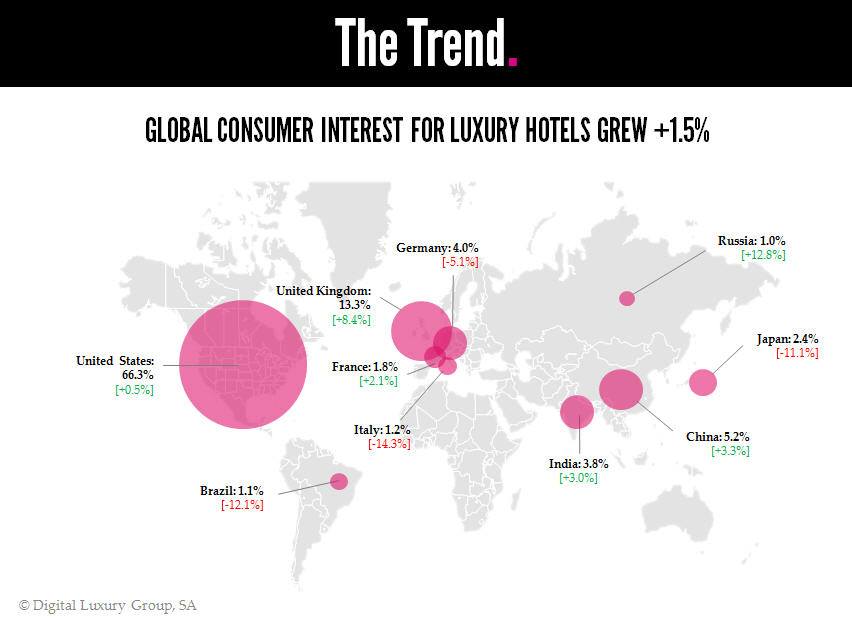 With +12.8% growth, Russia leads the BRIC markets. Brazil is showing slight regression since last year at -12.1%. Fastest growing hotels in the BRIC were: Shangri-La hotel in Brazil (+72%), Hyatt Regency in Russia (+89%), Ritz- Carlton in India (+59% – property set to open Summer 2013) and St. Regis in China (+56%). Most popular international destinations from BRIC markets were: Miami and New York for Brazilian travelers, Hurghada and Dubai for Russians, Dubai and Singapore (Indians), Hong Kong and Singapore (Chinese).
Led by Ritz-Carlton, Luxury Major category hotels are fueling growth (+12.07%) whilst, the Upper Upscale category which accounts for 1/3 of all luxury hotels captures 3/4 of total global interest but stagnates at -1%. Brands: Hilton, Ritz-Carlton and Four Seasons lead their respective categories: Upper Upscale, Luxury Major and Luxury Exclusive. Hilton Worldwide, Hyatt and Starwood are the Top 3 leading Hotel Groups. Hilton Worldwide ranks first in 4 out of 10 markets: Italy, Germany, United Kingdom and United States, whilst Starwood leads in BRIC markets. Jumeirah is the most rapidly growing amongst the Top 25 Luxury Hotel Groups.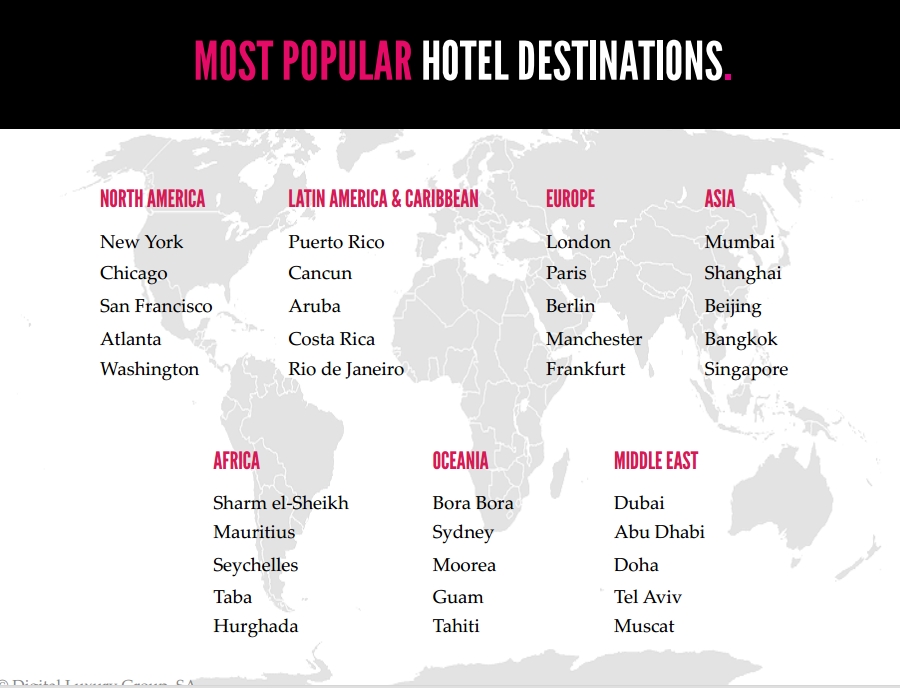 Top 50 moast sought-after HOTEL BRANDS:
1 Hilton.
2 Sheraton.
3 Westin.
4 Four Seasons.
5 Hyatt.
6 Hyat Regency.
7 Ritz-Carlton.
8 Embassy Suites.
9 Renaissance.
10 InterContinental.
11 Fairmont.
12 JW Marriot.
13 Sofitel.
14 Grand Hyat.
15 Loews.
16 Shangri-La.
17 Mandarin Oriental.
18 St.Regis.
19 Le Méridien.
20 Regent.
21 Park Hyat.
22 Kempinski.
23 Jumeirah.
24 Langham.
25 Taj Hotel.
26 Kimpton.
27 Nikko.
28 Banyan Tree.
29 Andaz.
30 Swissotel.
31 Oberoi.
32 W Hotel.
33 Affinia.
34 Rosewood.
35 Pan Pacific.
36 Vivanta by Taj.
37 Hotel duVin.
38 Raffles.
39 Steigenberger.
40 One&Only.
41 OmniHotel.
42 Peninsula.
43 Anantara.
44 SixSenses.
45 Dusit.
46 Radisson Blu Hotel.
47 BulgariHotels.
48 Guoman.
49 Angsana.
50 Conrad.