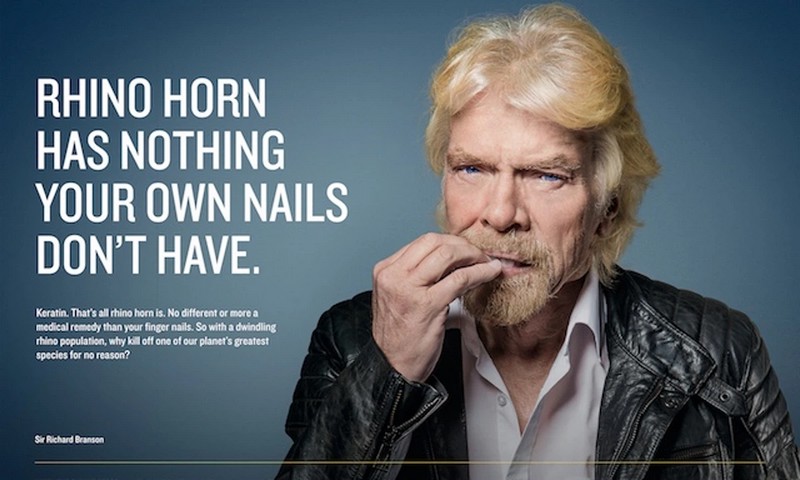 ---
This article titled "Richard Branson fronts nail-biting campaign against rhino poaching" was written by Jessica Aldred, for theguardian.com on Wednesday 13th January 2016 11.20 UTC
Sir Richard Branson is leading a new campaign against the sale of rhino horn that features the Virgin founder, along with Chinese celebrities and global wildlife ambassadors, chewing their nails.
The campaign, a series of English and Chinese-language billboards and videos from conservation groups WildAid and the African Wildlife Foundation, aims to highlight how rhino horn is made primarily of keratin, the same protein that makes up human fingernails and hair, which has no medical benefits.
In one advert, Sir Richard is shown biting his nails next to the words: "Keratin. That's all it is. No different or more a medical remedy than your fingernails. So with a dwindling rhino population, why kill off one of our planet's greatest species for no reason?"
Rhino horn is considered a status symbol in Vietnam and China, where the growth of the middle class has led to an explosion in demand for the horn, which is ground down and used as a traditional medicinal cure and recreational drug. International criminal syndicates are known to charge £60,000 a kilo for an illegal substance that is worth more than gold but is actually no different from human fingernails.
"Rhino horn's luxury cache among a privileged few is the root cause of the poaching crisis raging in Africa," said WildAid chief executive, Peter Knights. "This campaign seeks to deflate rhino horn's allure and expose it for what it is: fraud."
The most recent official figures show that 749 rhinos had been poached by 27 August last year in South Africa, where most of the animals are concentrated. The rate had further intensified after a record total of 1,215 rhinos were killed in 2014.
The adverts will be displayed on billboards in Beijing airport, Chonqing's Central Square and around Shanghai, Guangzhou and Shenzhen. Videos will be broadcasted on several national TV networks and onboard bullet trains, and heavily promoted on Chinese social media networks.
Also featuring in the "nail biters" campaign is Vietnamese-American actress and WildAid wildlife champion of the year Maggie Q, Chinese actor Li Bingbing and Chinese celebrities such as actor and singer Jing Boran, fashion photographer Chen Man and actor Chen Kun.
A Vietnamese version of the "nail biters" campaign is also underway, as part of a drive to educate consumers in the world's largest rhino horn market and persuade them not to buy, gift or consume rhino horn.
"Rhino horn won't cure cancer or a headache, but the rhino poaching epidemic in Africa does have a cure, and it involves people not buying rhino horn," said Dr Patrick Bergin, African Wildlife Foundation chief executive. "Sir Richard and other campaign celebrities are delivering the message, and now we need citizens in China and Vietnam to be part of the solution."
Earlier this week England cricketers Stuart Broad and Steven Finn followed in the footsteps of Prince Harry by learning about the plight of rhinos at the Shamwari wildlife rehabilitation centre ahead of the third test against South Africa in Johannesburg.
guardian.co.uk © Guardian News & Media Limited 2010
Published via the Guardian News Feed plugin for WordPress.