Patrón en LALIQUE: Serie 2 (750ml) retails for the suggested price of US$7,500.
In 2015, Patrón and LALIQUE released, to great acclaim, the first in this landmark series, Patrón en LALIQUE: Serie 1. That limited edition crystal decanter was influenced by René Lalique's early Art Nouveau style, which he pioneered in the late 19thth century. In the 1920s, René was one of the moving spirits and principal influencers of Art Déco. Following that progression, for Patrón en LALIQUE: Serie 2, LALIQUE's master artisans have created an elegant crystal decanter inspired by Lalique's signature Art Déco design.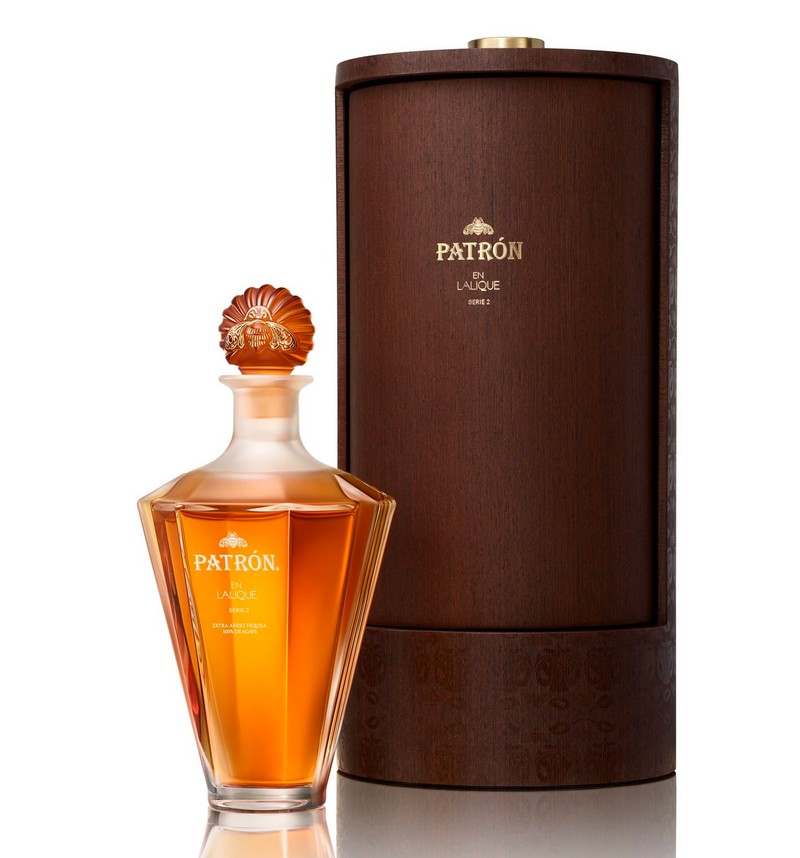 Only 299 bottles of Patrón en LALIQUE: Serie 2 have been created, each skillfully handmade and individually numbered at LALIQUE's glass factory in Wingen-sur-Moder, in Alsace, France. In this region of tremendous glassmaking tradition, LALIQUE's dedicated glassmakers combine an exceptional mastery of modern techniques and traditional skills throughout the complex crystal making process. Each piece is blown, pressed, fashioned, cut, engraved, polished and signed.
It's not just the bottle that's a work of art. For Patrón en LALIQUE: Serie 2, Patrón's Master Distiller Francisco Alcaraz and his talented team created a blend of extra añejo tequilas, aged in the barrel room at the Hacienda Patrón distillery in the Highlands of Jalisco, Mexico, for an average of more than seven years.
Tequila from three different types of barrels was hand selected to create the perfect balance of agave and oak for this release: American oak, French oak, and Spanish Sherry. Patrón en LALIQUE: Serie 2 extra añejo tequila is marked by its bright crystalline color, with a sweet aroma and taste of fruit (apple, banana and pear), vanilla, light agave, raisin, and pecans. Thefinish is long and pleasing, with notes of oak, agave, caramel, and fruit.
The bottle is characterized by straight lines and the graceful contrast between clear and frosted finishes, emblematic of LALIQUE's iconic, signature style. Its simple yet refined design was inspired by Mexico's indigenous Weber Blue Agave plant from which tequila is produced. The decanter's rounded crystal stopper is amber in color, to marry with the hue of the extra añejo tequila inside the bottle, and features Patrón's iconic bee emblem, detailed in pure gold enamel. The bottle is presented in an equally elegant display case, which rotates to reveal the bottle and stopper, making for a truly dramatic presentation,
whether at home or in a bar or fine restaurant.