"I worked tirelessly, drawing, modelling, making studies and technical trials of all kinds, driven by the desire to achieve something new, to create something never seen before" René Jules Lalique , the French glass designer known for his creations of glass art, perfume bottles, vases, jewellery, chandeliers, clocks and automobile hood.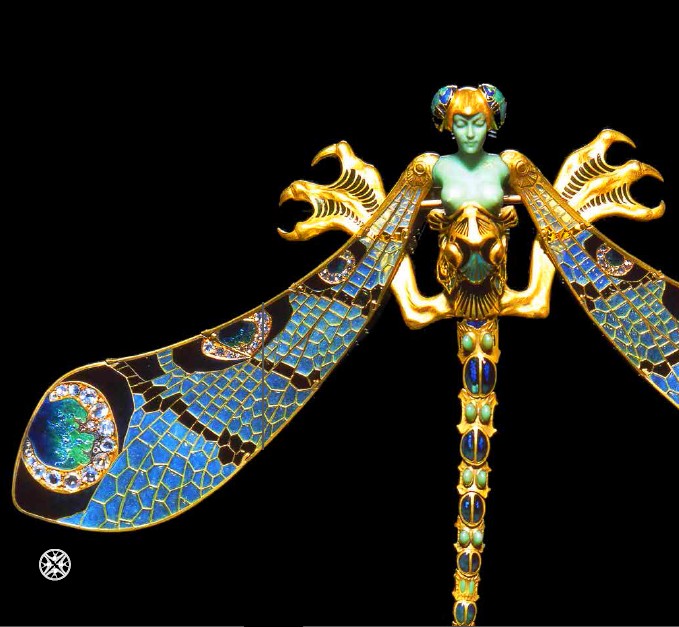 Before revolutionizing the art of glass, René Lalique invented modern jewelry with forms inspired by Nature and innovative blends of materials. In 1898, the poet-jeweler was at the peak of his art when he created one of the most iconic creations of the Art Nouveau style: the "Libellule ("Dragonfly") brooch".
It is from this fabulous piece that the House of Lalique draws the inspiration of its new opus: Illusion Captive. For the occasion, the Noir Premier flacon is adorned with an opulent mosaic motif that evokes both the silhouette of the dragonfly woman and the delicate veins of her wings. Engraved on the back façade of the transparent glass bottle, this refined drawing is reflected by the front façade, and enhanced by the golden hue of the fragrance.
Illusion Captive is dan ambery chypre fragrance, enhanced by fresch Italian bergamot and a sheer floral heart.
The fragrance takes flight in the golden light of Italian bergamot, filtered through the milky green of fig leaves. Quivering under the burning breeze of cinnamonfrom Ceylon, it unfurls its translucent wings, iridescent with rose and jasmine sambac…
Like translucent enamel showcased by the darker veins of the cloisonné, these luminous fruit and flower accords are set in a Virginian cedarwood and Indonesian patchouli base. In the dry-down, cistus labdanum, vanilla, tonka bean and myrrh add their burnished golden glow to this soaring sillage.