Help Pucci fashion house save the Florence Baptistery, discover "SOS Battistero"- the limited edition scarf in collaboration with @yoox.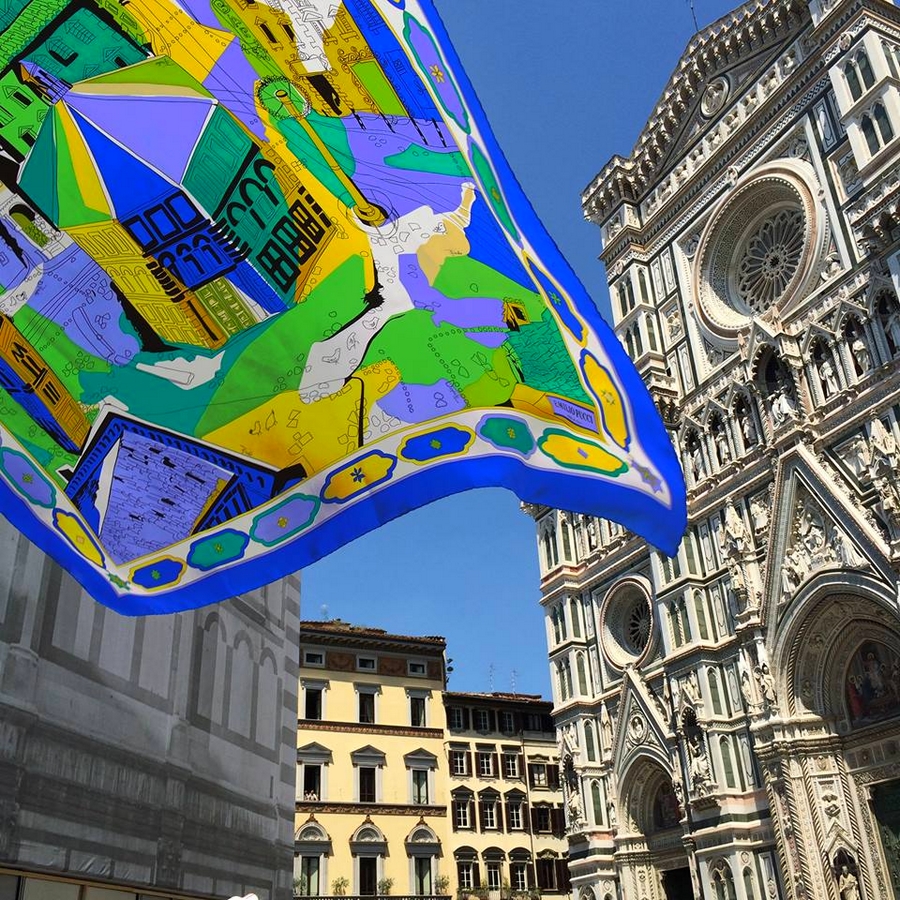 Italy's luxury houses are actively involved in restoration of important monuments in Italy. Fendi, Tod's, Diesel were some of the Italian companies helping preserve Italy's cultural treasures. The latest house offering a helping hand is Pucci, a brand synonymous with geometric prints in a kaleidoscope of colours. Emilio Pucci loved Florence deeply, the Pucci family is one of the city 's founding families and its Renaissance-era Palazzo is just around the corner from the Baptistery.
In 1957 the Marquis Emilio Pucci paid homage to Florence's renowned Baptistery with a hand-drawn print depicting the "Battistero" and the surrounding square. The octagonal Baptistery sits in the very center of Florence facing the Cathedral and is one of the city's crown cultural jewels. Today, that same monument is in grave need of restoration. To help this cultural jewel shine once more, the Emilio Pucci maison introduced S.O.S Battistero, a specially designed limited edition of the Battistero scarf, the proceeds of which will benefit the restoration of its namesake monument.
"The restoration of the Baptistery's external facades, planned to end September 2015, is financed entirely by the Opera di Santa Maria del Fiore, for 2 million 210 thousand Euros, without any government funding. Therefore, the support of such a delicate mission by established companies who recognize, and are dedicated to, the grave importance of maintaining their country 's exquisite historical reserves, is particularly significant. Italy 's enormous cultural patrimony is in desperate need of attention, care and on-going restoration," commented the fashion house.
The legendary "Battistero" print was first resurrected in June 2014 in a bold example of street art during Pitti Immagine Uomo in Florence. The Maison wrapped the Baptistery scaffolding (the monument was already under renovation at that time) in 2,000 square meters of printed fabric that faithfully reproduced Emilio's Battistero in a true-to-life Technicolor rendition of the facades of each of its eight sides. Dubbed "Monumental Pucci," the initiative ignited excitement and attention to this historical and beloved landmark and later inspired Pucci's Cities of the World project featuring map prints of the world's most renowned cities and included the "Battistero" print, the only archival print in the collection as its anchor.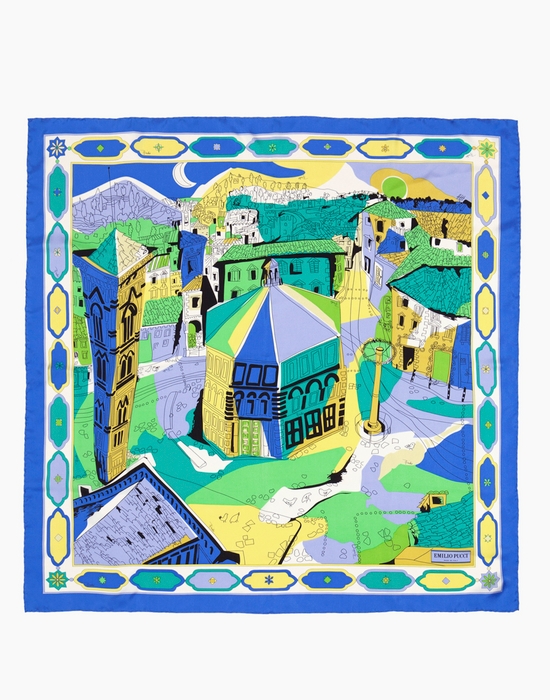 Each "Pucci SOS Battistero"scarf is accompanied by a hand-signed thank you note from Laudomia Pucci, daughter of the brand's founder. The artwork is faithful to the original motif but presented in a new, vibrant colour combination of luminous blues and greens. An "Emilio Pucci Made in Italy" tag is sketched into the corner next to the decorative printed border that frames the outer edges.