"It Pays To Advertise" the slogan goes. Why? Because advertising sells. In a big way. So much so that, in the year 2011, thirty-six companies in the USA alone spent at least $ 1 Billion on their advertising budget. Advertising serves two major purposes. First, it allows the public to know that a product or service is out there. You might have the greatest product in the world and the manufacturing capability to supply all those who want it, but if nobody knows it is available, you have no sales. Second, buying is usually triggered by emotions. Facts only serve to justify why we want to make a purchase. By packaging a product so that it appeals to the heart, most any product can transform itself from something mundane into something appealing. Why else has there been a rash of film celebrities and sports stars, particularly in the last 20 years, representing brands from watches to cosmetics to household products? Advertisers know how the public reacts.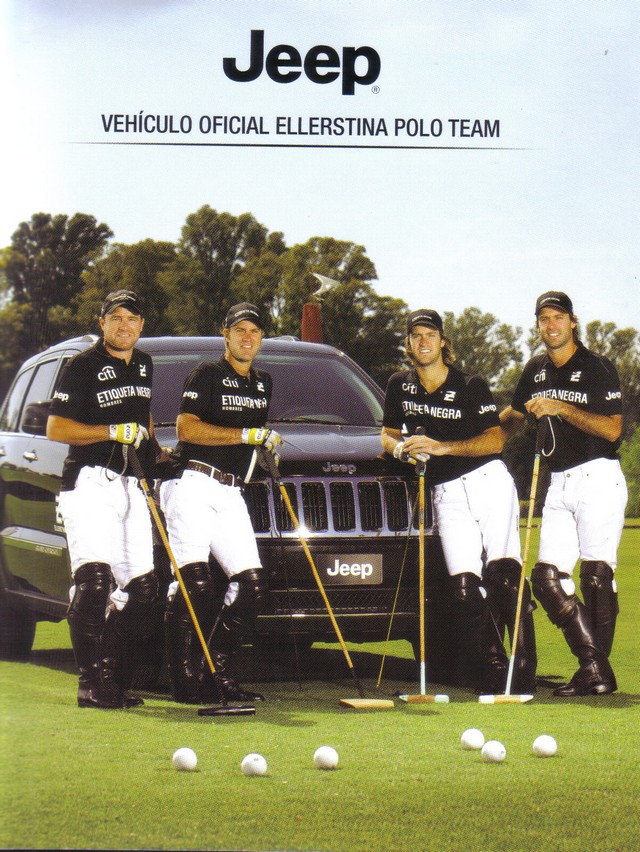 For this reason the sport of polo is ideal for reaching a broad base of buyers who know actually nothing about the game itself. Polo awakens visions of glamour, excitement, wealth and exclusivity in most persons interviewed about the subject. Very few are acquainted with the game and its rules, but people perceive it as a game for the rich. That alone makes it special. Ralph Lauren capitalized on this image and created a logo in 1972 which depicts a polo player mounted on a pony and called his brand simply "Polo." Lauren did not support polo for almost 40 years, preferring to search out markets in sports like tennis, both at the US Open and at Wimbledon. Only recently has he had forays into Women's Polo. Most of his clients know nothing about the sport. But that does not matter. His revenue for the year 2013 was just under $7 Billion. Ralph Lauren sells an "image" and a lifestyle.
Advertising in polo is nothing new. Long ago, due to the image of wealthy individuals performing in the sport, along with tournament crowds of up to 40,000 spectators, polo was sought out to represent a number of products which had nothing to do with the sport itself.
Cigarette companies featured polo players such as Cecil Smith, one of the sport's greatest's , in the 1930's. Odd pairing of polo and products showed even asparagus ads with polo. In the 1950's a favourite among ads was polo player Peter Perkins, mainly because of his good looks.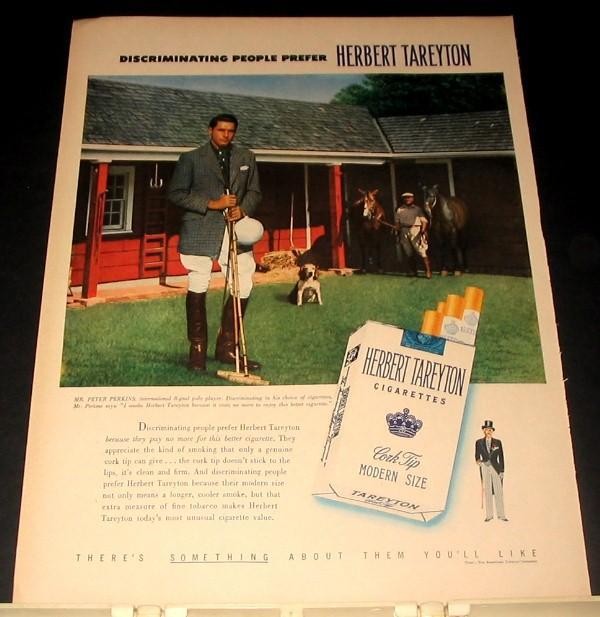 Today, more and more companies are engaging the services of polo players for branding or using tournaments for their advertising base.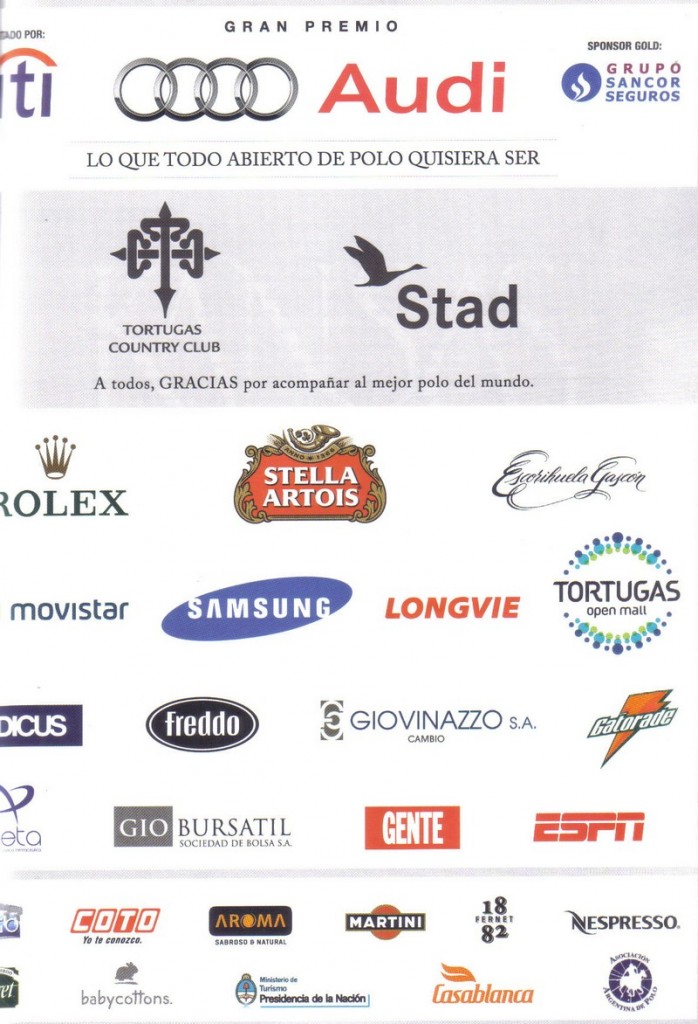 Picture above : Sponsors for the Tortugas Open
One example is Royal Salute Scotch Whiskey. Although created for Queen Elizabeth's royal inauguration in 1952, Royal Salute just recently has started to promote polo tournaments. They have now created a special whiskey exclusively for polo named "World Polo."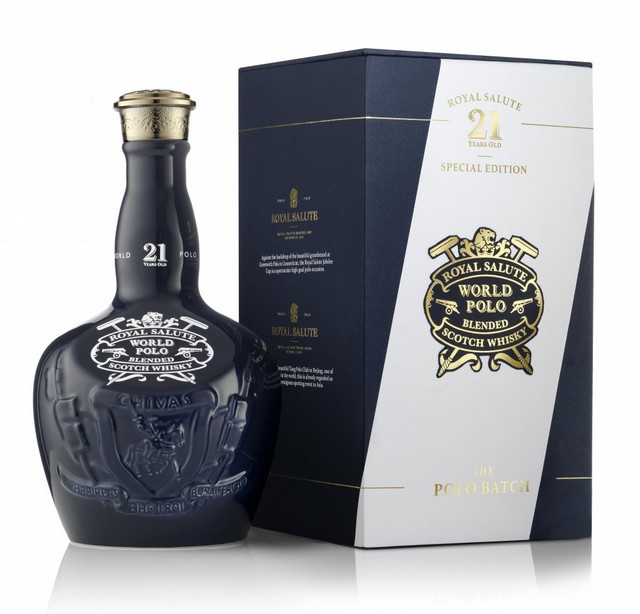 Beverages are not the only companies that utilize polo to reach their target customers. Automotive companies act as main sponsors for events. This year, Maserati will host the US Open for the second year in a row. The watchmaker Jaeger-LeCoultre was last year's main sponsor of the Argentine Open. Various polo teams carry the logo and names of Piaget, Amarok, Audi, Porsche, Samsung and Nespresso, for example. Cartier and Veuve Clicquot have sponsored teams and tournaments for years. Banks such Citibank and HSBC are major players in the team and tournament sponsorship game.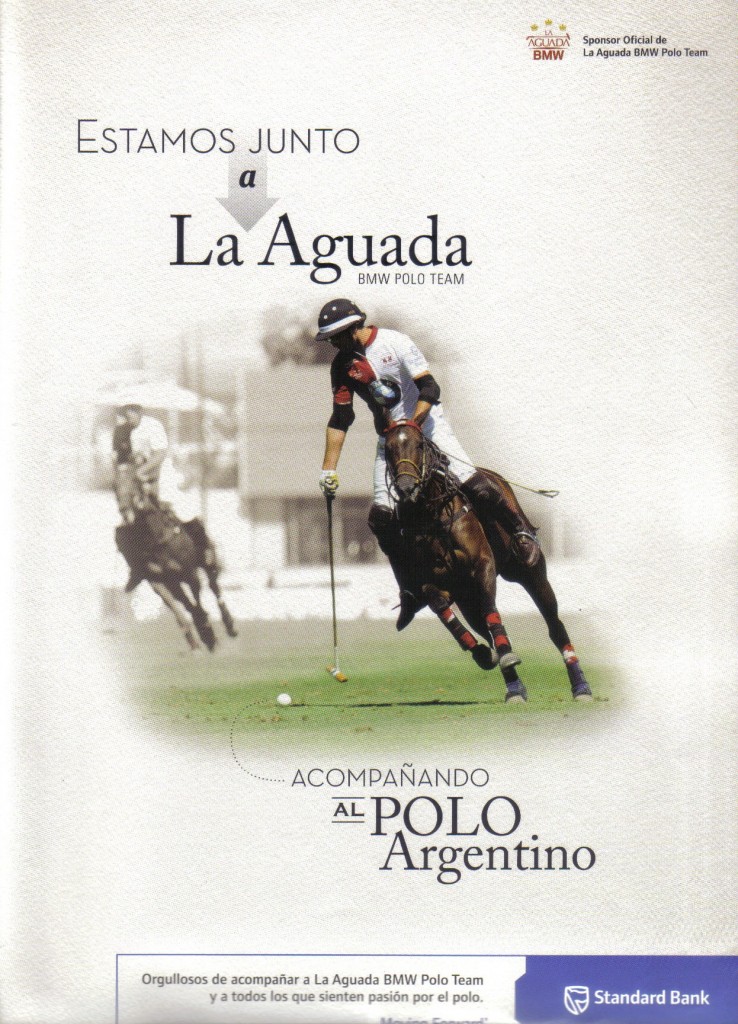 Company team sponsorships are not confined solely to the national and international level. Sponsors often use local polo tournaments to promote their sales. Car dealerships of luxury automobiles know that the demography of both the players and the spectators show that these individuals tend to have a high net value with expensive tastes. Therefore, advertising at tournaments is an effective way to target these potential buyers who live close enough to the dealerships to become customers. The same is true for winemakers, who use local tournaments to provide wine tasting to an exclusive, captive audience. Banking, insurance, financial services and real estate representatives realize that they can find a select audience at local polo tournaments. Not only are tournaments filled with prospective clients, but these venues represent excellent opportunities to network with wealthy individuals who could lead the advertisers to new areas to prospect.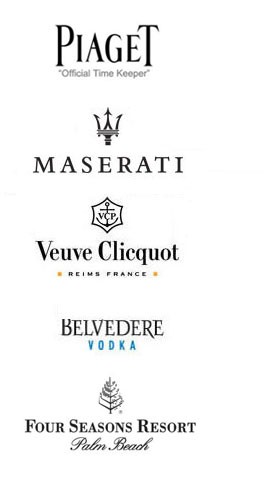 Just attending a polo tournament, with an eye towards business, will reveal how many possibilities a creative marketing or advertising specialist can find. A polo club with enough imagination will quickly see how two or more sponsors can easily combine efforts to present their products together. Wine tastings, using models wearing another sponsor's clothes and still another sponsor's jewelry, is one possibility. Another might be a car dealership together with a credit institute who could arrange for the financing of a new car. Beverage outlets, selling beverages at a tournament, using crystal glasses from a manufacturer is another synergy.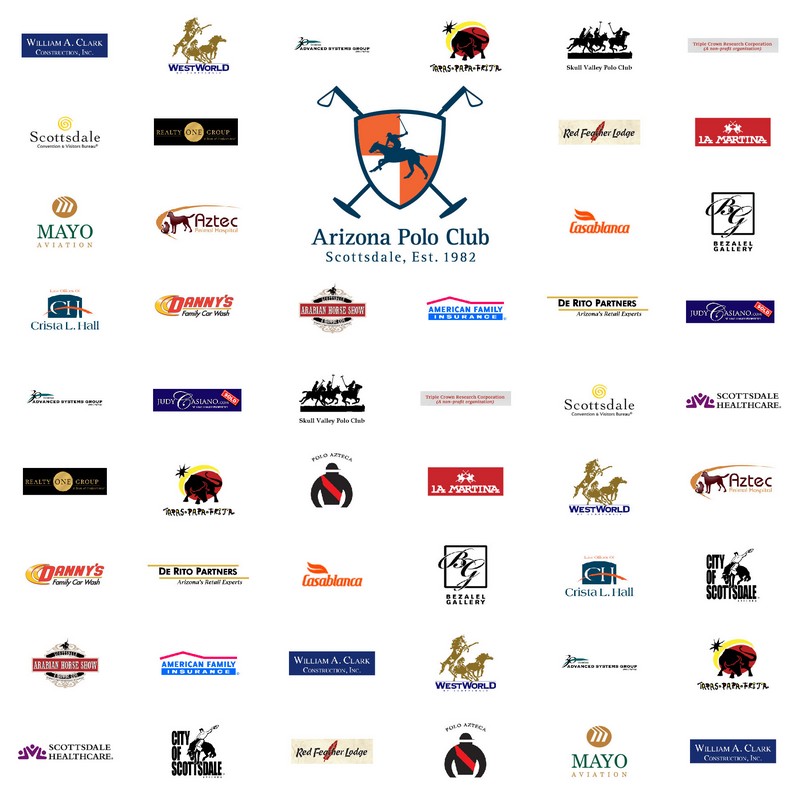 More of these ideas will be revealed in the following articles found here at Polo & Business. Make sure to follow the series.
An article by John Francis Jackson
About the author :
The author, John Francis Jackson, is an American living in Argentina. Although he works as a business advisor, his passion is polo, a game he both plays and writes about. He also raises and sells polo ponies. You can find more about him at LinkedIn or at http://maltesecatpolo.wordpress.com/